Delaware may let students 'choose' their race, gender without parental consent
A proposal that would let students in Delaware as young as 5 choose their own race and gender-identity – without approval from their parents – has sparked a bitter battle in the First State. 
On one side are parents who say they want a more welcoming climate for their transgender or non-binary children. On the other side are parents who say the proposal infringes on their basic parental rights.
Under Regulation 225, schools would be required to provide access to facilities and activities that are consistent with a student's gender identity—regardless of the child's sex at birth. That includes bathrooms, locker rooms, team sports and adhering to the child's preferred name. Under the proposal, students could also choose their own race.
What has rankled some parents is that the new regulation does not require schools to inform parents of the child's decision. Instead, the policy advises administrators to assess the child's well-being before disclosing the information to the child's parents.
While a growing number of states are imposing rules to protect transgender students, Delaware's proposed rules go further – letting a child decide, even if the parent disagrees with the decision.
"The regulation isn't about keeping a secret, it's about what's in the best interest of the child," said Mark Purpura, president of Equality Delaware. "The reality is there are children living in fear who do not feel comfortable coming out to their parents as gay or transgender."
But some say this is yet another example of government overreach. They say parents should be involved in making such a critical decision involving their children.
"I would be livid if the school allowed my daughter to make such a significant decision without me," said Terri Hodges, president of the Delaware PTA and committee member.
Hodges said she does not oppose the regulation but feels that alienating parents is not the right way to carry it out.
"I want to protect children," she said, "but we can't pick and choose when to engage parents."
The state's proposal drew more than 11,000 public comments in the form of letters, emails and online submissions— the majority opposing the new rule.
If approved, the regulation would protect 19 characteristics—protections that expert David Cohen, professor of law at Drexel University, said are not represented in the current federal anti-discrimination policy.
"Title IX does not explicitly cover gender," said Cohen. "All it talks about is sex discrimination – and not every court, administrator or administration interprets gender identity as sex."
Delaware's governor, John Carney, felt strongly that more could be done to protect students from bullying and discrimination, and in 2017 urged the DDOE to enact a policy.
But last month at the committee's final public meeting, a crowd of more than 250 people packed the auditorium of Delaware Technical Community College to express their opposition.
Delaware State Rep. Rich Collins, R-Millsboro, said the proposed regulation is onerous, excessive and confusing. He said the current anti-discrimination policy is concise and efficient, and replacing it with a multi-page regulation is a distraction.
"This is taking our eye off the ball," Collins said. "We have one school that has a 3-percent math proficiency and there are issues educating our kids [across the state]."
But Andrea Rashbaum, a parent of a transgender child, said parents can't expect a child to learn if they don't feel safe.
"We have to take these worries off their plates," Rashbaum said. "Similar to how hungry children can't perform, a child who feels unheard and misunderstood can't focus on reading or math scores."
Rashbaum believes that a state regulation would put every child on an even playing field.
"Right now gender and race identification are handled on a school-by-school basis," Rashbaum said. "One school will help a child grow to have dignity and the other less educated school [in the same district] can squash a child's self-worth."
If approved, Delaware would be among 18 states and the District of Columbia who have implemented anti-harassment regulations based on gender identification and sexual orientation.
Delaware is one of the first states to draft a proposal to explicitly acknowledge gender identification in schools as a protected characteristic, and violators – it's unclear if would target teachers or administrators – could be prosecuted.
After a public hearing period, the Department of Education will approve or deny the regulation.
Outrage in India over latest 'honour killing' as father beheads daughter after finding her with man | World News

Outrage over so-called honour killings in India has been reignited after a father who found his daughter in a "compromising position" with a man severed her head with an axe – and then took it to his local police station.
The man walked through the streets of Hardoi district in northern Uttar Pradesh state carrying his daughter's head, confessed to what he had done upon his arrival at the station, and was arrested, police said.
Superintendent Anurag Vats told the Thomson Reuters Foundation: "The man said he saw his daughter in a compromising position with a man and he beheaded her in a fit of rage."
Shocking images of him carrying the 17-year-old girl's head through the streets of Uttar Pradesh were shared online, reigniting urgent calls for the introduction of laws specifically dealing with so-called honour killings.
Madhu Garg, vice president of the All India Democratic Women Association's Uttar Pradesh branch, said: "The issue of the right to choice needs immediate attention and a separate law should be made for dealing with honour killing."
Human rights groups say thousands of women and girls are killed across South Asia and the Middle East each year by family members angered at perceived damage to their "honour".
Perceived offences can include eloping, fraternising with men, or any transgression of staunchly conservative values regarding women.
Last month, a woman was burnt alive by her family members over an inter-faith relationship in Uttar Pradesh, local media reported, quoting police officials.
India officially recorded 24 honour killings in 2019, but campaigners say government statistics on honour killing mask
the true scale of the crime, with women at greater risk than men.
Almost 70% of honour killings in India are women, according to Arockiya Samy Kathir, the founder of non-profit campaigning group Evidence, which has for years worked on honour killings in south India.
In 2018, the Indian government asked all states to set up special cells comprising of police and welfare officers, as well as a 24-hour helpline, to help couples facing harassment or those seeking protection.
But campaigners say compliance has been poor.
High-profile cases of violence against women in India have sparked mass protests in recent years, although many of them are not related to honour killings.
'Today is the day I will die' – Nun who opposed Myanmar military says she begged them for mercy | World News
A nun who knelt in front of armed security forces in Myanmar to stop them firing on civilians has said she was prepared to die to save protestors' lives.
In extraordinary scenes in Myitkyina, Kachin State, Sister Ann Roza Nu Tawng can be seen pleading with police and soldiers not to shoot.
The intervention has been called Myanmar's "Tiananmen moment".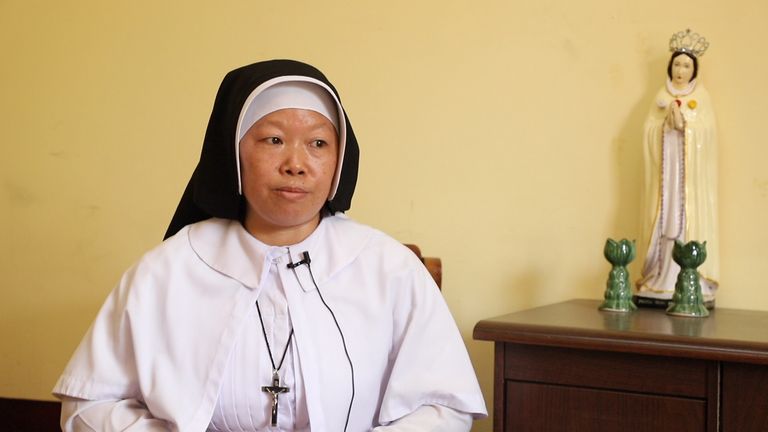 In footage from 28 February, a shot can be heard after a nun is seen walking towards the heavily kitted-out officers.
Sister Ann Roza, 45, told Sky News she thought she would die but was prepared to sacrifice her own life to save others.
This is her story in her own words:
On Sunday, I was at the clinic. I was giving treatment on that day as the other clinics were closed. I saw groups of people marching by. They were protesting.
Suddenly I saw police, military and water cannon following the protesters.
Then they opened fire and started beating the protesters. I was shocked and I thought today is the day I will die. I decided to die.
I was asking and begging them not to do it and I told them the protesters didn't commit any (crime).
I was crying like a mad person. I was like a mother hen protecting the chicks.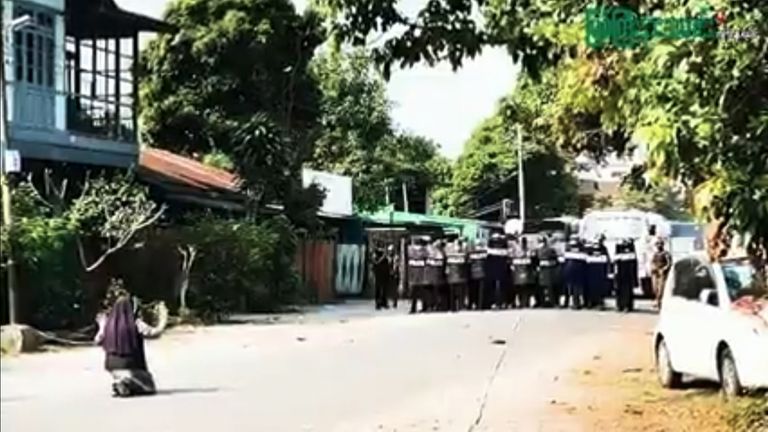 I was running towards where they were beating the protesters. It was happening in front of this clinic. It was like a war.
I thought it would be better that I die instead of lots of people.
I was crying out loud. My throat was in pain, too. My intention was to help people escape and be free to protest and to stop the security forces.
I asked them not to continue arresting the people. I was begging them. At that time I was not afraid.
If I had been scared and run away, everyone would be in trouble. I was not afraid at all. I was thinking of the girl from Naypyitaw and the one from Mandalay.
I was thinking of all the fallen souls from the country. I was worried what was going to happen to the people of Myitkyina.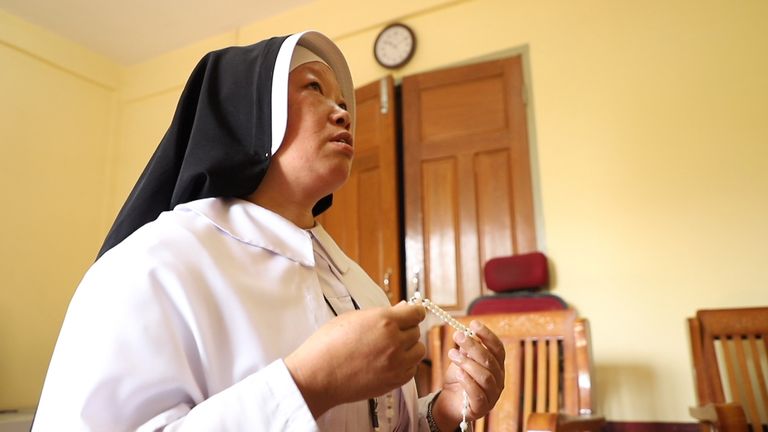 When they reached the Banyan tree, I was calling them (the authorities) and telling them: 'Please kill me. I don't want to see people being killed.'
I was crying out loud and they stopped for a while.
One came to me and said: 'Sister, don't worry so much, we are not going to shoot them.'
But I told him: 'They can also be killed with other weapons. Don't shoot them. They are just protesters.'
In my mind I didn't believe that they were not going to shoot them, as in many places I've seen they have shot people dead.
I brought (a protestor) to the clinic and gave him treatment. The police almost captured another one as he had fallen down. I stopped the police and asked them not to continue. That's why the police didn't. Otherwise, they would have arrested him and dragged him from there.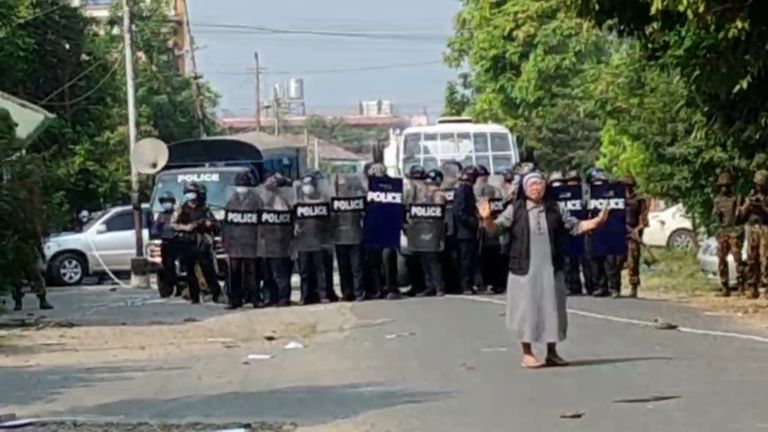 I feel like they (the military) are not the guardians of the people as you have seen what's happening to the people.
People are not safe and there are brutal night arrests.
I felt really sad when I saw the video of a mother of a young one crying next to a dead body.
I also saw an ambulance was destroyed and medics were beaten with a gun.
They are supposed to protect us but our people have to defend themselves. It's not safe. They (the security forces) arrest and beat those who they don't like. They kill them.
There's no one to protect Myanmar people.
People have to defend themselves and help each other.
Pope arrives in Iraq for historic first-ever papal trip to nation despite fears over security and coronavirus | UK News
The Pope has arrived in Iraq for an historic weekend visit which carries both symbolism and risk.
With a message of inter-faith tolerance, Francis will spend four days in Iraq in what is his first foreign trip in more than a year and the first-ever papal pilgrimage to the war-hit nation.
Francis, who wore a facemask during the flight, kept it on as he descended the stairs to the tarmac and was greeted by two masked children in traditional dress.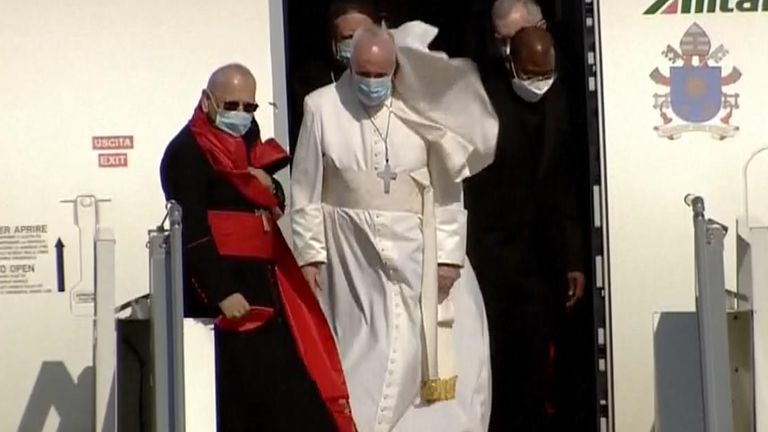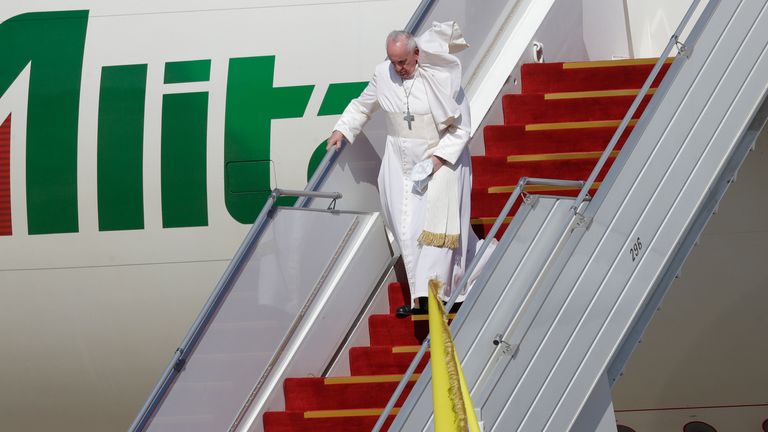 A red carpet was rolled out at Baghdad International Airport with prime minister Mustafa al-Kadhimi on hand to greet the pontiff.
A largely unmasked choir sang songs as the Pope and Mr al-Kadhimi made their way to a welcome area in the airport.
The Pope will visit the capital city Baghdad, the holy city of Najaf in the south, the ancient birthplace of Abraham at Ur and Mosul in the north, which became the capital of the so-called Islamic State (IS) in 2014 until its defeat in 2017.
Iraqis have been keen to welcome him and the global attention his visit will bring, with banners and posters hanging high in central Baghdad, and billboards depicting Francis with the slogan "We are all Brothers" decorating the main thoroughfare.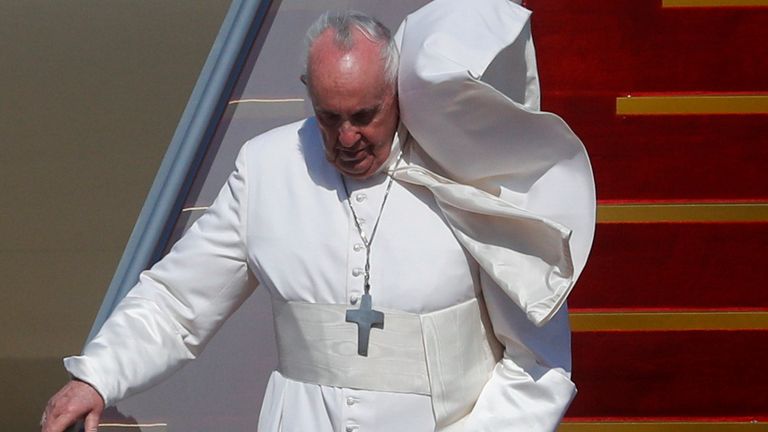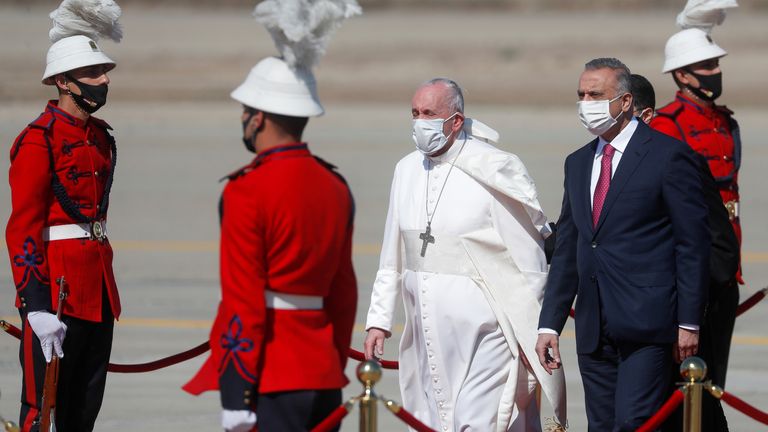 In a video address before leaving the Vatican, the Pope said: "I have greatly desired to meet you, to see your faces and to visit your country, an ancient and outstanding cradle of civilization.
"I am coming as a pilgrim, as a penitent pilgrim, to implore from the Lord forgiveness and reconciliation after years of war and terrorism, to beg from God the consolation of hearts and the healing of wounds."
In Mosul, which was liberated from the Islamic State by the Iraqi military in 2017, the Pope will hold a vigil in Hosh al Bieaa (Church Square) where he will pray for the victims of war.
He will then head east to the town of Qaraqosh for a Sunday service of prayer and remembrance at the Immaculate Conception Church.
The church was one particular focus for the Islamic State's widespread barbarism.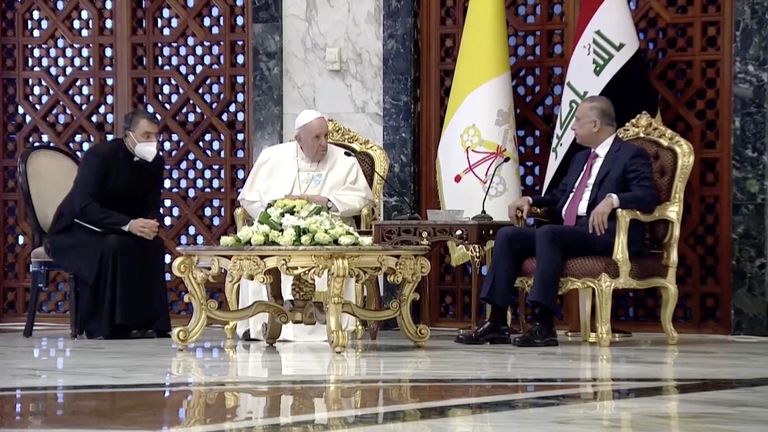 IS followers used the church courtyard as a firing range. Furniture, statues, bibles and prayer books were also burnt in the courtyard and a black mark on the ground marks the spot where the desecration took place.
Before the 2003 US-led invasion of Iraq, an estimated 1.5 million Christians lived in the country.
Today, only about 200,000 remain, the rest have been driven out by sectarian violence.
Reconciliation between Christians and Muslims is a key message and the Pope will hold inter-religious meetings on Saturday at Ur.
The archaeological site is thought to be the birthplace of Abraham, the patriarch of the three monotheistic faiths – Christianity, Judaism and Islam.
Among the most symbolic moments will be a meeting with Grand Ayatollah Ali al Sistani, the spiritual leader for millions of Shia Muslims and one of the world's most influential Islamic scholars.
The two elderly men – the Pope is 84 and the Grand Ayatollah is 90 – will pray together in the holy city of Najaf. It is thought to be the first ever encounter between a pope and an Iraqi grand ayatollah.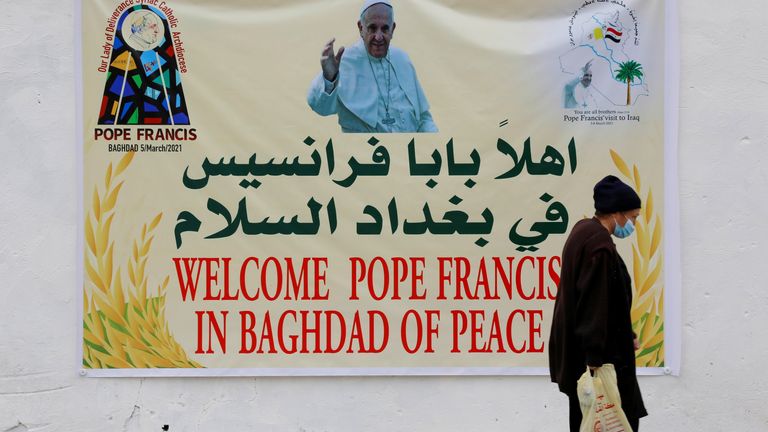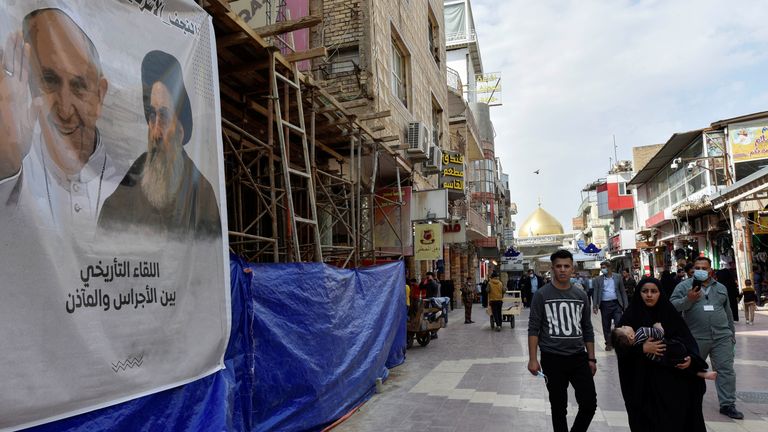 The whole trip has been in jeopardy because of the dual threat of sectarian violence and the coronavirus pandemic.
Six weeks ago, two suicide bombers detonated bombs at a busy market in Baghdad killing at least 32 people. It was the first large-scale attack in the country for three years.
Followers of the Islamic State, who remain active in the country, are thought to have been responsible.
And this week, one person died after rockets hit a military base used by American forces west of Baghdad.
Militia aligned to Iran are likely to have been responsible – a retaliation for a US strike on Iranian militia targets along the Iraqi-Syrian border.
The coronavirus pandemic continues to hit Iraq hard with the country experiencing a new wave of cases.
Data from Wednesday showed 5,173 new cases with a seven day average of 4,095 cases a day. At least 13,000 people are known to have died after contracting the virus.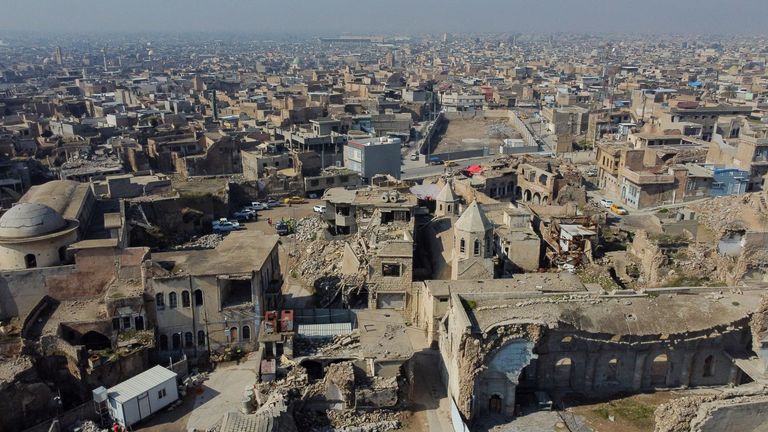 The Iraqi government has imposed new lockdowns and the Vatican's own ambassador to Iraq, Archbishop Mitja Leskovar, announced on Sunday that he had contracted the virus.
But Vatican officials say the Pope has been determined that the trip should go ahead.
Francis has received a vaccine and the entourage of officials and journalists traveling with him have also been vaccinated.
Iraqi authorities say they are confident that the risks can be managed. Vatican spokesman Matteo Bruni described the visit as safe and socially distanced.
My dear Christian brothers and sisters from #Iraq, who have testified to your faith in Jesus amid harsh sufferings: I cannot wait to see you. I am honoured to encounter a Church of martyrs: thank you for your witness! https://t.co/bgm76p31tM

— Pope Francis (@Pontifex) March 4, 2021
"All the precautions have been taken from a health point of view… The best way to interpret the journey is as an act of love; it's a gesture of love from the Pope to the people of this land who need to receive it," Mr Bruni told reporters before leaving Vatican City.
The Pope will hold a mass in a football stadium in the Iraqi-Kurdish city of Erbil on Sunday and concern remains about how spontaneous crowds can be prevented from gathering at all the events.
Iraq only received its first batch of vaccines four days ago, with 50,000 doses of the Chinese-made Sinopharm vaccine donated by the Chinese government arriving on Monday.
The country has also agreements to receive vaccines in due course from AstraZeneca and Pfizer.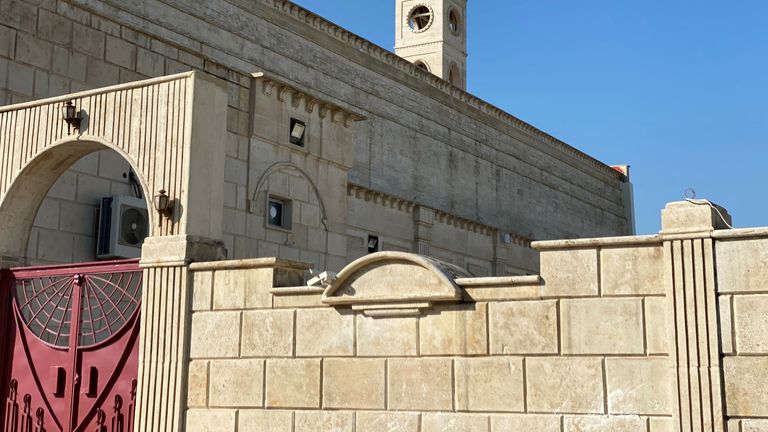 Analysis: This is a poignant trip for Christian communities who have suffered so much
By Mark Stone, Middle East correspondent
"We are all brothers" – the motto for this rather extraordinary papal visit to Iraq.
The words, from Matthew's gospel, represent the central message the Pope wishes to carry with him on a trip that is full of symbolism and solidarity but jeopardy too.
With sectarian violence a continued danger across Iraq and coronavirus cases again on the rise, it's fair to wonder, why now?
Aside from the officials and journalists within the papal bubble, almost no one who encounters the Pope on this trip, or mixes with other faithful followers at his various events, will have received a vaccine.
And the separate headache for the papal security detail doesn't bare thinking about.
Nevertheless the trip has gone ahead. Pope Francis was determined it would.
The only other time a Pope tried to visit Iraq (John Paul II in 2000), a diplomatic falling out between the Vatican and then-President Saddam Hussein put a stop to it.
"The people cannot be let down for a second time. Let us pray that this trip can be carried out well," Pope Francis said as he prepared for the visit.
Inter-faith solidarity and fraternity is a key focus for this Pope at a time when polarisation between religions is increasing especially across the Middle East.
On Saturday, the 84-year-old pontiff will meet another elderly man – Iraq's Grand Ayatollah Ali Sistani.
The 90-year-old Shia cleric is one of the world's most influential Islamic scholars.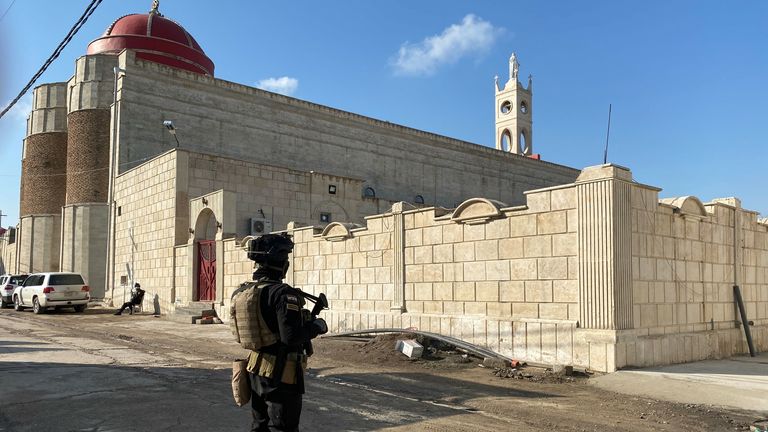 Two years ago, Francis was in Cairo for interfaith prayers and talks with Sunni Islam's leading clerics, the grand imam of Cairo's al Azhar mosque, Sheikh Ahmed al Tayeb.
The papal aspiration under Francis is a broad interfaith communion. He is being criticised for irresponsible timing but his people insist precautions for everyone are in place.
The trip strikes a particular poignancy for the Christian communities who suffered so much, so recently, at the hands of ISIS.
Other minorities suffered as well, of course – the Yazidis particularly, and Muslims too; anyone who didn't buy into the Islamic State's warped doctrine.
It's remarkable that he will visit sites of such recent brutality. Remember the beheadings? The cages where people were burnt alive?
For communities of faith who lived through this, the visit will have real meaning.
Persecution of minority groups like Christians in Iraq didn't begin with the Islamic State.
Over the past 20 years, the Christian population in Iraq has shrunk by 80% according to US State Department analysis.
An Iraqi census carried out in 1997 concluded that there were 1.4 million Christians in the country. Today there are less than 250,000.