California school shooting plot thwarted, police say
A plot by a "disgruntled" student who was planning a mass shooting at a Southern California high school was thwarted after a security guard overheard a conversation, authorities said Tuesday.
The Los Angeles County Sheriff's Department said in a news release a security guard at El Camino High School in Whittier, located east of Los Angeles, overheard the student threaten to open fire on the school Friday.
Sheriff's spokeswoman Nicole Nishida told the Associated Press deputies discovered "multiple guns and ammunition" after searching the student's home.
WOMAN WHO CARED FOR FLORIDA GUNMAN REPORTEDLY WANTS TO CONTROL HIS INHERITANCE
Officials planned to reveal more details about the alleged plot at a news conference on Wednesday.
Robert Jacobsen, general counsel for Norwalk-La Mirada Unified School District, told the Whittier Daily News the student and a teacher had a disagreement because he brought headphones to school. Students are not allowed to have electronic devices out during class time, Jacobsen told the newspaper.
"It was a threat to come back and bring a gun," Jacobsen said.
The alleged planned shooting was set to happen two days after 17 people were gunned down at a Florida high school by a former student.
The Associated Press contributed to this report.
Croatia celebrates construction of major bridge across Adriatic Sea – but Bosnian officials left angered | World News
A major bridge has been built over the Adriatic Sea linking two swathes of Croatian coastline – in a move that has angered Bosnian officials who claim it violates its access to open waters.
Croatia had been aspiring to build a bridge to unite its territory for decades – as travellers between the two sections have faced border checkpoints as they cross into Bosnia before leaving again.
A midnight opening ceremony on the spectacular bridge featured folk dancers, singing and a huge fireworks display.
Croatian Prime Minister Andrej Plenkovic said during the ceremony that the bridge represents "a fascinating strategic accomplishment of the Croatian people and their state" that fulfils their long-time dream to have the Adriatic coastline connected.
The bridge and its connecting roads are expected to be completed by June of next year. Until then, road travellers wanting to visit some of Croatia's most attractive tourist destinations, such as the Old Town section of Dubrovnik, will still have to pass through two border checkpoints between Bosnia and Croatia at the Bosnian seaside port of Neum.
Bosnian officials were not happy when the construction started, claiming the bridge that circumvents Bosnian territory violates the state's sovereign access to open seas in the Adriatic.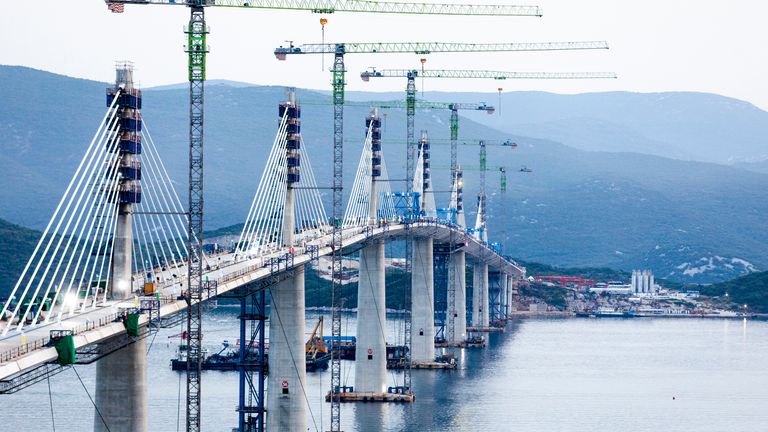 Mr Plenkovic said the bridge will not divide, but it will connect people and nations.
He said: "The bridge does not connect only Croatia, but it connects the EU as well as Bosnia-Herzegovina."
The China Road and Bridge Corporation won an international bid in 2018 to construct a 1.5 mile-long bridge. The construction is 85% financed by the EU and is a rare Chinese project in Europe that went through a regular bidding process.
In recent years, China has been pouring funds into Central and Eastern European countries as part of its strategic Belt and Road project, which includes upgrading infrastructure and is aimed at creating a network of transportation and trade links between China and Europe.
EU officials, however, worry that the Chinese investments boost the Asian country's economic and political clout in the region, which is still reeling from the 1990s break-up of the former Yugoslavia.
Beijing Winter Olympics: Dominic Raab 'unlikely' to attend 2022 Games as calls grow for boycott over China's alleged Uighur abuses | Politics News
Dominic Raab has said it is "unlikely" that he will attend the Beijing Winter Olympics in 2022, amid growing calls for British dignitaries to boycott the event over alleged human rights abuses in China.
The foreign secretary told Kay Burley on Sky News he doubts he will attend the sporting event, but that individuals should be "mindful not to try and overly politicise the Olympics".
It comes after Labour said a boycott is necessary unless China allows the United Nations to carry out a thorough investigation into "systematic persecution" of Uighur Muslims in Xinjiang province – claims Beijing has denied.
And last week, MPs made a non-binding vote in parliament calling on the government to stage a diplomatic boycott of next year's Games.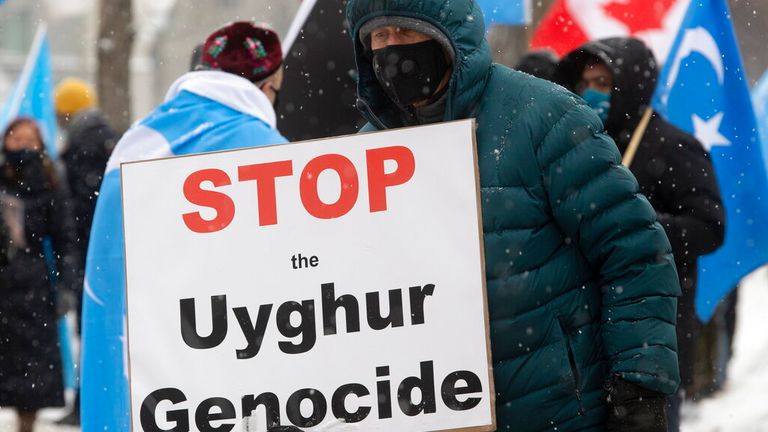 The foreign secretary told Sky News: "In general, I think, and you are seeing it now, we are mindful not to try and overly politicise the Olympics.
"In this country questions like whether the athletes participate are decided as a matter of law independently by the IOC (International Olympic Committee).
"Of course there are great sensitivities around Xinjiang and things like that.
"We will decide our level of representation at a political-diplomatic level in due course
"I think it is unlikely I will go."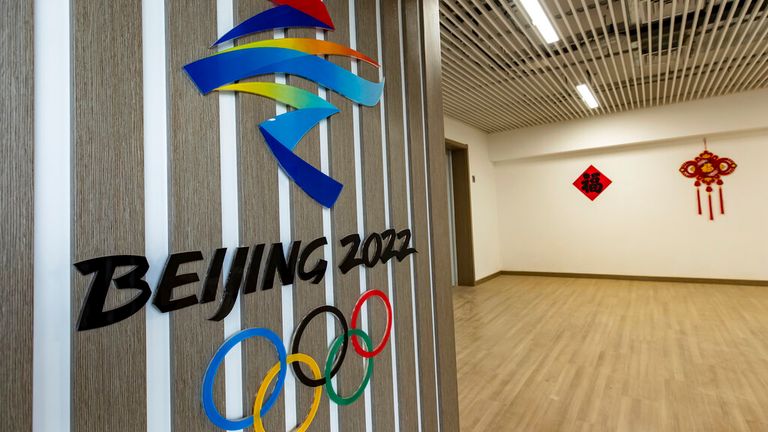 Earlier this month, a Foreign, Commonwealth and Development Office spokesperson said "no decisions have been made" about the attendance of UK government officials to the event.
The foreign secretary has previously described the atrocities alleged to be taking place in China as "one of the worst human rights crises of our time" and has warned that the world "cannot simply look the other way".
But Labour have called for greater action.
An open letter from shadow foreign secretary Lisa Nandy and shadow culture secretary Jo Stevens written earlier this month said the UK government "should not send ministers, Royal Family members or senior representatives to participate in any official duties or ceremonies at the Beijing Olympics" – unless Chinese authorities allow an investigation into ongoing activities.
They said the boycott should be triggered if China does not grant inspectors access to Xinjiang by 14 September – the opening of the UN General Assembly session in New York.
And speaking to Kay Burley on Thursday, shadow home office minister Jess Phillips described the foreign secretary's position on the matter as "weak".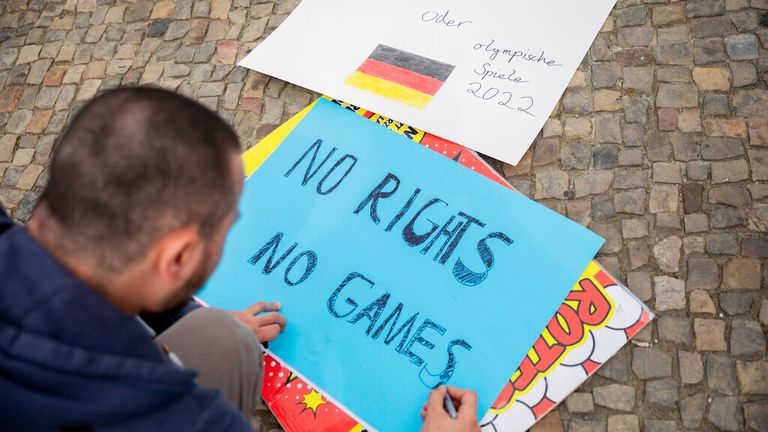 "I think that (Mr Raab's) answer there about not politicising the Olympics is a bit weak if I am honest," she told Sky News.
"I think that it's… these are huge global events and while they are sporting events, they offer Britain a soft power option to speak about the kind of things that the people in our country care about.
"And what is happening to the Uighur Muslims in China is not something that we should sit back and just ignore.
"So I hope very much that they listen."
The Games are due to take place in February next year.
Tokyo Olympics: Ireland's long wait for Games gold ends with 'tremendous' victory in double sculls | World News
Ireland's long wait for an Olympic gold medal has finally come to an end after a thrilling lightweight double sculls victory in Tokyo.
Fintan McCarthy and Paul O'Donovan won the men's final to earn their country's first gold since Katie Taylor's boxing victory at London 2012.
They also became the first Irish male gold medallists since boxer Michael Carruth at 1992's Barcelona Games.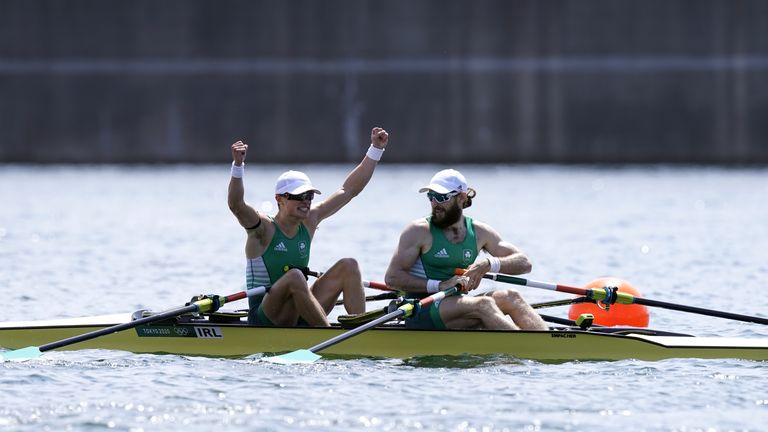 Rowers McCarthy and O'Donovan beat Germany by just 0.86 seconds at the Sea Forest Waterway on Thursday.
It was O'Donovan's second Olympic medal after he won silver in the double sculls with brother Gary in Rio in 2016.
He becomes the first Irish athlete to win Olympic gold and silver medals.
"I didn't think about too much how I felt at the time, so it's difficult to compare it from five years after," he said.
"Winning today and silver medal last time, I'll be a bit happier about that. The silver medal is nice but Fintan did the right job and we went straight to the top at his first Games.
"The two boys (Germany) have been looking strong all week and made us really work hard. Italy were quick off the start and didn't let us have it easy."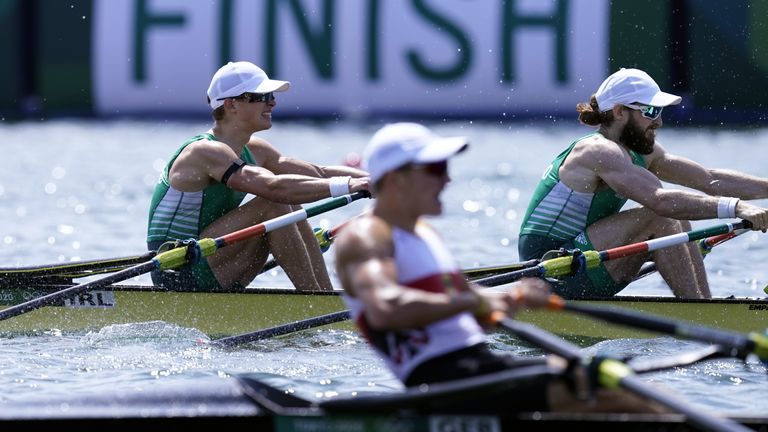 The duo had set a new Olympic best in the semi-final of six minutes 05.33 seconds, but had to fight for gold.
Germans Jonathan Rommelmann and Jason Osborne were 10 lengths clear after 500m, but Ireland slowly closed the gap and managed to edge ahead and were a length in front before the finish line.
Their victory came a day after Ireland won their first medal of the Tokyo Olympics when Aifric Keogh, Eimear Lambe, Fiona Murtagh and Emily Hegarty took bronze in the final of women's rowing fours.
Follow the Daily podcast on Apple Podcasts, Google Podcasts, Spotify, Spreaker
An ecstatic Irish President Michael D Higgins tweeted: "After the magnificent success in women's rowing yesterday, today we celebrate Ireland's first Olympic gold medal in rowing, won so deservedly by Paul O'Donovan and Fintan McCarthy in the lightweight double sculls.
"Theirs is a tremendous achievement, which gives great inspiration to young people and aspiring athletes all over Ireland."
"Theirs is a tremendous achievement, which gives great inspiration to young people and aspiring athletes all over Ireland."

— President of Ireland (@PresidentIRL) July 29, 2021
Back home in Skibbereen, McCarthy's father Tom told RTE: "It's so overwhelming. Absolutely delighted. They've worked so hard and they were pushed and they delivered and it's amazing."
And mum Sue said: "There are no words to describe it. Pride just doesn't cover it – it is so much more than that.
"We hoped beyond hope that they would (win). They were on form, they've been on form all season and it seems that no-one could touch them.
"So we just hoped that that would be the case again today and they didn't let us down."