A-list stars donate millions to Florida shooting victims amid gun control protests
Several A-list celebrities have joined George and Amal Clooney in pledging $500,000 to the March For Our Lives movement.
The list includes Oprah Winfrey, Steven Spielberg, Kate Capshaw and Jeffrey and Marilyn Katzenberg, who have also said they will participate in the march on Washington DC next month.
The donations, which translate to about £360,000 each, will be given to the students of Marjory Stoneman Douglas High School in Florida after a mass shooting last week killed 17 people.
Students have into turned activists following the attack, which has rekindled the debate over gun control in the US.
George Clooney said in a statement: "Amal and I are so inspired by the courage and eloquence of these young men and women from Stoneman Douglas High School.
"Our family will be there on 24 March to stand side by side with this incredible generation of young people from all over the country, and in the name of our children Ella and Alexander, we're donating $500,000 to help pay for this groundbreaking event.
"Our children's lives depend on it."
:: US school shootings: A deadly history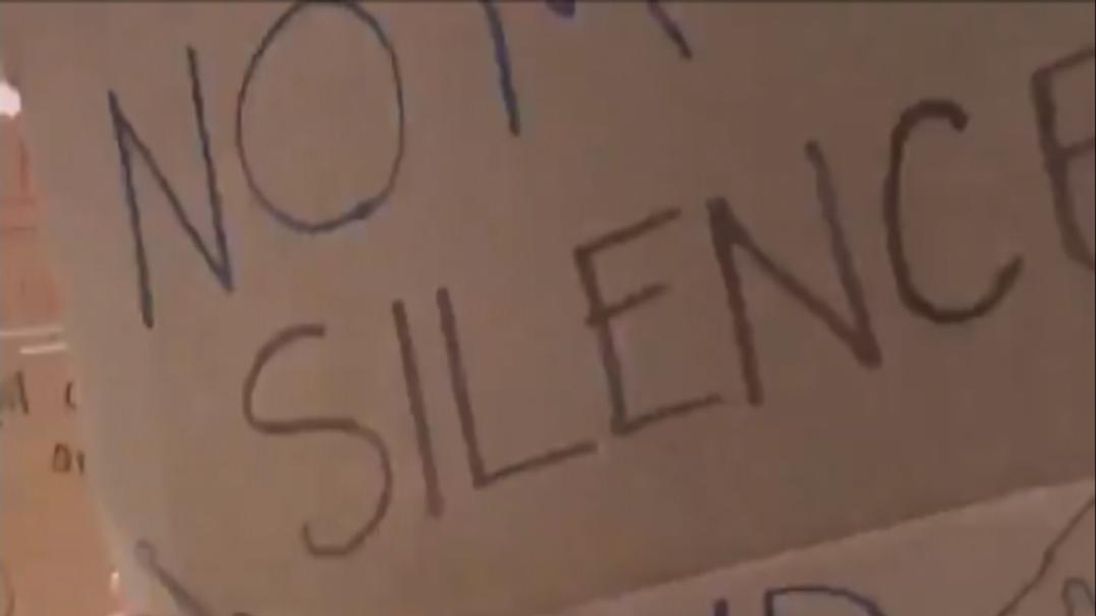 Oprah Winfrey followed with a tweet, pledging the same amount.
"George and Amal, I couldn't agree with you more," she wrote.
"I am joining forces with you and will match your $500,000 donation to March For Our Lives.
"These inspiring young people remind me of the Freedom Riders of the 60s who also said we've had ENOUGH and our voices will be heard."
:: Gun owners destroy rifles after Florida massacre as #OneLess campaign goes viral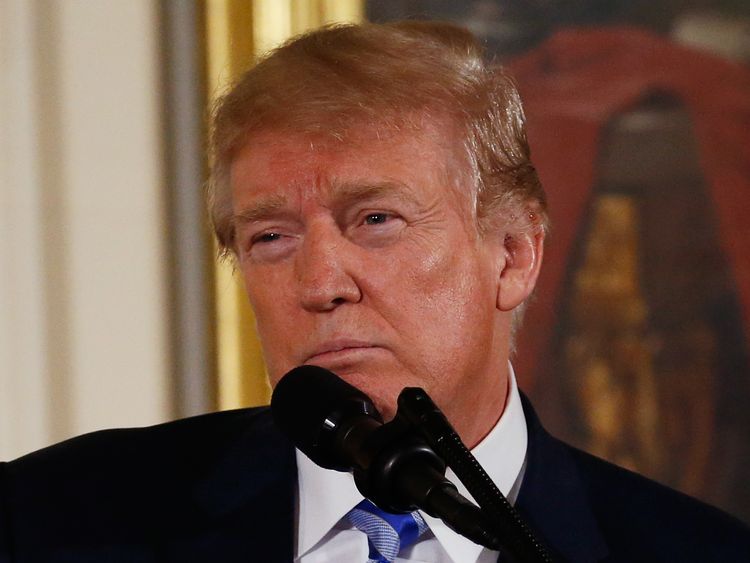 The alleged gunman, 19-year-old former student Nikolas Cruz, is reported to have been legally sold the assault rifle used in the attack despite having a history of mental health issues.
Survivors, stars and politicians have all called on the Republican Party and US president Donald Trump to impose stricter gun controls.
Steven Spielberg and his wife Kate Capshaw followed, and said: "Young students in Florida and now across the country are already demonstrating their leadership with a confidence and maturity that belies their ages.
"Kate and I applaud their efforts to take a stand for the benefit of this and future generations. They are an inspiration to us all, and we are joining in this movement with a donation of $500,000."
Studio boss Jeffrey Katzenberg also said he was "proud to stand with the brave young leaders from Parkland, who have turned their pain and grief and turned it into action".
On Wednesday, Donald Trump signed an order recommending a ban on devices that turn rifles into machine guns, saying: "We must do more to protect our children."
Pope Francis arrives at home of senior Iraqi Shi'ite cleric Grand Ayatollah Ali al Sistani | World News

Pope Francis has arrived at the home of Grand Ayatollah Ali al Sistani – southern Iraq's top shi'ite cleric – in a historic meeting of Catholic and Shi'ite Muslim leadership.
It's part of the first ever papal visit to the Gulf state this weekend.
"A core purpose of his visit is interfaith dialogue, and that is the theme of today," Sky's Middle East correspondent Mark Stone says.
"He is at the moment meeting .. the most senior shi'ite cleric in Iraq and one of the most senior Muslim figures in the world.
"It is a hugely significant moment that these two elderly men, the Pope is 84 the Ayatollah is 90, should meet and should chat and will pray together – a very significant moment and an attempt by the Pope to make the point that… interfaith dialogue is at his core.
"It is incredible that he has managed to get here, everyone thought that the trip would have to be cancelled – not just because of the security concerns but because of coronavirus as well.
"The Vatican is making the point that social distancing is in force that crowds are not large but having seen the crowds in one small town yesterday anticipating his arrival, I think that is going to be very very hard to do."
Domestic abuse is the world's hidden pandemic – but victims are being left with nowhere to go | UK News
As COVID-19 spread throughout the world, another pandemic was growing – hidden in the homes where we have been ordered to stay.
International Women's Day, on Monday 8 March, is a day to celebrate the achievements of women and call for more action on gender equality.
But this year it feels there is little to celebrate. Whether you look at women in the workplace or maternity rights, the pandemic has exacerbated existing inequalities in almost all walks of life.
The pandemic's impact on domestic abuse is particularly bleak.
Across the world, there has been a marked rise in reports of domestic violence. In France, reports increased by 32% during the first week of lockdown. Ireland saw a five-fold increase in domestic violence and reports were up 8.1% in the United States after lockdown orders. In the UK, police have seen a 10% increase in reported cases of domestic abuse and calls to helplines have also risen sharply.
Domestic abuse is a vastly under-reported crime and the true picture is likely to be far worse than the official statistics show.
But the emergence of what the UN is calling a "shadow pandemic" is clear.
While for most of us, the stay at home directive has meant grappling with the stress of home schooling or hurling well-meaning articles about baking banana bread into the rubbish bin, for a significant number of people it has been altogether more sinister.
When your abuser is your partner or family member, spending time at home is to be trapped. The usual escape routes are harder to access, and the critical support from friends and loved ones shut off.
:: Subscribe to the Daily podcast on Apple Podcasts, Google Podcasts, Spotify, Spreaker
Chancellor Rishi Sunak announced in this week's budget that domestic abuse schemes in England and Wales will receive an extra £19m from the government over the next two years.
Most of the money will be going towards work with abusers to reduce reoffending, and £4m will provide 132 new bed places – or "respite rooms" – for homeless and extremely vulnerable women who have suffered domestic abuse.
The extra money has been welcomed, but charities have warned it's not enough.
Women's Aid estimates that £393m is required to support refuges and community based services in England, so there is a shortfall of more than £200m.
The charity warns that "will mean that women and children will be turned away from the lifesaving support they need".
"While funding for working with perpetrators is important, it must never come at the expense of funding lifesavings support for survivors. Women-only services deliver tried and tested support that survivors and their children continue to desperately need. They are likely to face even further pressure and demand once lockdown finally lifts," it said.
An MP's story of domestic abuse

Domestic abuse survivors need extraordinary bravery. It means hiding your passport and squirreling away money in amounts small enough not to be noticed, but big enough to fund your escape. It means scrambling together clothes and quickly bundling up the children before the abuser gets back home (and who is out of the house for long these days?).
Some refuges have closed altogether, while others are struggling with a chronic shortage of beds. Local authority spending on refuges has been cut from £31.2m in 2010 to £23.9m in 2017.
What happens if, after that stomach churning rush of fear and determination, there is nowhere to go?
We'll be exploring the issue with Claire Barnett, the executive director of UN Women UK, on Sophy Ridge on Sunday on 7 March. Other guests will include Education Secretary Gavin Williamson, the SNP's Mhairi Black and the head of Ofsted Amanda Spielman.
'I'm on the move!': NASA's Perseverance rover takes its first test drive on Mars | Science & Tech News

NASA's Perseverance rover has taken its first drive on Mars, just weeks after landing on the Red Planet.
The one-tonne robot travelled 21.3ft (6.5m) in a mobility test that the space agency said will allow the checking and calibrating of the rover's systems and instruments.
Once Perseverance really gets going, it is expected to undertake regular commutes of 656ft (200m) or more.
Anais Zarifian, Mars 2020 Perseverance rover mobility test bed engineer at NASA's Jet Propulsion Laboratory in Southern California, said: "When it comes to wheeled vehicles on other planets, there are few first-time events that measure up in significance to that of the first drive.
"This was our first chance to 'kick the tyres' and take Perseverance out for a spin."
And the news was good: Ms Zarifian said the rover's six-wheel drive "responded superbly", adding: "We are now confident our drive system is good to go, capable of taking us wherever the science leads us over the next two years."
Perseverance was moving for about 33 minutes, first driving 13ft before turning in place 150 degrees and reversing 8ft to find its new parking space.
The rover landed on Mars on 18 February to much celebration in the US and across the world, becoming the ninth spacecraft since the 1970s to achieve such a feat.
I'm on the move! Just took my first test drive on Mars, covering about 16 feet (5 meters). You're looking at the very beginning of my wheel tracks. Many more to make. pic.twitter.com/7tFIwWFfJ4

— NASA's Perseverance Mars Rover (@NASAPersevere) March 5, 2021
The landing came after a 300 million-mile journey over nearly seven months, as part of a mission to find out whether there was once life on the mysterious planet.
Scientists believe that if there ever was life on Mars, it would have been 3 billion to 4 billion years ago, when water still flowed there.
Two spacecraft from the UAE and China have also swung into orbit around Mars in recent weeks, a sign of the growing global interest.
Perseverance carries 19 cameras – more than any other interplanetary mission – and has sent 7,000 photos back to earth already.
Subscribe to the Daily podcast on Apple Podcasts, Google Podcasts, Spotify, Spreaker
The rover is also kitted out with a navigation system to help it avoid dangerous boulders and ravines, a range of scientific instruments for performing experiments, and a miniature helicopter that will become the first rotorcraft to fly on another planet.
The samples of rock and soil it collects will be sealed in tubes and left in a well-identified place on the surface for a future mission to collect.
Next up on Perseverance's diary are more tests, and the calibration of its scientific instruments and longer test drives, as well as the experimental flight test programme for the Ingenuity Mars Helicopter it is carrying.