Russian bots sow social upheaval across US using Facebook, Twitter, experts say
Russian bots aren't pro-Republican or pro-Democrat: they're simply anti-American.
That's the conclusion many are reaching in the wake of the indictments recently handed out by Special Counsel Robert Mueller against 13 Russian nationals and three Russian entities who allegedly enacted a sophisticated plot to wage "information warfare" against the United States.
Marat Mindiyarov, a former commenter at the Internet Research Agency, says the organization's Facebook department hired people with excellent English skills to sway U.S. public opinion through an elaborate social media campaign.
His own experience at the agency makes him trust the U.S. indictment, Mindiyarov told The Associated Press. "I believe that that's how it was and that it was them," he said.
While much of the attention has focused on the 2016 U.S. presidential election and the role played in it by the Internet Research Agency, one of the defendants named in the indictment, Russian social media bots also have been detected inserting discord into the Parkland, Fla., shooting debate on social media. Russian bots have reportedly been taking both sides in the debate.
Hamilton 68, a website built by Alliance for Securing Democracy, has tracked Twitter activity from accounts that have purportedly been involved with Russian dissuasion campaigns, according to a Wired report. The accounts put themselves into hashtags surrounding the Parkland shooting and mentioned topics such as Parkland, gun control, shooter Nikolas Cruz, the NRA and other related topics.
FACEBOOK, GOOGLE, TWITTER OPEN UP TO CONGRESS ABOUT RUSSIAN MISINFORMATION
Other websites, such as Botcheck.me, have also seen an increase in Russian bot activity following the Parkland shooting, using phrases such as "school shooting" and "gun control" and hashtags such as #guncontrol and #guncontrolnow.
"We worked in a group of three where one played the part of a scoundrel, the other one was a hero, and the third one kept a neutral position."

– Marat Mindiyarov, a former commenter at the Internet Research Agency
In an email to Fox News, Ash Bhat, co-creator of Botcheck.me, said the project's analysis "found that a majority of tweets tagged with #mueller over the weekend [Fri. and Sat.] came from automated accounts." For comparison purposes, the site also tracked #blackpanther (a hashtag surrounding a superhero movie) and "we found that only a single digit percentage were from these automated accounts."
Bhat added that Botcheck.me uses machine learning to build a statistical model using inputs like date, frequency of tweets, bio, follower counts and other stats to determine whether the account is a bot or a person.
The site has found that bots will promote certain hashtags over others, including #memonday, which relates to the recently released Devin Nunes memo. "We theorize that this might be because it lets these networks frame the public debate around the events. For example, debating gun violence vs. debating mental illness," Bhat told Fox News.
He also noted that @realdonaldtrump, @potus and @foxnews (the main Twitter handle for this website) are among the most tweeted-at accounts. @Realdonaldtrump and @potus are "usually in the top 3," he said, while @foxnews moves around often in the top 10. Bhat added that CNN's Twitter account also "tends to be in the top 10." 
INTERNET RESEARCH AGENCY INDICTED: WHO IS THE RUSSIAN COMPANY BEHIND THE FAKE FACEBOOK ADS?
"The most important principle of the work is to have an account like a real person. They create real characters, choosing a gender, a name, a place of living and an occupation. Therefore, it's hard to tell that the account was made for the propaganda."

– -Lyudmila Savchuk, former troll and researcher at the Internet Research Agency
Bigger than the election and the fight against it
The Internet Research Agency has also allegedly purchased online advertisements and created content for other contentious topics beyond the 2016 U.S. presidential election.
It reportedly used doctored videos to spread false reports about a supposed Islamic State attack on a chemical plant in Louisiana and a purported case of Ebola in the state of Georgia. Seeking to sow division and mistrust ahead of the U.S. election, the agency apparently whipped up a fake video of an African-American woman being shot dead by a white police officer in Atlanta.
The two primary social media companies that have been subject to the influx of bot accounts and propaganda, Twitter and Facebook, are attempting to fight back, with varying degress of success.
In September, the Jack Dorsey-led Twitter gave an update on how it is attempting to stop bots and misinformation on its platform. It said that it had built systems to identify suspicious log-in attempts, catching about 450,000 suspicious logins per day, using machine learning and automated processes. Thanks to the processes put in place, it saw a 64 percent "year-over-year increase in suspicious logins we're able to detect," but noted significantly more work needs to be done.
Bhat said that it is "impossible to say whether an account is 'Russian' with the data publicly available," adding that Twitter has access to IP logs and other information that has not been released publicly and could be used to determine an account's origin.
Data has not yet been released on how many people have seen or interacted with Russian bot accounts stemming from the Parkland shooting, but recently released data highlight how massive the issue has become.
At least 1.4 million people on Twitter interacted with Russian propaganda during the 2016 presidential election –double the number initially identified, according to a company blog post.
Twitter also said it notified all 1.4 million affected users that they saw propaganda, making good on a pledge the company made to U.S. lawmakers who are probing Russia's social media tactics.
Approximately 150 million Facebook users saw inflammatory posts created by the Internet Research Agency, according to a report from Engadget.
In response, Facebook created a tool to let both Facebook and Instagram users know if they saw one of these posts from January 2015 to August 2017.
Additionally, Facebook told legislators that the Internet Research Agency attempted to organize 129 events such as rallies, protests and other events across the U.S.
Approximately 338,300 unique Facebook accounts viewed the events, 62,500 marked they were attending one of the events and 25,800 accounts marked they were interested, the company said.
In September 2017, Facebook announced that it had uncovered approximately $100,000 in fraudulent ad spending tied to the 2016 U.S. election. According to a source familiar with the social network's thinking, Facebook's research links its September findings back to the Internet Research Agency.
Facebook's Chief Security Officer Alex Stamos wrote in early September the company "found approximately $100,000 in ad spending from June of 2015 to May of 2017 — associated with roughly 3,000 ads — that was connected to about 470 inauthentic accounts and pages in violation of our policies. Our analysis suggests these accounts and pages were affiliated with one another and likely operated out of Russia."
Additionally, Facebook said it found approximately $50,000 in "potentially politically related ad spending," that was spent on approximately 2,200 ads.
The Internet Research Agency's potential involvement with the fraudulent Facebook ad spending was first reported in September 2017 by both The New York Times and The Washington Post.
In an unclassifed report in January 2017, the Office of the Director of National Intelligence mentioned the potential involvement by the Internet Research Agency in the 2016 U.S. election.
"A journalist who is a leading expert on the Internet Research Agency claimed that some social media accounts that appear to be tied to Russia's professional trolls — because they previously were devoted to supporting Russian actions in Ukraine — started to advocate for President-elect Trump as early as December 2015," the report reads.
How the propaganda is being spread
While Russian officials scoff at the U.S. indictments handed out by Mueller, people who worked at the Internet Research Agency believe the criminal charges are well-founded.
The aim of the agency's work was either to influence voters or to undermine their faith in the U.S. political system, the 37-page indictment states.
Russia has repeatedly denied it was involved and Putin spokesman Dmitry Peskov told reporters Monday that while the indictment focuses on "Russian nationals," it gives "no indication that the Russian government was involved in this in any way."
Mindiyarov, who failed the language exam needed to get a job at the organization's Facebook desk where the pay was double that of the domestic side of the factory, said the content looked as if it were written by native English speakers. "These were people with excellent language skills, interpreters, university graduates," he said, "It's very hard to tell it's a foreigner writing because they master the language wonderfully."
The English test he took asked for a writing sample about Democratic presidential candidate Hillary Clinton's chances of winning the U.S. election, Mindiyarov recalled.
"I wrote that her chances were high and she could become the first female president," he told the AP.
Mindiyarov noted they received their wages in cash and operated in teams as they tried to foment public interest with fake discussions. There are also photo and video departments at the Internet Research Agency.
"We worked in a group of three where one played the part of a scoundrel, the other one was a hero, and the third one kept a neutral position," he said. "For instance, one could write that Putin was bad, the other one would say it was not so, and the third would confirm the position of the second while inserting some picture."
Another former Internet Research Agency worker, Lyudmila Savchuk, said her experience there corresponds with the allegations made by Mueller and his team.
"The posts and comments are made to form the opinion of Russian citizens regarding certain issues, and as we see it works for other countries, too," Savchuk told the AP.
"The most important principle of the work is to have an account like a real person," Savchuk added. "They create real characters, choosing a gender, a name, a place of living and an occupation. Therefore, it's hard to tell that the account was made for the propaganda."
Combatting the propaganda in the future
Though it's difficult to tell what account is a bot and what isn't, there are some steps the average social media user can take.
Accounts with no photos and user names with a series of letters and numbers are often accounts that should be looked at with a discerning eye, Eric Feinberg, a founding partner of deep web analysis company GIPEC.
"This could be a guide for people to look for when interacting with bots," Feinberg told Fox News, via email. "Review the account history and characteristics, including the speed and timing of tweets and posts, [as] many of these bot accounts recently joined Facebook and Twitter but have high amount of tweets and posts in [a] short period [of] time."
Additionally, RoBhat Labs wrote a blog post giving further guidelines on how to identify bots on Twitter, including ones it calls "high-confidence bot accounts," meaning accounts it is pretty certain are a bot.
"Behavior such as tweeting every few minutes in a full day, endorsing polarizing political propaganda (including fake news), obtaining a large follower account in a relatively small time span, and constant retweeting/promoting other high-confidence bot accounts are all traits that lead to high-confidence bot accounts,"  RoBhat Labs wrote in the post. "These are the accounts that we aim to classify and bring to the attention of the Twitter community."
Michael Balboni, president and managing director of RedLand Strategies, said the speed of social media posts can make it difficult to identify what is propaganda and what is not. "At the very least, in the shorter term, 'trending' will become an unreliable indicator of interest of a topic," he said.
Fox News' Christopher Carbone and the Associated Press contributed to this report. Follow Chris Ciaccia on Twitter @Chris_Ciaccia
Queen unveils statue of herself in South Australia – with the help of technology | UK News
The Queen has unveiled a statue of herself in Australia, despite being thousands of miles away in Windsor Castle.
The 94-year-old has continued her work virtually during the coronavirus pandemic, like many of those in her family.
But after almost 70 years on the throne she was able to joke about the technology that has allowed her to unveil a statue virtually for the first time.
In a video call with the governor of South Australia Hieu Van Le and the state's premier Steven Marshall, she said: "I would think possibly it might be quite alarming to suddenly see it out of the window – you'd think, gracious, has she arrived unexpectedly?"
The sculpture depicts the monarch in a coat and hat carrying her trademark Launer handbag and it sits in the grounds of Government House in Adelaide, South Australia.
When told it had become the most popular place for people to take photographs, the Queen chuckled and said: "Oh really?"
Mr Le said: "They feel very close to you through standing in front of the statue."
Sculptor Robert Hannaford also presented the Queen with a "maquette", a scale model of the statue, which will be sent as a memento.
The Queen remarked: "That's very kind. I'm glad it's not quite as big as the original statue."
At the start of the call, the Queen had joked about what time of day it was in Australia.
"Good morning," she said. "Well that's good morning to me. It looks… I don't know what time of day it is to you."
She was also briefed on other developments in South Australia, including the early stages of the vaccine programme, the response to COVID-19 and the lifting of restrictions.
She also heard about the region's recovery from drought and bushfires.
The video call took place on Wednesday last week but it was released by Buckingham Palace on Monday, the same day the Duke of Edinburgh was moved from King Edward VII's hospital to St Bartholomew's.
Philip, 99, has been in hospital for almost two weeks and will undergo testing and observation for a pre-existing heart condition.
Nicolas Sarkozy: Former French president to appeal guilty verdict in corruption trial | World News
Former French president Nicolas Sarkozy is set to appeal after he was handed a one-year prison term and two-year suspended sentence for corruption and influence peddling.
The 66-year-old was convicted by a court in Paris on Monday for having tried to illegally obtain information from a senior magistrate in 2014 about a legal action in which he was involved.
The court said Sarkozy will be entitled to request to be detained at home with an electronic bracelet, meaning he is unlikely to go to jail.
He left the court without speaking, but his lawyer said he would appeal, and prove his innocence, describing the ruling as "extremely severe and wholly unjustified."
And a post on his wife Carla Bruni's Instagram account read: "What a senseless witch-hunt, my love @nicolassarkozy …. The fight will continue, the truth will see the light #injustice."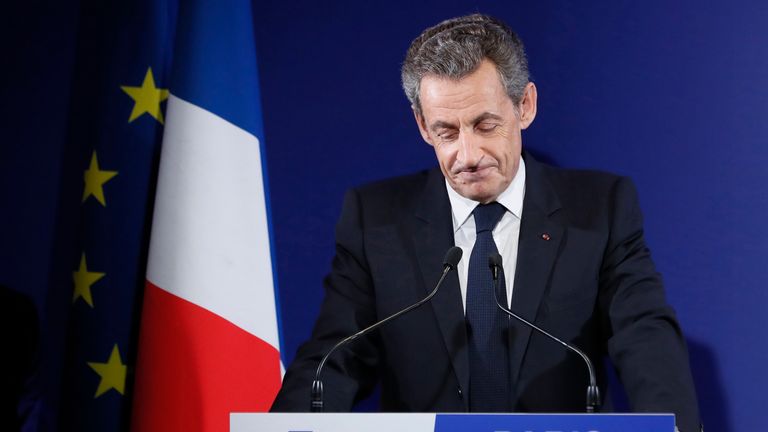 The trial at the end of last year heard how the former politician, who was president from 2007 to 2012, forged a "corruption pact" with his lawyer Thierry Herzog, 65, and senior magistrate Gilbert Azibert, 74.
The trial focused on phone conversations that took place in February 2014. At the time, investigative judges had launched an inquiry into the financing of the 2007 presidential campaign.
During the investigation, they incidentally discovered that Sarkozy and Herzog were communicating via secret mobile phones registered to the alias "Paul Bismuth".
According to wiretapped conversations, Sarkozy instructed Herzog to promise Azibert a job in Monaco in exchange for leaking information about another legal case in which he was involved.
The court said the facts were "particularly serious" given that they were committed by a former president who used his status to help a magistrate who had served his personal interest.
In addition, as a former lawyer, he was "perfectly informed" about committing an illegal action, the court said.
Sarkozy's two co-defendants – Herzog and Azibert – were also found guilty and given the same sentence.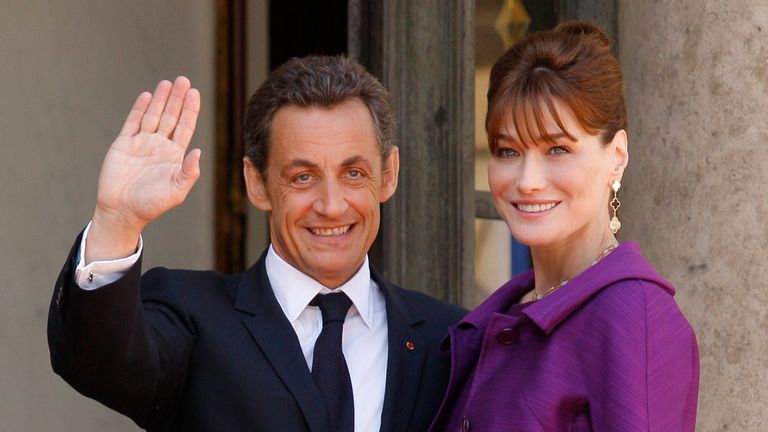 This is the first time in France's modern history that a former president has gone on trial for corruption.
Sarkozy's predecessor, Jacques Chirac, was found guilty in 2011 of misuse of public money and given a two-year suspended prison sentence for actions during his time as Paris mayor, but he did not end up having to appear in court because of ill health.
Sarkozy will face another trial later this month along with 13 other people on charges of illegal financing of his 2012 presidential campaign.
His party is suspected of having spent 42.8m euros, almost twice the maximum authorised, to finance the campaign, which ended in victory for Francois Hollande.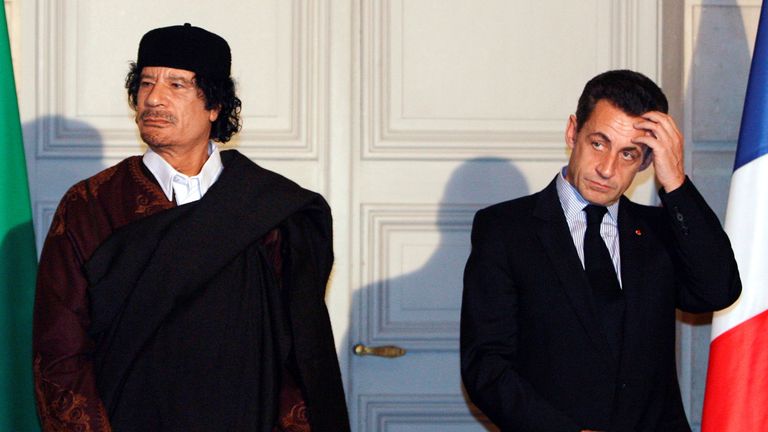 In another investigation opened in 2013, Sarkozy is accused of having taken millions from then-Libyan dictator Muammar Gadhafi to illegally finance his 2007 campaign.
He was handed preliminary charges of passive corruption, illegal campaign financing, concealment of stolen assets from Libya and criminal association. He has denied wrongdoing.
Yemen: Criticism as UK announces it will cut aid to war-torn country by more than half | Politics News
The UK government has announced it will cut the aid it provides to Yemen by more than half.
Foreign Office minister James Cleverly revealed at a virtual United Nations pledging conference that the UK's contribution in the next financial year will be "at least £87m", taking its contribution since the conflict began to more than £1bn.
This is a fall of 59% from 2020/21, when the figure stood at £214m.
Yemen: The analysis of a war crime

It follows the government's decision to cut foreign aid across the board by billions of pounds – from 0.7% of gross national income to 0.5%.
"The UK remains steadfast in our support to Yemeni people as one of the biggest donors of lifesaving aid and through our diplomatic efforts to bring peace," a Foreign Office spokesperson said.
"Since the conflict began, we have supported millions of vulnerable Yemenis with food, clean water and healthcare, and will continue to do so. We are using our UN Security Council seat and working with our allies to push for a lasting resolution to the conflict. Yemen's leaders must meaningfully engage with the UN to agree a ceasefire."
Mr Cleverly told the conference that the UK's contribution would "prioritise those most vulnerable and at highest risk" and provide at least 1.6 million people with access to clean drinking water and support 400 clinics to provide healthcare and feed 240,000 of the most vulnerable Yemenis every month.
The UN has launched an urgent appeal for more funding for aid in Yemen to avert a looming famine – which would drastically worsen the already devastating impact of the civil war.
The UK government's decision drew swift criticism.
Labour's shadow foreign secretary Lisa Nandy said it was a "deeply depressing statement of intent from the government".
She added: "Despite all the talk of Global Britain this is us abandoning our moral obligations, pulling further away from our allies and stepping back just as the USA steps up."
This is a deeply depressing statement of intent from the Government. Despite all the talk of Global Britain this is us abandoning our moral obligations, pulling further away from our allies and stepping back just as the USA steps up. https://t.co/FHZFBrFaYZ

— Lisa Nandy (@lisanandy) March 1, 2021
Conservative MP Jeremy Hunt, a former foreign secretary, said he was "deeply disappointed" with the decision.
"Abandoning a forgotten country and people is inconsistent with our values, weakens our moral authority and reduces our influence," he said.
"We should be increasing the scale of our support in the face of such suffering; to cut it at this moment of extreme peril is incomprehensible."
Deeply disappointed to hear UK govt is halving aid to Yemen. Timing is inexplicable with the UN warning only last week that Yemen faces the worst famine the world has seen for decades. In their words it is 'falling off a cliff'. Thread… https://t.co/JN3DoXbSh7

— Jeremy Hunt (@Jeremy_Hunt) March 1, 2021
Labour's Sarah Champion, chair of the Commons International Development Committee, slammed the move as "utterly appalling".
"It sends a message that the UK is turning its back on the world's worst humanitarian crisis," she said.
"This is completely at odds with the government's assertions that the UK should be a global leader, especially in the year with the G7 and COP presidencies.
"It is an astonishing move, particularly as the UK has the power – as penholder within the UN Security Council for Yemen – to lead the way to create a political solution to the conflict."
Speaking to Sky News before the decision was announced, former international development secretary Andrew Mitchell said: "Any cut, let alone one of nearly 50%, will mean that four million Yemenis – mainly children – will continue the slow, agonising and obscene process of starving to death."
He also predicted the government would have the greatest difficulty pushing its wider foreign aid cut through parliament.
"We are a generous country and every single elected member of the House of Commons promised in their manifesto just over a year ago not to cut the 0.7% spending on development," said Mr Mitchell.