George and Amal Clooney donate $500k to Florida shooting survivors' Never Again gun control campaign
George and Amal Clooney have donated $500,000 to US students organising gun control marches.
The Hollywood superstar and his human rights lawyer wife also said they will attend the protests planned for next month across the country.
They said they are inspired by the "courage and eloquence" of the survivors of the Marjory Stoneman Douglas High School shooting in Parkland, Florida, last Wednesday.
Seventeen students and teachers were killed and others wounded when a gunman went on a rampage with an AR-15 assault rifle.
In response to the shooting, Stoneman Douglas students have banded together to rally against gun violence under the banner of Never Again.
Pupils from across Florida and the rest of the US have joined the movement on social media and through protests.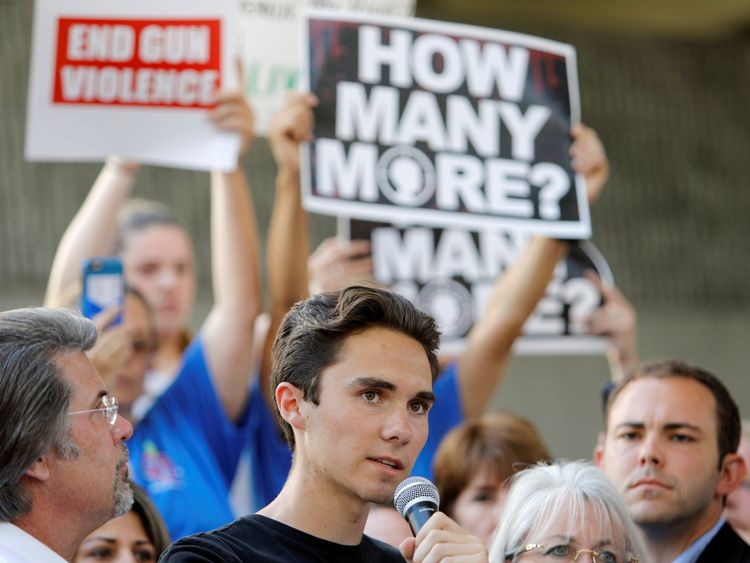 Survivors of the shooting, most who are not old enough to vote, announced over the weekend they are organising a national protest called March for Our Lives on 24 March.
They will march in Washington and other cities to demand children and their families "become a priority" to US lawmakers.
In a statement, George Clooney said he and Amal are donating the $500,000 (£357,325) in the names of their eight-month-old twins.
He said: "Amal and I are so inspired by the courage and eloquence of these young men and women from Stoneman Douglas High School.
"Our family will be there on 24 March to stand side by side with this incredible generation of young people from all over the country.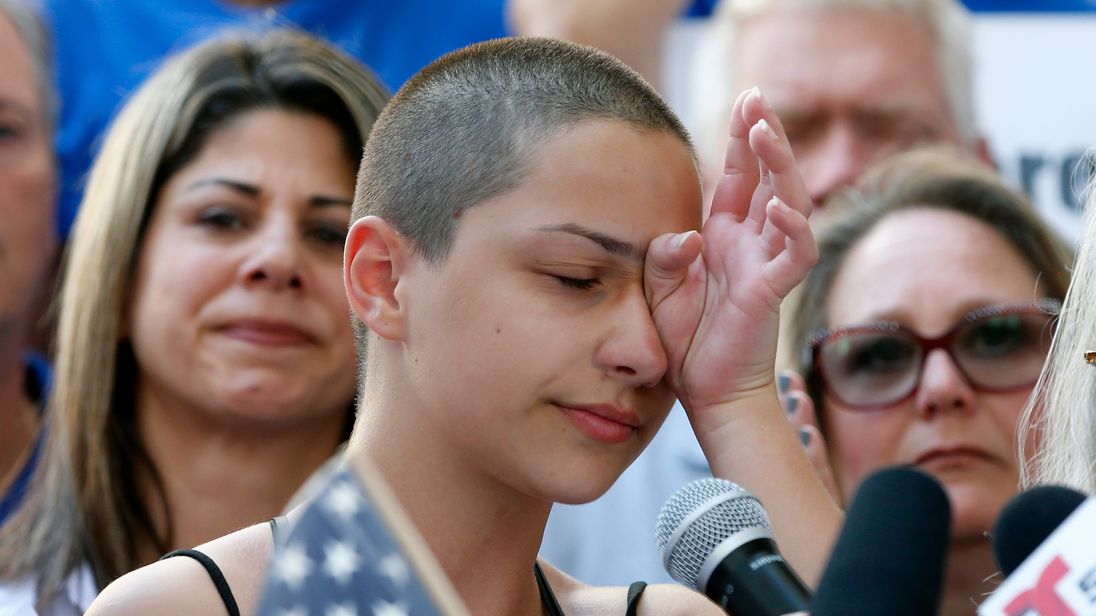 "In the name of our children Ella and Alexander, we're donating $500,000 to help pay for this groundbreaking event. Our children's lives depend on it."
The Never Again account, representing survivors, tweeted: "We want to express extreme gratitude for the amazing donation that George Clooney and his family have made.
"We are overwhelmed with the support, and we can't wait to march."
On Tuesday, about 100 student survivors embarked on a 400-mile trip to the state capital Tallahassee to pressure politicians to act on a sweeping package of gun control laws.
They plan to hold a rally on Wednesday to pressurise Florida's Republican leaders to implement gun restrictions which they have resisted since taking control in 1999.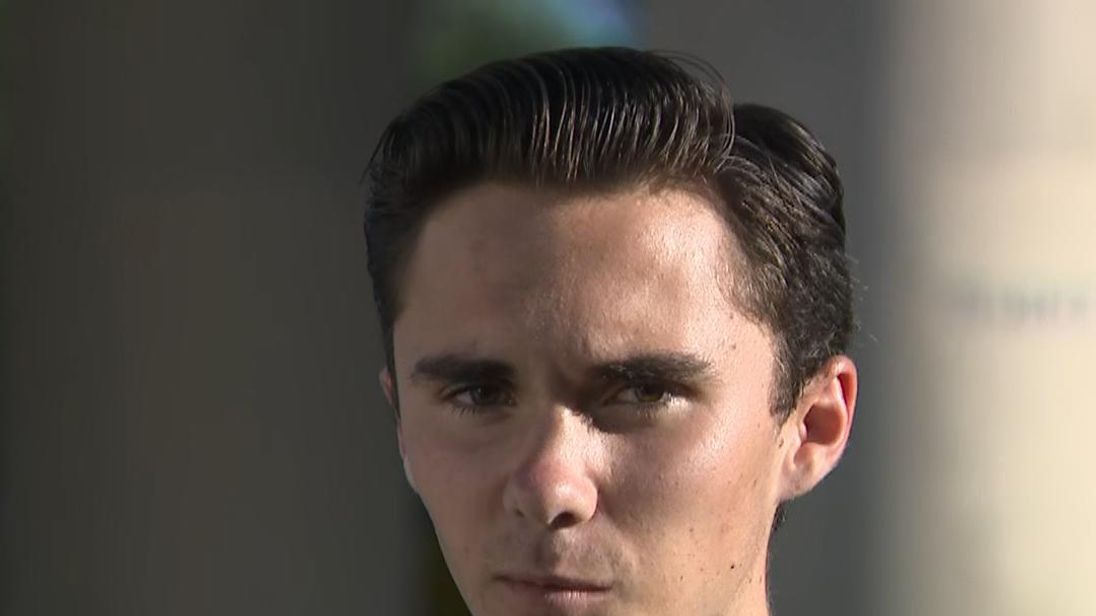 President Donald Trump refused to speak about gun control laws in the aftermath of the shooting, but has since backed a ban on bump stock gun modifications.
The students who have organised the March for our Lives protest said they are fed up "waiting for someone else" to take action to halt the epidemic of school shootings.
They are demanding a "comprehensive and effective bill" in Congress to address the violence.
"Politicians are telling us that now is not the time to talk about guns," their mission statement said.
"Every kid in this country now goes to school wondering if this day might be their last. We live in fear.
"Change is coming. And it starts now, inspired by and led by the kids who are our hope for the future. Their young voices will be heard."
'Designed to break you': British-Australian academic had suicidal thoughts in Iranian jail | World News
A British-Australian academic who was convicted and imprisoned in Iran for spying has said she had suicidal thoughts while in solitary confinement.
Dr Kylie Moore-Gilbert was jailed for ten years on charges of espionage in September 2018. She was released in November 2020 in exchange for three Iranians being held abroad.
She had vehemently denied the charges and maintained her innocence.
Her 804 days behind bars included seven months in solitary confinement – where she went on hunger strikes and was interrogated and beaten by guards.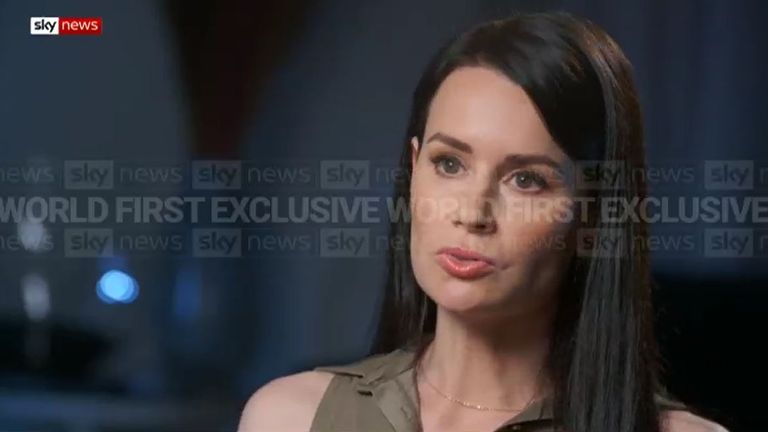 In an exclusive interview with Sky News Australia, Ms Moore-Gilbert has shared her inspirational story of survival.
She said that the solitary confinement room "is designed to break you".
"It's psychological torture. You go completely insane. It is so damaging," she revealed.
"I would say I felt physical pain from the psychological trauma I had in that room. It is a two-by-two metre box – there is no toilet, there is no television."
She said there were times when she "felt broken" during her days in solitary confinement and had suicidal thoughts.
"I felt if I have to endure another day of this – you know if I could I would just kill myself. But of course I never tried and I never took that step," she added.
In September 2018, Dr Kylie Moore-Gilbert had checked in to her flight home to Australia when she was arrested by the Iranian Revolutionary Guard.
Dr Moore-Gilbert was held in Evin Prison in Tehran, Iran, the same jail as British-Iranian mother Nazanin Zaghari-Ratcliffe.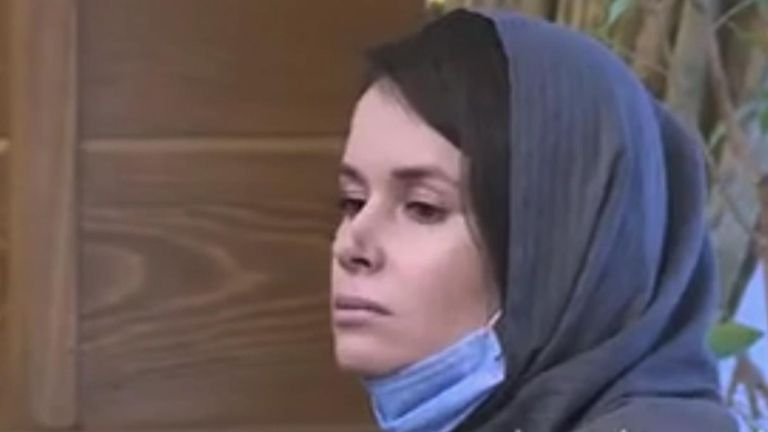 The release of Dr Moore-Gilbert showed there could be "light at the end of the tunnel" for Ms Zaghari-Ratcliffe, her husband Richard previously said.
Ms Zaghari-Ratcliffe was released by the Iranian authorities on 7 March, but was scheduled to face a second set of charges on 14 March.
The 43-year-old was arrested at Tehran airport while taking her infant daughter to see her parents in April 2016.
She was later jailed over allegations of plotting to overthrow Iran's government – which she denies.
Myanmar's ambassador to UK calls for release of Aung San Suu Kyi as protesters defy curfew | World News
Myanmar's ambassador to the UK has called on his country's military to release detained leader Aung San Suu Kyi and ousted President Win Myint.
After speaking to Foreign Secretary Dominic Raab and junior British foreign minister Nigel Adams, Kyaw Swar Minn said the answer to the crisis was diplomacy.
"We request the release of State Counsellor Daw Aung San Suu Kyi and President U Win Myint," he said in a statement published on the embassy's Facebook page, echoing the UK government's own repeated calls for those locked away since last month's military coup to be freed.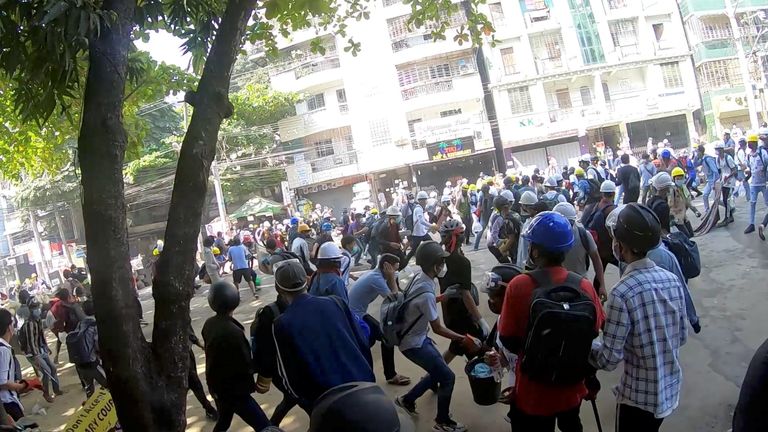 The appeal comes after security forces besieged around 200 young anti-coup protesters in the Sanchaung neighbourhood on Monday, as they defied an 8pm curfew.
"Free the students in Sanchaung," people chanted in the streets in districts across the former capital, where daily protests have taken place for more than a month.
In some areas, police used stun grenades and fired shots to try to disperse protesters, witnesses said. A live stream on social media showed protesters running between houses as stun grenades detonated.
"Almost 200 young protesters are still blocked by the police and soldiers there. Local and international community needs to help them now! Please," one protest leader, Maung Saungkha, said on Twitter.
Amid the continued violence, the US Embassy said in a statement: "We call on those security forces to withdraw and allow people to go home safely."
The United Nations' (UN) human rights office voiced deep concern about the fate of the protesters trapped, with high commissioner Michelle Bachelet saying they should be allowed to leave safely and without reprisals.
A spokesman for the military junta, which took control on 1 February, did not answer calls requesting comment.
Nun begs Myanmar police not to open fire

The violence also continued in the northern town of Myitkyina, where witnesses said two protesters died of gunshot wounds to the head.
Another person was killed in the town of Phyar Pon in the Irrawaddy Delta, a political activist and local media said.
Police said they would scrutinise family registration lists in the area to check for outsiders – threatening action against anyone caught concealing them.
State television MRTV said: "The government's patience has run out and while trying to minimise casualties in stopping riots, most people seek complete stability are calling for more effective measures against riots."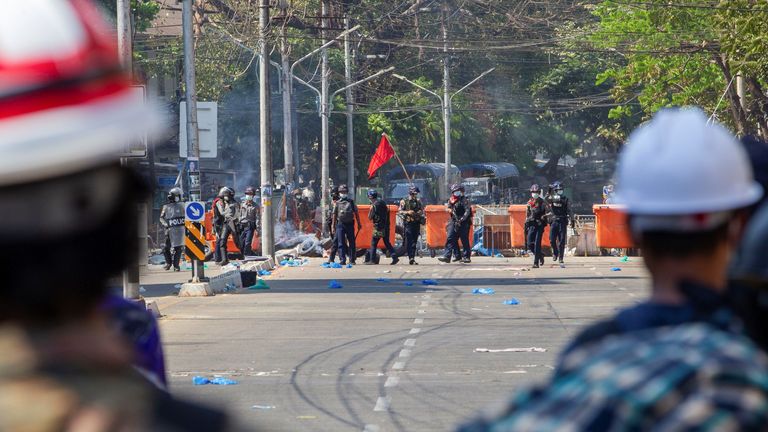 Security forces also clamped down on anti-coup protesters elsewhere, firing tear gas to break up a crowd of about 1,000 people who were demonstrating in the capital, Naypyitaw. The protesters deployed fire extinguishers to create a smoke screen as they fled from authorities.
According to the UN, more than 50 people have been killed by security forces in the junta's attempt to end the protests demanding the release of Ms Suu Kyi and other detainees following her party's landslide election victory last year.
Protesters in some places waved flags fashioned from htamain (women's sarongs) or hung them up on lines across the street to mark International Women's Day.
Traditionally, walking beneath women's sarongs is considered bad luck for men, and MRTV said such a display was severely insulting to religion in largely Buddhist Myanmar.
Myanmar police storm Mandalay university

Analysis: Myanmar's military won't be feeling the pressure – and more blood will be shed
By Alistair Bunkall, defence and security correspondent
It's not just international governments publicly rounding on Myanmar's military, the country's own diplomats are too.
Last week Myanmar's top envoy to the United Nations, U Kyaw Moe Tun, spoke out against the coup and raised his hand and three fingers in a sign of defiance.
Now, after being summoned to the Foreign Office in London, Myanmar's ambassador to the UK has called for the release of Aung San Suu Kyi and said that the military must respect the outcome of the 2020 election.
These are headline-grabbing stands, and it has taken some personal bravery by both men to break ranks, but it's unlikely to have much effect.
So far the international community has failed to come up with coordinated action to put meaningful pressure on the junta. Having weathered years of sanctions in the past, the military will be confident it can do the same.
The best hope is still the growing resistance within Myanmar itself, but the only certainty is that more blood will be shed.
COVID-19: Pfizer/BioNTech vaccine shows promise against Brazil coronavirus variant in laboratory testing | World News

The Pfizer/BioNTech coronavirus vaccine was able to combat the Brazil variant of COVID-19, it has been revealed.
Scientists tested the blood of people who had received the jab and found it fared well against a laboratory made version of the virus similar to the one first discovered in Brazil.
The research, published in the New England Journal of Medicine, could calm fears about the P.1 variant, which has been found to spread more quickly than other types of the coronavirus since it emerged in South America.
Scientists from the two medical companies and the University of Texas created a version of the virus that had the same spike protein mutations as the P.1 variant.
This is what was tested in the blood of those who had been vaccinated.
The spike protein is the part of the virus used to get into human cells, and many of the vaccines target this part of the virus.
The scientists found the antibodies from the blood was able to neutralise the test virus.
Other studies showed that the Pfizer/BioNTech jab worked against variants of the coronavirus first discovered in the UK and South Africa – although the South African variant may reduce the protective antibodies stimulated by the vaccine.
Pfizer has said that it believes its current inoculation is highly likely to still provide protection against the South African variant.
But the pharmaceutical giant is planning to test a third booster dose of its jab as well as creating a version of the drug specifically designed to combat the variant.