Elon Musk gets the OK to dig in abandoned DC lot
Elon Musk's dream of building a hyperloop that can move people between Washington, DC, and New York City in 29 minutes may be a small step closer to becoming a distant reality.
A Nov. 29 permit issued by DC's Department of Transportation allows Musk's Boring Company to dig at an abandoned lot beside a McDonald's in northeast Washington that the company says might eventually become a station on a hyperloop connecting NYC, Philadelphia, Baltimore, and Washington.
The system would speed up travel times, using electricity and electromagnetic levitation to send people and cars whipping through tunnels in pods. But before you ditch your car, the Washington Post points out the permit is only for "some preparatory and excavation work" at the site, and more permits are needed before any real construction begins.
DC Mayor Muriel Bowser has visited a test tunnel Musk is constructing under Los Angeles. But though "we're open to the concept of moving people around the region more efficiently … we're just beginning, in the mayor's office, our conversation to get an understanding of what the general vision is for Hyperloop," says Bowser's chief of staff, John Falcicchio.
Still, the permit "is comparable to an athlete stretching before a race" and shows Musk is serious about moving forward with his plans for high-speed travel since claiming "verbal" government support for an East Coast hyperloop last July, reports TechCrunch.
He's also received a conditional permit to build a tunnel beneath Maryland Route 295 in Hawthorne, per the Post, with Maryland officials saying a leg linking Washington and Baltimore will come first.
(Read about the hyperloop pod's first test.)
This article originally appeared on Newser: Elon Musk's Hyperloop Makes Headway in DC
Tokyo Olympics: COVID-19 cases in city rise by 149% in a week – but officials resist new calls to suspend Games | World News
COVID-19 cases in Tokyo are now rising faster than at any time in the pandemic but Japanese authorities are resisting renewed calls for the Olympics to be suspended.
The Japanese capital reported 2,848 cases on Tuesday, which is a record number and 149% higher than the previous week's average.
Japan's Prime Minister Yoshihide Suga has encouraged people to work from home in Tokyo and avoid non-essential outings but insisted there was no need to consider suspending the Olympic Games.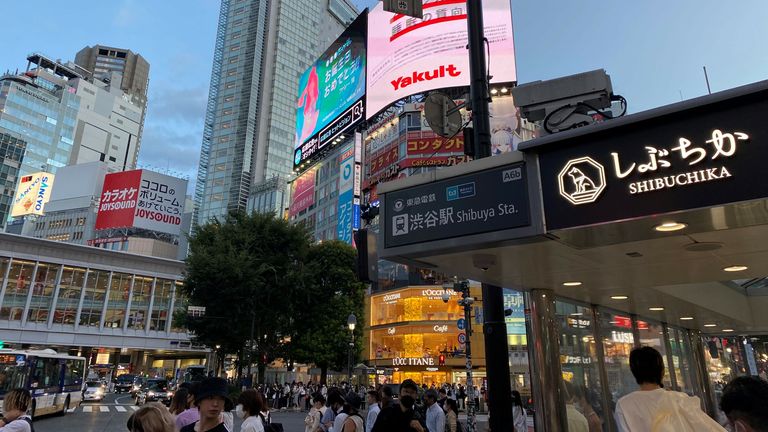 It isn't yet clear how much direct impact the Olympics have had on the figures but public health expert in Tokyo, Professor Kenji Shibuya, told Sky News that the case load was rising fast.
"It is driven by the Delta variant" he told Sky News. "To me, in terms of pace, it is faster than we expected."
"I cannot simply attribute everything to the Olympic Games but I think definitely it is one of the factors.
"People are divided, on the one hand we like to embrace the Games and the athletes and congratulate them, but on the other we are very, very concerned about the current COVID situation."
"With that figure today, people will see the reality again and I think people should be getting more serious about what to do."
Since the start of the Games, crowds have turned out to support athletes in the publicly accessible events like the cycling road race and the triathlon.
Any spread of infections among people at those events is unlikely to yet be shown in the statistics.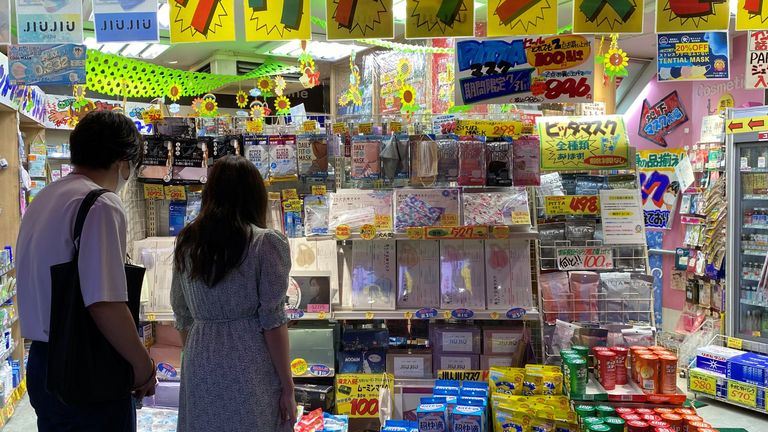 So far, Japan's athletes have won 10 gold medals and people have gathered to watch the sporting action.
Amongst Games participants, 162 people have tested positive for COVID and have been told to isolate.
The number of positive cases remains a very small percentage of the tens of thousands of people who have arrived in Japan to take part in the Games.
Tokyo is still under a COVID state of emergency, meaning restaurants and bars are not supposed to serve alcohol and a loosely enforced 8pm curfew is in place.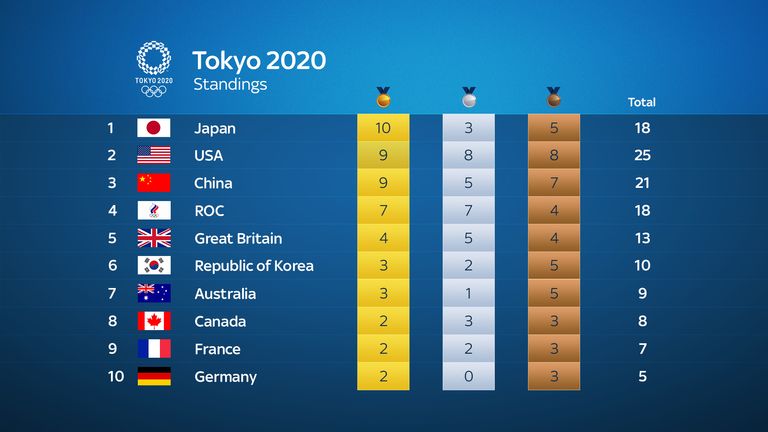 Team GB has made their best-ever start to the Olympic Games with 13 medals so far, including Tom Dean from Maidenhead who overcame COVID-19 twice last year to win a swimming gold.
But the gamble of Tokyo 2020 is the impact that it will have on the host nation.
Bringing people from around the world together, even without spectators inside venues, is still the great unknown quantity of these Olympics.
Tokyo Olympics: Team GB claim six medals on day four following historic swimming and gymnastics success | World News
Team GB added six medals to their Olympic tally on day four of the Tokyo Games, after historic success in the pool and the gymnasium.
It is enjoying its best start to an Olympic Games in modern history, securing 13 medals on a Tuesday full of notable achievements.
Britain added to Monday's gold rush, kicked off by Adam Peaty, when a fourth gold medal went to 21-year-old swimmer Tom Dean in the men's 200m freestyle.
He won alongside fellow Briton Duncan Scott, who secured silver, making it the first time two British male swimmers have shared an Olympic podium in more than 110 years.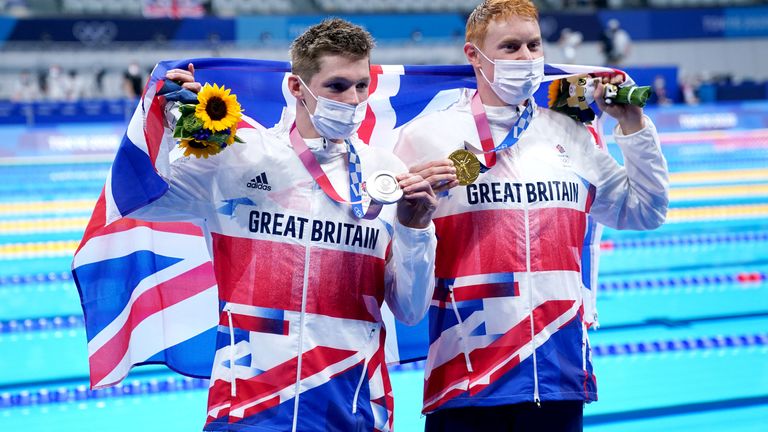 Dean and Scott take 200m gold and silver

"I knew it was going to be a dogfight, I didn't know how people were going to swim it, just race the race and that's how it is," Dean said.
It comes after Dean caught COVID twice in the run-up to the Games, meaning he couldn't train for weeks.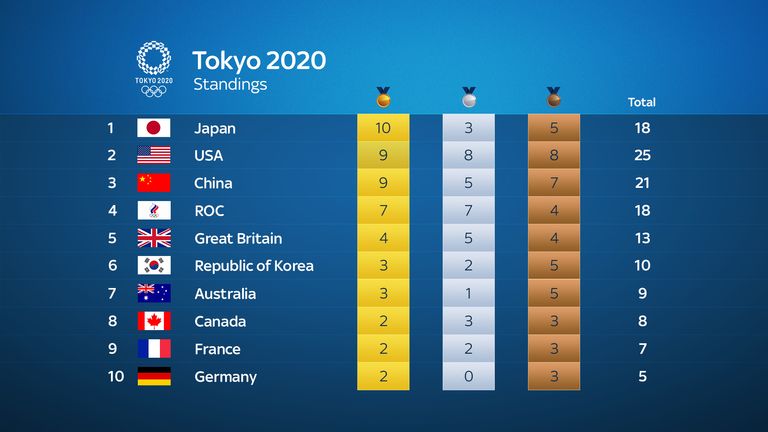 Meanwhile, Britain won a bronze medal in the women's team gymnastics for the first time since 1928.
It came amid a dramatic competition which saw the Russian Olympic Committee take gold over the United States after Simon Biles pulled out due to a "medical issue".
Shortly after, Charlotte Dujardin, Carl Hester and Charlotte Fry took bronze in the dressage team final.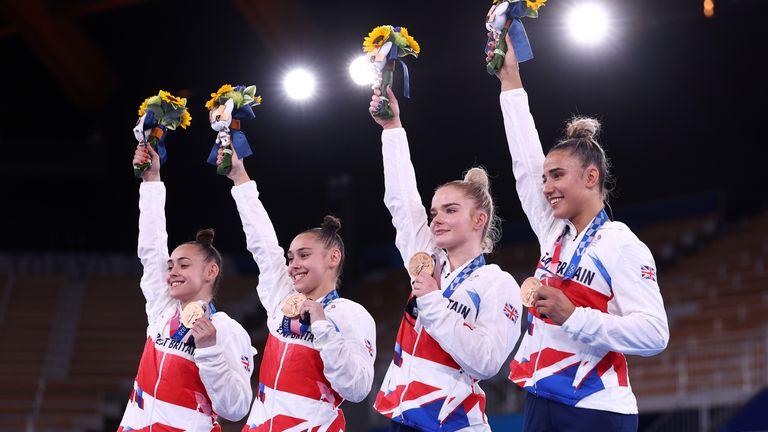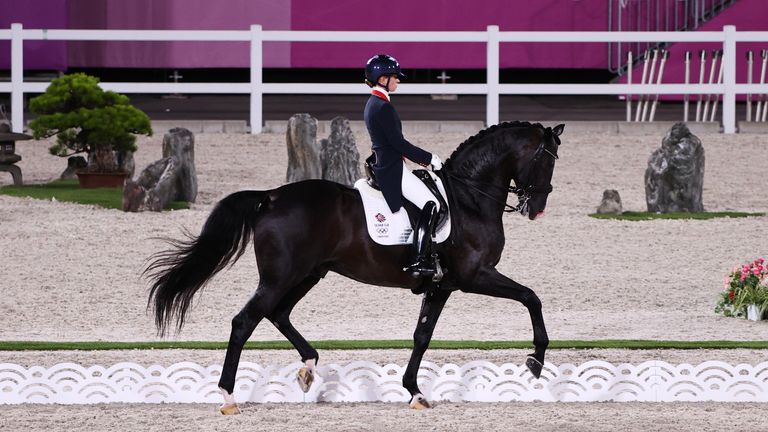 Dujardin has now won five Olympic medals putting her on par with rower Catherine Grainger for the most medals won by a British female athlete.
Elsewhere, team GB's Bianca Walkden battled back from a disappointing semi-final loss to win bronze in the over-67kg taekwondo category at the Olympics.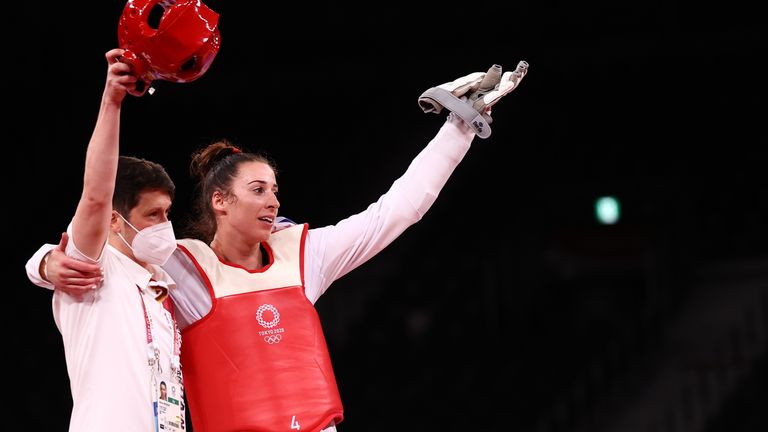 The 29-year-old from Liverpool secured the second Olympic bronze of her career with the win over Polish opponent Aleksandra Kowalczuk.
Georgia Taylor-Brown won silver for Team GB in the women's triathlon early on Tuesday, despite a flat tyre during the cycling section.
Taylor-Brown, who may have challenged for gold but for the puncture, secured silver behind Bermuda's Flora Duffy who took gold to become Bermuda's first-ever Olympic champion.
The 27-year-old told Sky News: "As a kid I always wanted one of these medals. I just wanted to be an Olympian.
Silver medallist rode on flat tyre

"But then you think 'that's a dream I had as a 10-year-old. I'm 27, is it ever going to become a reality?' And yeah this morning it did."
There was heartbreak for Britain's Kimberley Woods in the women's kayak single event.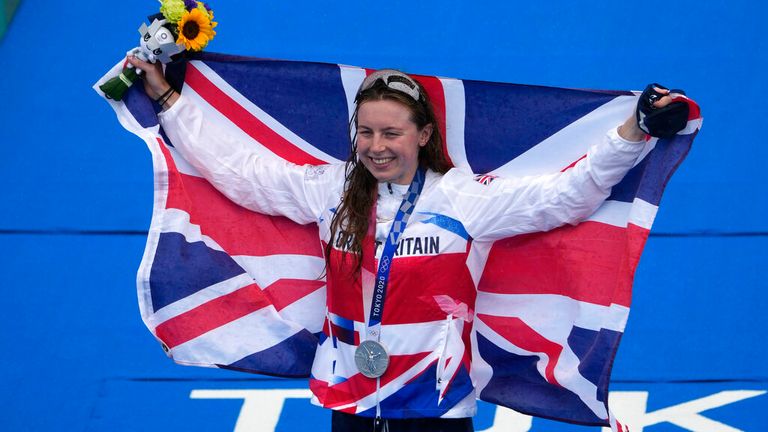 She made it to the final after qualifying second in her heat but didn't manage to win a medal after making an error early on in one of her runs.
Elsewhere, there was an upset in the tennis.
Follow the Daily podcast on Apple Podcasts, Google Podcasts, Spotify, Spreaker
Japan's Naomi Osaka – also one of the stars of the Games – was beaten by Marketa Vondrousova of the Czech Republic 6-1, 6-4 in the third round.
Osaka, who lit the Olympic cauldron in Friday's opening ceremony, had won her opening two matches in straight sets.
Tokyo Olympics: Simone Biles says mental health issues behind withdrawal as she admits: 'I just didn't want to go on' | World News
Simone Biles has said mental health concerns were behind her shock withdrawal from the team gymnastics final at the Tokyo Olympics as she admitted: "I just didn't want to go on".
Biles, the superstar US gymnast who was bidding for six gold medals coming into the competition, pulled out after a disappointing start.
Without her, the American team finished second behind the Russian Olympic Committee.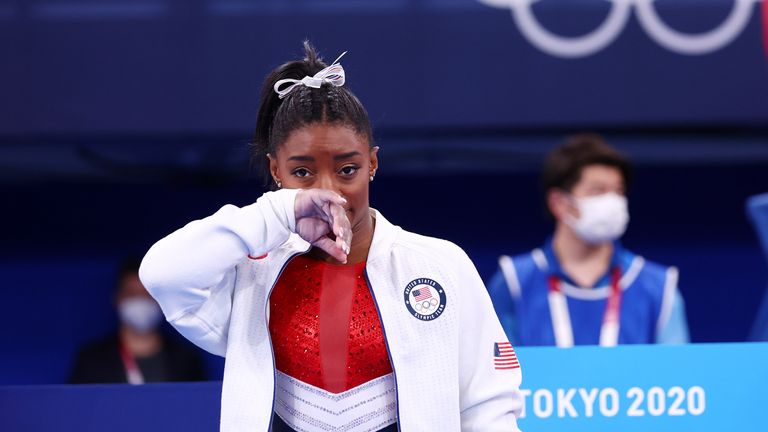 Initially the reason given by US team bosses for her withdrawal was a "medical issue".
But, speaking to reporters, Biles, who won four golds and a bronze in Rio, said: "After the performance I did, I just didn't want to go on."
She wasn't injured, she said, but had suffered "just a little injury to my pride".
"I have to focus on my mental health. I just think mental health is more prevalent in sports right now … we have to protect our minds and our bodies and not just go out and do what the world wants us to do.
"I don't trust myself as much anymore … maybe it's getting older. There were a couple of days when everybody tweets you and you feel the weight of the world.
"We're not just athletes, we're people at the end of the day and sometimes you just have to step back."
Her Olympics is far from over, with her next outing the women's all-around final in two days' time.
"We're going to see about Thursday," she said, echoing the team's statement that she "will be assessed daily to determine medical clearance for future competitions".
Biles added: "We're going to take it a day at a time and see what happens. I'm just trying to gear up for the next test. I tried to go out there for the team and they stepped up to the plate."