Bad diagnosis, clerical errors, background check lapses led to missed warning signs before mass killings
Florida school shooter Nikolas Cruz has become the latest mass killer who was able to carry out his sick slaughter due in part to law enforcement's failure to heed warnings of disturbing behavior and because of lapses in the background check process.
The FBI admitted on Friday it received a call just over a month before Cruz opened fire at Marjory Stoneman Douglas High School on Valentine's Day, killing 17 people.
Attorney General Jeff Sessions said he ordered an "immediate review" after it emerged the bureau had not acted on a Jan. 5 call from a person close to Cruz who contacted the FBI through its Public Access Line tipline to express concerns about Cruz's erratic behavior and disturbing social media posts. The person said Cruz may have aspired to be a "school shooter."
Besides the tip last month to the FBI, the 19-year-old was also investigated by social services and mental health professionals in 2016 after disturbing Snapchat videos — which showed him cutting both his arms — were uncovered. But Cruz avoided hospitalization, according to a Florida Department of Children and Families report obtained by Fox News.
State investigators found Cruz to be low risk, and investigators felt he was unlikely to hurt himself or others because he had "services already in place," including receiving counseling from Henderson Behavioral Health.
Florida DCF closed the investigation into Cruz on Nov. 12, 2016 "based on his caregiver's protective capacity, in-home services through Henderson, and engagement in school."
During the DCF investigation, Cruz's adoptive mother told caseworkers that Cruz did not own a firearm. Cruz purchased a Smith & Wesson M&P 15 rifle in February 2017 from a licensed gun store located about three miles from the school, law enforcement officials said.
RECENT SCHOOL SHOOTINGS IN THE US
If Cruz wanted a handgun, however, the sale wouldn't have been allowed. Federal laws allow people as young as 18 to buy semi-automatic weapons from licensed dealers, while handgun purchases are restricted to those 21 and older.
Cruz had his gun for about seven months when he commented on YouTube that he was "going to be a professional school shooter." The FBI has said it investigated the incident, but was unable to identify the person who posted the comment despite Cruz using his actual name as his YouTube user name.
Here are some other recent mass murderers that have slipped through the cracks in the system:
DEVIN PATRICK KELLEY — SUTHERLAND SPRINGS, TEXAS
The man behind the massacre that killed 25 people at a Texas church in November 2017 had a history of domestic abuse. But Devin Patrick Kelley was able to purchase guns because information about his crimes was never entered into a federal database used for background checks.
Kelley purchased four guns, including the AR-15-style rifle and handguns found in and near First Baptist Church in Sutherland Springs, from licensed dealers in Texas and Colorado over a four-year span.
The 26-year-old passed required background checks because the Air Force never informed the FBI about his criminal conduct — which included an assault on his wife and her child that led to a court-martial, a year of confinement and a bad conduct discharge. Military rules require the information to be shared.
Kelley was convicted at a court-martial for choking his then-wife and fracturing her son's skull in 2012.
Besides the lapse by the Air Force, officials in Texas disclosed in records released Friday they didn't pursue a sexual assault investigation against Kelley in 2013, even though the woman reporting it signed a complaint detailing the alleged attack.
Authorities said the alleged victim was not given a forensic exam in June 2013 after reporting the assault, which she said had occurred three days earlier. The investigation was then listed as inactive because a detective at the Comal County sheriff's office couldn't contact Kelley, thinking he had moved.
The 2013 case remained inactive even after deputies were called to Kelley's home in February 2014 to investigate a separate domestic violence complaint against him.
"This was an error on the part of the sheriff's office," Comal County Sheriff Mark Reynolds told The Associated Press.
A 1996 law bans people convicted of even a misdemeanor-level domestic violence offense from owning guns.
KEVIL NEAL — RANCHO TEHAMA RESERVE, CALIFORNIA
The man who killed five people in a rural northern California community in November 2017 had violent squabbles with his neighbors and his wife, but was not arrested for previously violating a court order prohibiting him from having guns.
Police said at the time, neighbors repeatedly complained about Kevin Neal, 44, firing hundreds of rounds from his house — among other erratic and violent behavior. While authorizes responded to the home several times, Neal wouldn't open the door so they left, Tehama County Assistant Sheriff Phil Johnston said at the time.
"He was not law enforcement friendly. He would not come to the door," Johnston said during a news conference. "You have to understand we can't anticipate what people are going to do. We don't have a crystal ball."
FLORIDA SCHOOL SHOOTING AMONG 10 DEADLIEST IN MODERN US HISTORY
At the time of the 25-minute rampage, Neal was out of custody on bail after being charged in January 2017 with stabbing one of the neighbors he later killed. After the January assault, a judge barred Neal from having guns, according to court records. The records also show Neal was charged with illegally firing a weapon and possessing an illegal assault rifle on Jan. 31.
He was charged with five felonies and two misdemeanors. As part of a protective order that barred him from "owning, possessing, purchasing or attempting to purchase firearms," Neal was ordered to stay away from the two female neighbors he had threatened. Johnston initially said Neal "was not prohibited from owning firearms" but later acknowledged the protective order against him.
Neal certified that he surrendered his weapons in February, but authorities said they had recovered two homemade assault rifles and two handguns registered to someone else after the shooting rampage. After being pressed by reporters on why police did not act when Neal was in clear violation of his court order, Johnston replied: "The law is only for people who obey it."
DYLANN ROOF — CHARLESTON, SOUTH CAROLINA
A drug arrest in the months before Dylann Roof killed nine people at the Emanuel African Methodist Episcopal Church in Charleston, S.C. should have prevented him from using the pistol in that massacre, but a clerical error allowed the transaction to go through.
A jail clerk at the time made an error when entering the incorrect location for Roof's drug arrest in February 2015, which was not corrected in the state police database of arrests.
The FBI said at the time a background check examiner never saw the arrest report and couldn't find details when Roof wanted to buy a gun because the wrong arresting agency was listed in state criminal history records.
The background check found nothing after three days, and Roof was eventually allowed to buy the .45-caliber handgun authorities said was used in the June 17, 2015 shooting.
Fox News' Katherine Lam, Lucia Suarez and The Associated Press contributed to this report.
EE brings back EU roaming charges for mobile phone customers from next year | Business News
Mobile network EE is to charge customers for using their phone in Europe from next year.
The company, owned by BT, had previously said it had no plans to reintroduce the charges after Brexit.
It will affect new customers and those upgrading from 7 July.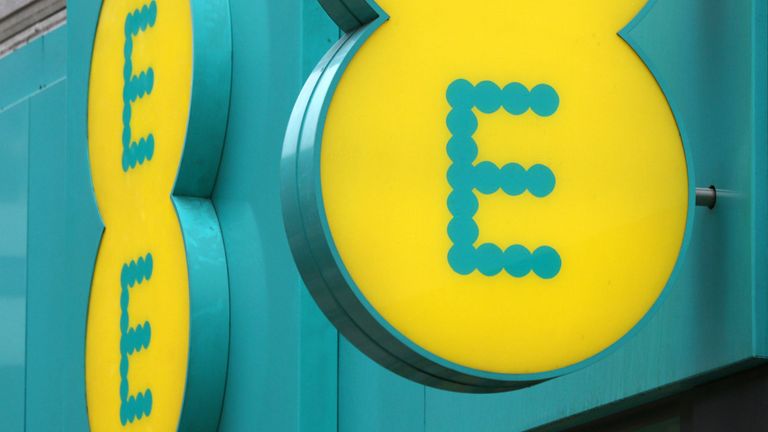 They will face a £2 daily fee from January next year to be able to use their data, call minutes and text allowances in 47 European destinations.
The change will not apply to customers travelling to the Republic of Ireland.
British travellers have not had to pay roaming charges on their mobile phone bills since June 2017, when they were abolished after changes to European regulation.
Before then they added an estimated £350m a year to users' bills.
Britain's departure from the European Union meant that from January UK customers no longer had the right to use their phone in Europe without roaming charges.
However, Britain's major mobile operators had said they had no plans to introduce them.
December 2020: What's in the Brexit trade deal?

EE said its decision was designed to "support investment into our UK-based customer service and leading UK network".
It said customers travelling abroad for longer will be able to use a 30-day Roam Abroad Pass.
Ernest Doku, a mobiles expert at Uswitch.com, said: "It's hugely disappointing for consumers to see that situation change so quickly.
"If you're an existing EE customer, these charges won't affect you yet, but make sure you check the small print if you're due an upgrade in the coming months."
Sky News contacted other networks to ask if they had any similar plans.
O2 and Three said they had not made any changes to roaming.
However, both are altering their policies on "fair usage" daily data limits while in the EU – though in each case said the limits were more than enough for the vast majority of holidaymakers' needs.
Vodafone also said it had no plans to bring back roaming charges.
HMS Defender: Boris Johnson insists warship was sailing legally as Moscow warns 'no options can be ruled out' | UK News
Boris Johnson has insisted Royal Navy warship HMS Defender was sailing legally in Ukrainian waters and that Russia did not any fire warning shots.
Russia has accused the UK of "barefaced lies" over Wednesday's incident and said it would respond robustly to any future incursions into what it says are Russian waters.
It summoned the British ambassador in Moscow for a dressing down, while a Kremlin spokesman called it a "deliberate and premeditated provocation".
Russia claims this is HMS Defender 'chased out'

"In the event of a repeat of unacceptable provocative action – if those actions go too far, no options can be ruled out in terms of legally defending Russia's borders," added Dmitry Peskov.
The UK rejects Russia's claim that a border patrol boat fired warning shots and that warplanes dropped bombs into path of the ship off the Crimean coast.
Speaking on Thursday, Boris Johnson said it was "not my information" when asked if the Russians had fired warning shots.
"My understanding is that the Carrier Strike Group proceeded in a way you would expect through international waters and in accordance with the law," said the prime minister.
He added: "We don't recognise the Russian annexation of Crimea – it was illegal. These are Ukrainian waters and it was entirely right to use them to get from A to B."
Foreign Secretary Dominic Raab has also said shots were not fired and called the Russian account "predictably inaccurate".
The Ministry of Defence said it had been made aware in advance that the Russians were conducting "gunnery exercises" in the area.
"No shots were directed at HMS Defender and we do not recognise the claim that bombs were dropped in her path," it said.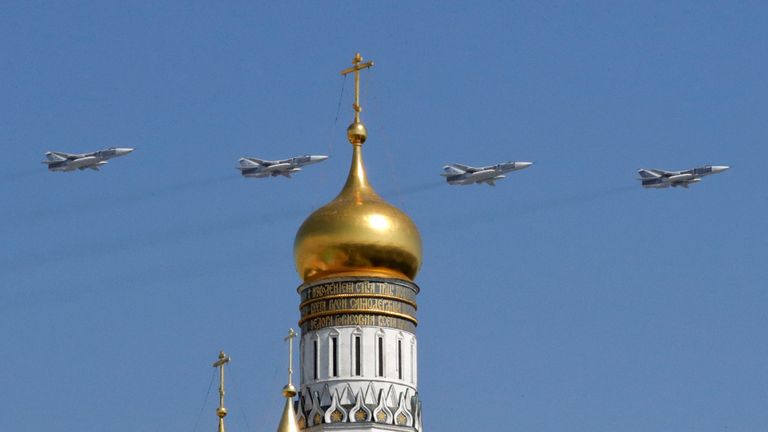 However, a BBC journalist on board the 152 metre-long ship said Russian planes had flown nearby and he also heard radio warnings that shots would be fired if HMS Defender didn't change course .
He said firing was later heard but "well out of range".
Foreign ministry spokeswoman Maria Zakharova accused Britain of "barefaced lies" over the incident.
Russia claims the British ship had gone as far as three kilometres (2 miles) into Russian waters near Cape Fiolent, near the port of Sevastopol in Crimea.
Crimea was seized from Ukraine in 2014 by the Russians, who claim ownership of waters around its coast.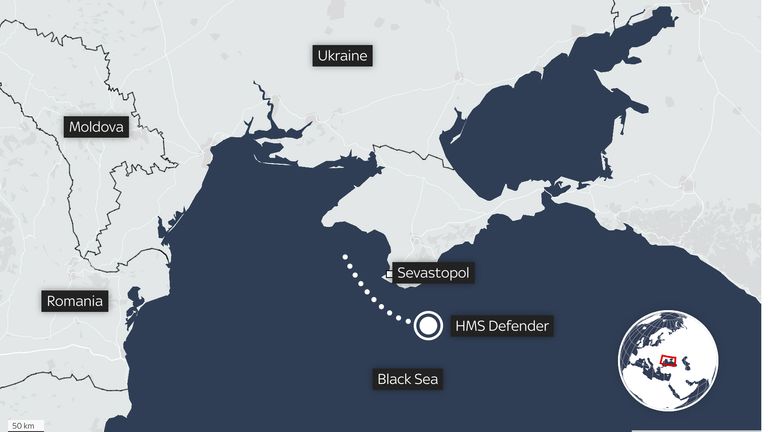 Western countries regard Crimea to have been taken illegally.
Mr Johnson also rejected the assertion that the relationship with Russia was now at a new low, following other recent incidents such as the poisoning of former spy Sergei Skripal in the UK in 2018.
"I can remember times in my own lifetime when things have been far worse," the prime minister said.
Sky's Moscow correspondent Diana Magnay said the incident was to a large extent about "testing each other's mettle" and seeing "how far Russia is prepared to go to defend what it claims are its territorial waters – and how far the UK and NATO are prepared to go to defend Ukrainian sovereignty".
'Several injured and one dead' after building partially collapses in Miami Beach | World News

A huge emergency operation is under way after a partial building collapse in Miami Beach, with reports of at least one person killed and several injured.
More than 80 fire and rescue units were at the scene of the collapse in the Florida city, with images showing a pile of rubble with debris spilling down from what was left of the balconies of the building.
MBPD and @MiamiBeachFire are assisting the Town of Surfside at a partial building collapse located at 8777 Collins Avenue in Surfside, Florida. Multiple police and fire agencies from across Miami-Dade are assisting. Please follow @MiamiDadeFire for updated information. pic.twitter.com/8tORIfZfjY

— Miami Beach Police (@MiamiBeachPD) June 24, 2021
CBS reported that at least one person had died, while ABC News said eight people were being treated for injuries in hospital.
Sergeant Marian Cruz of the Surfside Police Department said: "We're on the scene so it's still very active.
"What I can tell you is the building is 12 floors. The entire back side of the building has collapsed."
Police have cordoned off nearby roads, with scores of fire and rescue vehicles, ambulances and police cars deployed in the area.
NBC said the rescue teams included a unit that is trained in the removal of victims trapped in complex or confined spaces.
NBC Miami showed a video of a young boy being pulled alive from the rubble.