Search continues for crashed Iranian plane
The search for a plane which crashed in Iran's Zagros mountains with 65 people on board will continue on Tuesday.
Aseman Airlines Flight 3704 crashed about an hour into a flight between Tehran and the southern city of Yasuj on Sunday morning.
Iran's official news agency IRNA has quoted deputy governor of the southwestern Iranian province of Kohkilouye, Boyer Ahmad Jafar Gohargani, as saying that wreckage has been found in a region around Padena in the province of Isfahan.
But a spokesman for Iran's Civil Aviation Organisation said he "cannot confirm that wreckage of (the plane) was found".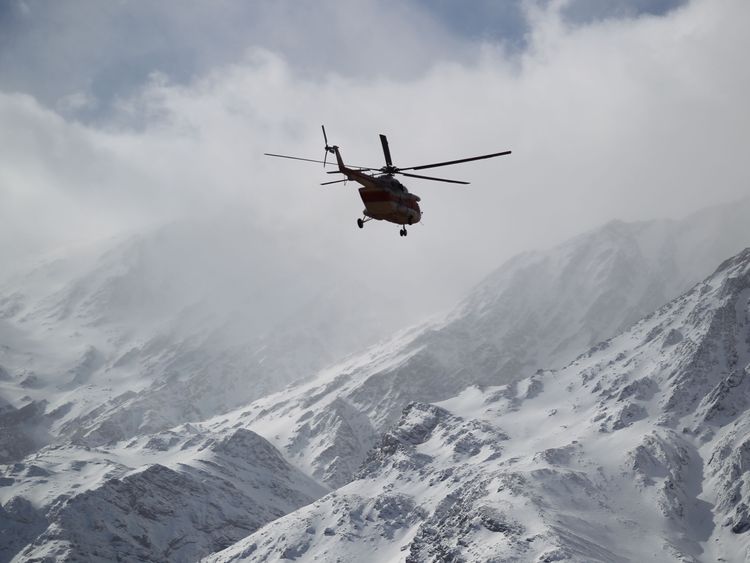 Due to the difficult terrain, dense fog, heavy snow and high winds, search helicopters were unable to reach the crash site on Sunday.
Rescue workers, including those from the Iranian Red Crescent, were sent in on foot.
By Monday afternoon, more than 100 people were scouring the mountainside for any sign of the plane, with the help of drones and helicopters.
The Iranian Red Crescent said on their Twitter page that weather conditions had "improved", adding that they also "could not confirm" that any wreckage had been found.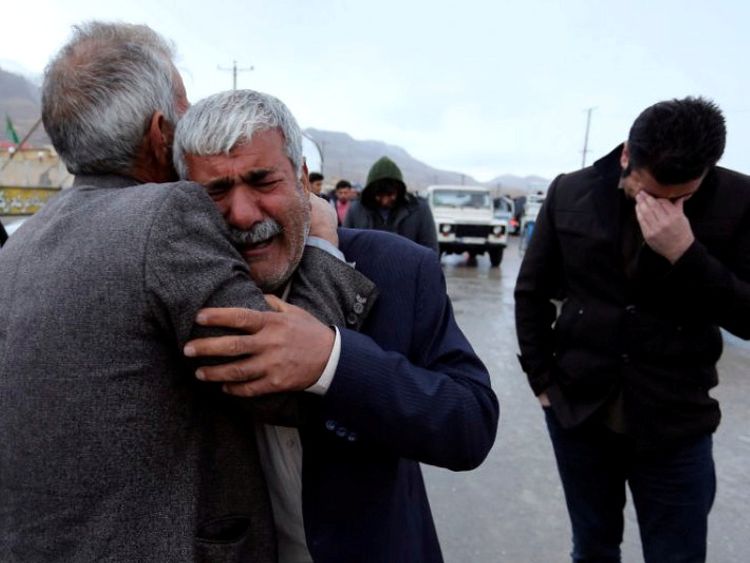 The search has now been called off for the night, with officials saying that 60 helicopter sorties had been flown to no avail.
Esmaeil Najjar, head of Iran's Crisis Management Organisation, told the ISNA news agency: "The exact spot of the plane crash was not found, and given the darkness, heavy snowfall and fog in some regions, the aerial search operation was stopped and will be resumed (on Tuesday)."
The searchers will stay in "safe places in the mountainous area" overnight, he added.
It is thought the 24-year-old ATR-72, a twin-engine turboprop, crashed into the 4,400m-high Mount Dena, some 390 miles south of the Iranian capital, near the remote town of Semirom.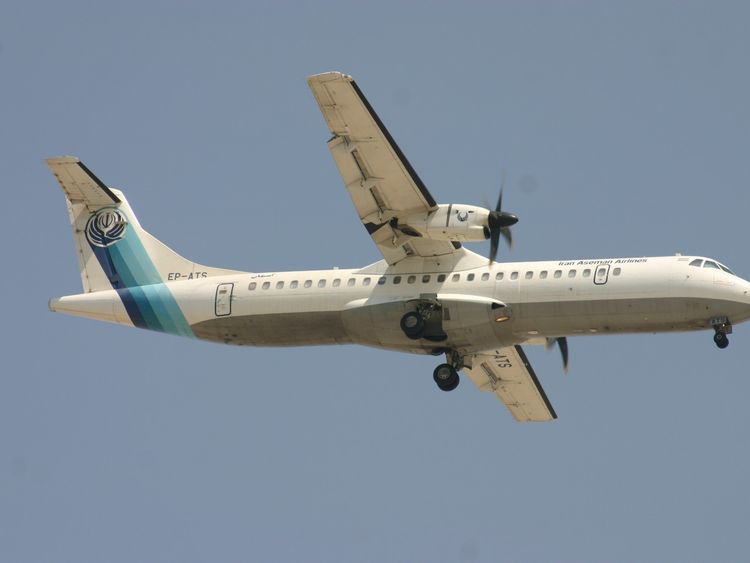 According to reports, the height of the site is around 3,500m but the plane's emergency locator transmitter was reportedly not functioning, meaning finding the wreckage could be especially hard.
Decades of international sanctions have made it difficult for Iran to buy newer aircraft and spare parts for older ones, with planes being involved in a number of accidents in recent years.
Enough ice melted in Greenland on Tuesday to cover Florida in two inches of water, scientists warn | Climate News
The amount of ice that melted from Greenland on Tuesday alone would be enough to cover the whole US state of Florida in two inches of water, scientists have warned.
The autonomous Danish territory is suffering significant melting as Arctic temperatures soar.
While the number of gigatons lost is not as extreme as in 2019, a record melt year, the overall area of the ice sheet that is shedding mass is actually larger, according to Polar Portal, which represents Danish Arctic research institutions studying the Greenland ice sheet and sea ice.
Researchers warned of a "massive melting event in Greenland" in a tweet, adding that it "would be enough to cover Florida with two inches of water".
Massive melting event in Greenland. While not as extreme as in 2019 in terms of gigatons (left image – but still would be enough to cover Florida with two inches of water), the area over which melting takes place (right image) is even a bit larger than two years ago. pic.twitter.com/rEeDIlYTA7

— Polar Portal (@PolarPortal) July 29, 2021
Temperatures in Greenland reached "worrisome" levels this week, said DG DEFIS, the EU Commission's directorate-general for defence industry and Space, as temperatures reached 23C (73F) on Wednesday in Constable Pynt, which is 70 degrees north.
The Greenland ice sheet alone contains enough that could raise global sea levels by 7.5 metres, or 23 feet.
There is growing evidence that rainfall is increasing at the expense of snow in Greenland, with complicated implications for ice melt, a branch of Polar Portal tweeted. Rain adds to mass but refreezing in the snow warms the snowpack.
The impacts of human-caused climate change are especially pronounced in the Arctic, which is warming three times faster than the global average.
On Thursday a global group of climate experts warned the region was experiencing several "never before events" and was a "ground zero" for "cascading climate impacts across the planet".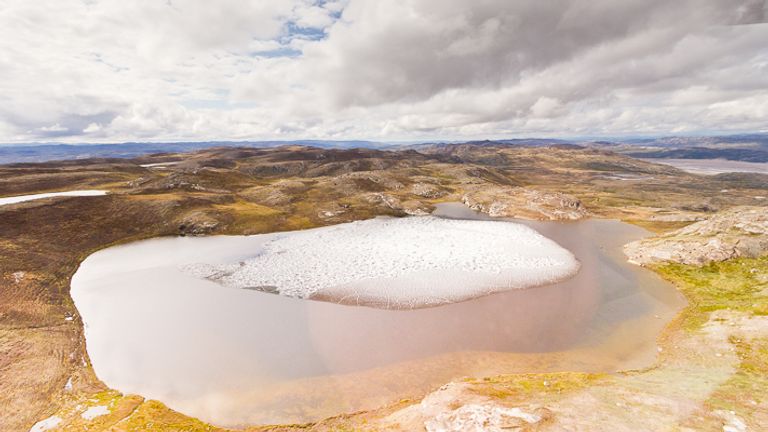 They said rapid warming and melting there is likely a "major trigger" for disastrous changes to our weather systems.
Up to 90% of global warming is absorbed by the oceans, which expand as a result, pushing up sea levels.
Subscribe to ClimateCast on Spotify, Apple Podcasts, or Spreaker.
Sky News has launched the first daily prime time news show dedicated to climate change.
The Daily Climate Show is broadcast at 6.30pm and 9.30pm Monday to Friday on Sky News, the Sky News website and app, on YouTube and Twitter.
Hosted by Anna Jones, it follows Sky News correspondents as they investigate how global warming is changing our landscape and how we all live our lives.
The show also highlights solutions to the crisis and how small changes can make a big difference.
Scarlett Johansson sues Disney for streaming Black Widow at same time it was released in cinemas | Ents & Arts News
Scarlett Johansson is suing Disney – accusing the company of breaching her contract when it offered the film Black Widow on its streaming service at the same time as it was released in theatres.
The actress's earnings are based partly on the film's box office takings and, in court papers, she said the movie was intended for initial release exclusively in cinemas.
Instead, the dual release had resulted in her earning less than she would have otherwise, she argued.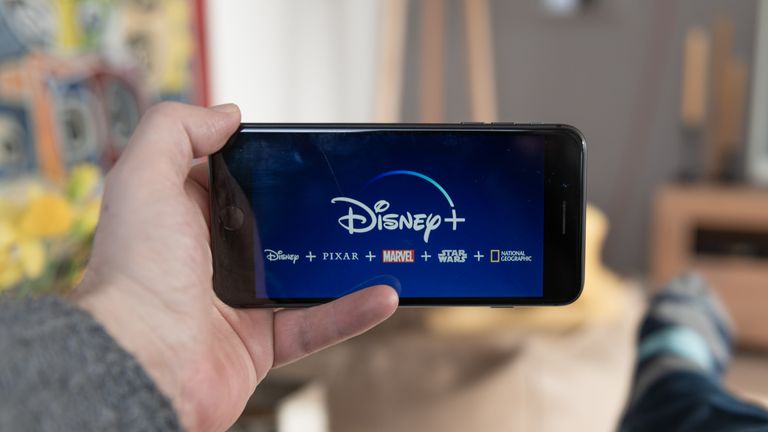 In the complaint, filed in Los Angeles Superior Court, she alleged that Disney wanted to increase subscriber numbers for its streaming vehicle Disney+.
So when Black Widow debuted on 9 July in theatres, the company had also released it on streaming for a $30 (£21) charge.
The lawsuit alleged that Disney wanted to "keep the revenues for itself while simultaneously growing the Disney+ subscriber base, a proven way to boost Disney's stock price".
"Second, Disney wanted to substantially devalue Ms Johansson's agreement and thereby enrich itself."
The suit seeks unspecified damages to be determined at trial.
Disney said there was "no merit" in the claims, insisting that it complied with Johansson's contract.
The release of the movie on Disney+ had "significantly enhanced her (Johansson's) ability to earn additional compensation on top of the $20m (£14.3m) she has received to date".
Disney said the lawsuit was "especially sad and distressing in its callous disregard for the horrific and prolonged global effects of the COVID-19 pandemic".
Many companies have been forced to release films on streaming services because a lot of cinemas were closed as part of global efforts to limit the spread of the coronavirus.
A similar dual release strategy is being used by Disney for the film Jungle Cruise, which stars Dwayne Johnson and Emily Blunt this week.
Black Widow, the story of the Russian assassin turned Avenger, earned $80m (£57m) in US and Canadian box offices on its debut weekend and $60m (£43m) through Disney+.
Johansson, who topped the Forbes magazine list of the world's highest-paid actress in 2018 and 2019, has played the character in nine Marvel films.
British military chiefs criticise China and Russia for 'reckless' behaviour in space | World News
Two military chiefs have criticised China and Russia for "reckless" behaviour in space, such as using weapons to destroy satellites, leaving a trail of dangerous debris orbiting Earth.
Air Chief Marshal Sir Mike Wigston, the head of the Royal Air Force, and General Sir Patrick Sanders, commander of Strategic Command, also for the first time left open the possibility that the UK could develop its own weapons to defend assets in space.
"I am not ruling out what we might do in the future, but we don't want to weaponise space," General Sanders told Sky News.
"We don't want it to become a place where – to use your language – there is conflict or even war in space. We want to make sure it is a common good for all because we all derive so much benefit from it."
The two commanders were speaking at the official opening of the UK Space Command, which will take charge of all military work involving space – now considered a domain of operations alongside land, sea, air, and cyberspace.
Air Chief Marshal Wigston said: "When diplomacy has run its course and we find ourselves in a global conflict, it might not start in space but I am in no doubt it will move very quickly to space and it will most likely be won or lost in space."
The new organisation, headquartered at RAF High Wycombe, will bolster the UK's ability to track threats in space, from space junk to deliberate attacks in coordination with key allies such as the US, Australia and France.
The air chief described Russia and China's activities in space as "reckless".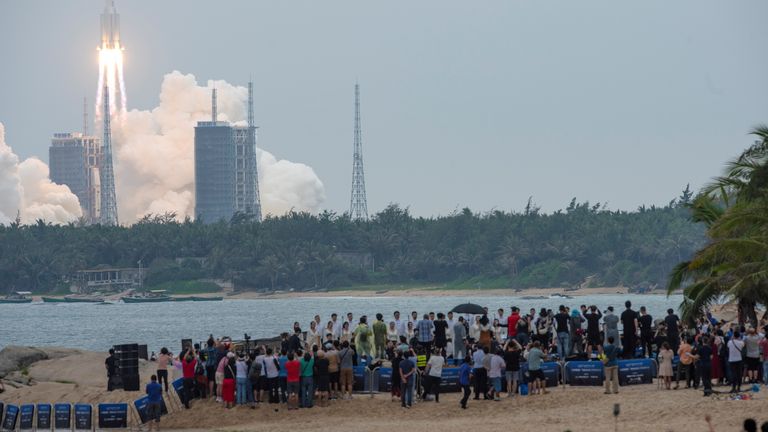 Offering an example, he said a few years ago, Beijing deliberately destroyed a satellite with an anti-satellite weapon, creating debris that is still circulating Earth today.
"Those are lumps of space junk which are travelling at thousands of kilometres an hour," he said.
"If they hit the International Space Station or one of our satellites that we depend on in our day-to-day lives that would have or could have a disastrous effect on the movement of medical equipment, our transport networks, our power networks."
Describing the threat further, he said: "Right now we see countries like Russia and China testing and demonstrating anti-satellite weapons – satellites with all the characteristics of a weapon deployed in space.
"We see them rehearsing, manoeuvring, which frankly have only one purpose which is to destroy satellites, so that is a real concern to us and that's behaviour that we would want the international community to call out."
Rather than launch space weapons back in their direction, the main strategy the UK is pursuing to deter this kind of activity is to develop a new set of international rules to govern behaviour in space, the two officers said.
The UK will also use its radars and satellites, which will fall under the control of Space Command, to improve visibility of what threats are out there.
However, the commanders indicated that developing physical capabilities to defend assets in space at some future point had not been ruled out.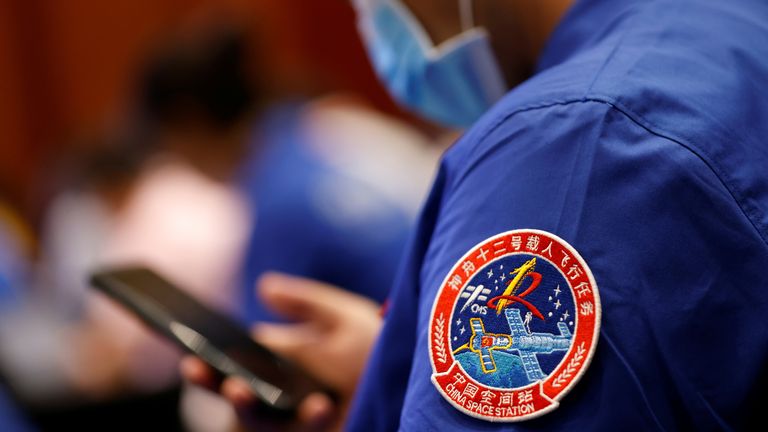 "I am open minded about all aspects of what we might do in the future and there are all sorts of things we might potentially do," Air Chief Marshal Wigston said.
"But right now our focus is on turning on the lights in space and making sure we understand what is going on."
The number of personnel across the RAF, Army and Royal Navy assigned to UK Space Command is starting in the tens to hundreds.
But the plan is to expand the force into the thousands.
The first eight "Space Operator" badges were handed out to individuals at the opening ceremony.
None of the people involved in Space Command actually fly into space. Instead they work from Earth monitoring things like military satellites and space radar systems.