Polish PM Mateusz Morawiecki defends 'Jewish Holocaust perpetrators' comments
Polish Prime Minister Mateusz Morawiecki has attempted to downplay his claim that Jews were among the perpetrators of the Holocaust.
During the Munich Security Conference, Mr Morawiecki defended a law which would see jail terms handed down for people who suggested the country was complicit in the Nazi genocides from 1941 to 1945.
And while responding to a direct accusation that Poles had collaborated with the Gestapo, he claimed there were "Jewish perpetrators" just as there were Polish ones.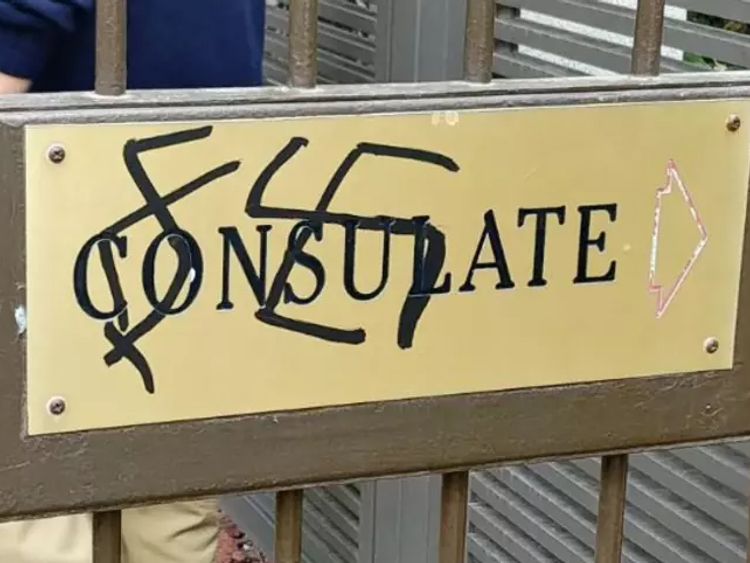 Israeli Prime Minister Benjamin Netanyahu described Mr Morawiecki's comments as "outrageous", "unacceptable", and tantamount to denying the Holocaust which involved the systematic murder of around two-thirds of the Jewish population of Europe.
The Polish government has defended its Prime Minister's comments, saying he did not intend to deny the Holocaust nor allege that Jewish victims bore responsibility for "Nazi German-perpetrated genocide".
Mr Morawiecki's spokeswoman said his remarks "should be interpreted as a sincere call for open discussion of crimes committed against Jews during the Holocaust, regardless of the nationality of those involved in each crime."
She added: "Each crime must be judged individually, and no single act of wickedness should burden with responsibility entire nations, which were conquered and enslaved by Nazi Germany."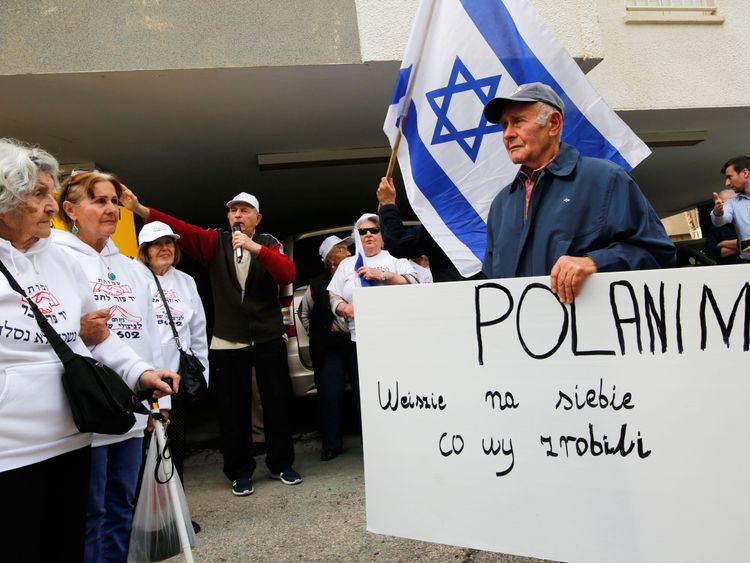 The majority of the Jews murdered across the continent resided in pre-war Poland, and the Nazi death camps operated in occupied Poland included Auschwitz, Treblinka, Belzec and Sobibor.
Thousands of Poles risked their lives to protect Jewish neighbours during the Second World War and many resisted the Nazis alongside Britain's armed forces.
Polish airmen were famously among the most successful who flew for the Royal Air Force during the Battle of Britain.
However, research published following the collapse of the Soviet Union revealed that thousands who remained in Poland also killed Jews and actively collaborated with the German occupiers, contrary to the national narrative of Poland as a victim.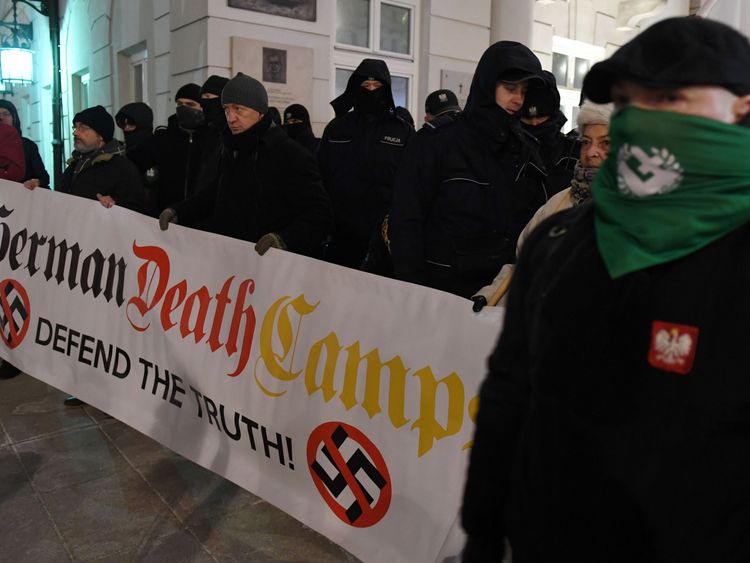 The criminalisation of the description of Auschwitz as a Polish death camp has received support from the far-right in Poland.
Poland's ultranationalist party, the National Revival of Poland – which is considered an anti-Semitic organisation by international institutions, including the US State Department – has demonstrated in favour the law.
Protesters attended the Polish embassy on Sunday to criticise the Mr Morawiecki's comments.
COVID-19: Syrian president Bashar al-Assad and wife test positive for coronavirus | UK News
Syria's President Bashar al-Assad and his wife have tested positive for COVID-19, his office has confirmed.
Officials said 55-year-old President Assad and his wife Asma are both in "good heath and in a stable condition".
The pair will return to work after spending two to three weeks in isolation in their home.
Live coronavirus updates from the UK and around the world
In a statement, Mr Assad's office said the couple took PCR tests after they felt minor symptoms consistent with coronavirus.
Syria, which marks 10 years of war next week, has recorded nearly 16,000 cases of COVID-19 and more than 1,000 deaths from the virus, according to Johns Hopkins University.
The country began a vaccination campaign last week, but no details have been given about the process.
The health minister said the government procured the vaccines from a friendly country, which he declined to name.
It was not immediately clear if Mr Assad and his family members have been vaccinated.
Olivier Dassault dies: Emmanuel Macron pays tribute to French billionaire politician killed in helicopter crash | World News
Emmanuel Macron has paid tribute to a French billionaire and politician killed in a helicopter crash on Sunday evening.
Olivier Dassault, 69, was the eldest son of French billionaire industrialist Serge Dassault, whose group builds the Rafale war planes and owns Le Figaro newspaper.
The private helicopter he was travelling in crashed on Sunday afternoon in Normandy, where he has a holiday home, a police source told Reuters. The pilot was also killed.
Mr Macron wrote on Twitter: "Olivier Dassault loved France. Captain of industry, deputy, local elected official, reserve commander in the air force: during his life, he never ceased to serve our country, to value its assets.
"His sudden death is a great loss. Thoughts on his family and loved ones."
Olivier Dassault aimait la France. Capitaine d'industrie, député, élu local, commandant de réserve dans l'armée de l'air : sa vie durant, il ne cessa de servir notre pays, d'en valoriser les atouts. Son décès brutal est une grande perte. Pensées à sa famille et à ses proches.

— Emmanuel Macron (@EmmanuelMacron) March 7, 2021
A deputy in the French National Assembly who represented the conservative Les Republicains party since 2002, Mr Dassault was considered the 361st richest man in the world alongside his two brothers and sister.
He stepped down from his role on the board of Dassault due to his political role to avoid any conflict of interest.
He was once considered top choice to succeed Serge at the head of the family holding, but that role went to former Dassault Aviation chief executive Charles Edelstenne.
Myanmar: Nun tries to protect protesters as at least two killed in city of Myitkyina | World News
A nun in Myanmar told junta forces "you'll have to come through me" – moments before they opened fire on protesters.
At least two people were confirmed dead in the city of Myitkyina on Monday following clashes with security forces.
Sister Ann Roza Nu Tawng previously said she was prepared to die to save others after being filmed kneeling in front of armed police in the capital city of Kachin state.
Some have called the scene, on 28 February, Myanmar's "Tiananmen moment".
Dressed in white robes and a dark habit, the 45-year-old was again photographed near protest lines in the city on Monday morning.
Other images show her kneeling in front of police, this time near the Catholic cathedral, as a senior nun looks on.
Recounting the horrifying events of the morning, she told Sky News: "The first time I was pleading with the police not to beat, not to arrest, not to crack down on the protesters, because the protesters were not doing anything bad, they were just shouting slogans.
"And the police told me 'we are from here, we have to do this. Please stay away from here'.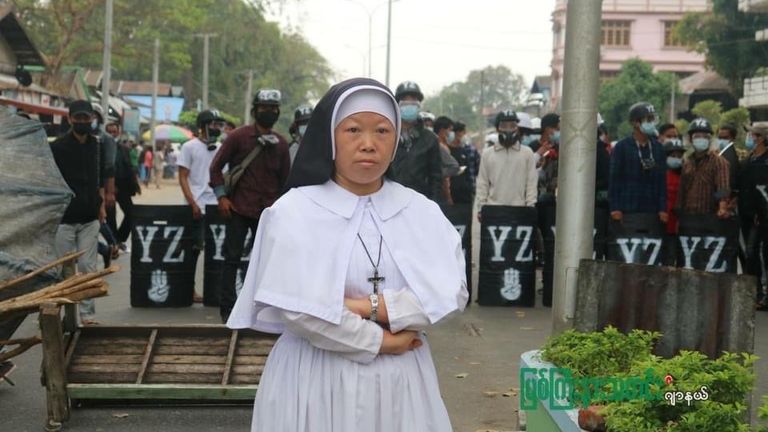 "I replied, 'no, if you want to do this you have to come through me!'
"Later the police said 'we have to remove this barricade on the road'. They then removed the barricade and after a while the protesters returned.
"Then around 12 noon the security forces were about to crack down, so again I was begging with them, I was kneeling down in front of them and I was pleading not to shoot and not to arrest the people.
"The police were also kneeling and they told me they had to do it because this was to stop the protest.
"After that, tear gas was used and I was struggling to breathe and I was dizzy, and then I saw the man who had fallen down in the street and [he had been shot]."
The editor of Myitkyina News Journal told Sky News that, as of lunchtime, at least two people had been confirmed dead.
Distressing photos show Sister Ann Roza standing at the top of the street as protesters run towards the gravely injured person lying in the road.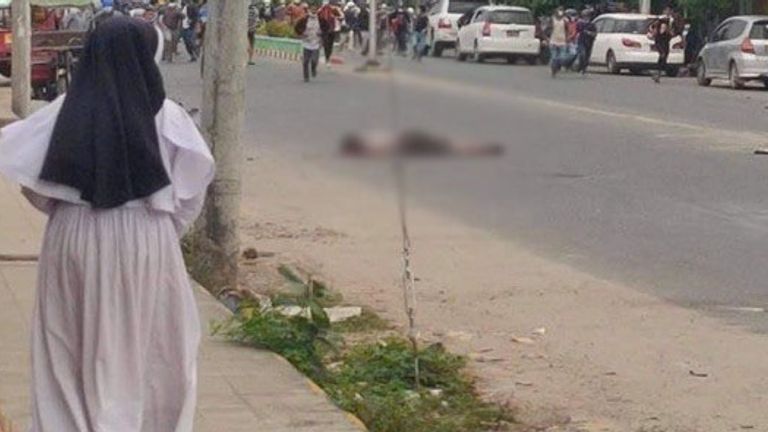 In another graphic image, she is crying out as she leans towards the body of a man who has been shot in the head.
She said that due to the tear gas she did not see if it was police or military who fired on the protesters, but she hoped it wasn't the officers she spoke to.
"I am very sad," she said. "The police told me that they're not going to crack down or shoot brutally, but finally they did.
"I saw another person who died on the spot and had serious injuries.
"The first person who was shot in the head could still breathe when he arrived at the clinic and the people tried to treat him, but finally he died."
It is just over a week since Sister Ann Roza was first filmed kneeling in front of police lines in the city as she begged them to refrain from violence.
In an interview with Sky News on Friday, she explained she was willing to sacrifice her own life to protect protesters.
"Then they opened fire and started beating the protesters. I was shocked and I thought today is the day I will die," she said.
Moment nun stands up to Myanmar military

"I decided to die. I was asking and begging them not to do it and I told them the protesters didn't commit any [crime]," she said, crying.
At least 56 people have been killed and 1,790 detained or arrested since the 1 February coup, according to figures compiled by the Assistance Association for Political Prisoners (Burma) .
On Monday, numerous injuries were reported at locations across the country as the military tried to stop the ongoing protests.
At least one protestor in Pyapon, Ayeyarwaddy region, was also killed according to Khit Thit media agency.
Tear gas, stun grenades and live fire have all been used against unarmed civilians in the five weeks since the coup.
Over the weekend, residents in cities including Yangon also reported soldiers shooting tear gas and bullets after dark as terrified residents watched from their homes.
One video sent to Sky News appeared to show forces firing in the grounds around West Yangon Hospital on 7 March.
In another, soldiers are filmed in a residential street as bright flashes light up the sky.