ISIS claims responsibility for deadly Orthodox church attack in Russia
ISIS claimed responsibility Monday for the deadly attack on Orthodox churchgoers in Russia that left at least five women dead.
In a statement posted on an ISIS-affiliated website, the group said a Muslim fighter attacked a "a Christian temple" in Kizlyar, located in a predominantly Muslim region of Dagestan situated between Chechnya and the Caspian Sea.
The authenticity of the statement couldn't be confirmed, but the website is regularly used by ISIS to post statements.
Russian investigators said Monday they were examining all possibilities as to what motivated the attack.
"Investigators are looking at various theories of the incident, trying to find out the attacker's motives," Russian Investigative Committee Spokeswoman Svetlana Petrenko told the TASS news agency. "A terror attack is among possible theories."
Authorities said the gunman, 22-year-old Khalil Khalilov, opened fire on people leaving the church after they finished celebrating the end of the Russian festival of Maslenitsa, a holiday which marks the start of Lent for Russian Orthodox Christians. Khalilov was shot dead by police while trying to leave the scene, and his wife has been detained for questioning.
Russian television station REN-TV posted surveillance video showing the Khalilov walking with the gun along main streets of the city.
Four women were killed at the church, while four others, including police and National Guard officers, were injured, according to TASS. Another woman later died at the hospital.
RUSSIA CHURCH SHOOTING KILLS 5 AFTER GUNMAN OPENS FIRE ON PEOPLE LEAVING SERVICE
"The victims remain in the same condition, two women are seriously injured, and they are in intensive care," Kazanfar Kurbanov, the chief doctor at the Dagestani emergency medicine center, told TASS.
All of the victims had gunshot wounds, and one of the injured women had her arm cut off Sunday, the news agency reported.
The Dagestan region has dealt with an Islamist insurgency that spread into the area following two separatist wars in neighboring Chechnya.
The region also is where Boston Marathon bomber Tamerlan Tsarnaev visited in January 2012, when he was under surveillance by Russian officials.
The Associated Press contributed to this report. 
Vladimir Putin says Russian navy 'can detect any enemy' and fire 'unpreventable strike' if needed | World News
President Vladimir Putin has said the Russian navy can detect any enemy and launch an "unpreventable strike" if needed.
The leader was speaking as he attended a parade to mark the 325th anniversary of the navy in St Petersburg, which also included ships from the navies of Iran, Pakistan and India.
"We are capable of detecting any underwater, above-water, airborne enemy and, if required, carry out an unpreventable strike against it," Mr Putin said.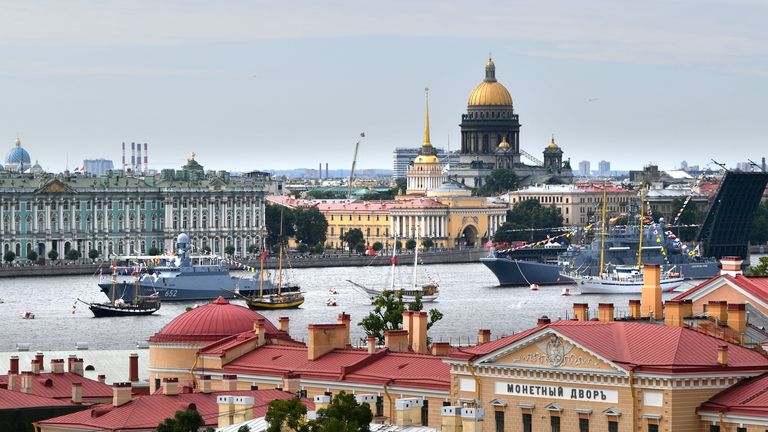 His words follow an incident in the Black Sea in June, when Russia said it had fired warning shots and dropped bombs in the path of a British warship to chase it out of Crimea waters.
Britain rejected Russia's account of the incident, saying it believed any shots fired were a pre-announced Russian "gunnery exercise", and that no bombs had been dropped.
Russia annexed Crimea from Ukraine in 2014 but Britain and most of the world recognise the Black Sea peninsula as part of Ukraine, not Russia.
Mr Putin said last month Russia could have sunk the British warship HMS Defender, which it accused of illegally entering its territorial waters, without starting World War Three and said the US played a role in the "provocation".
Russia claims this is HMS Defender 'chased out'

Sunday also saw parades take place in the Russian naval bases of Severomorsk, Caspiisk, Baltiisk, Sevastopol, Vladivostok and at the Russian naval base in Tartus, Syria.
The Iranian frigate Sahand, which sailed down the Neva River in the St Petersburg parade, and the sea-based vessel Makran attracted attention from naval observers due to their unusually long voyages to Russia.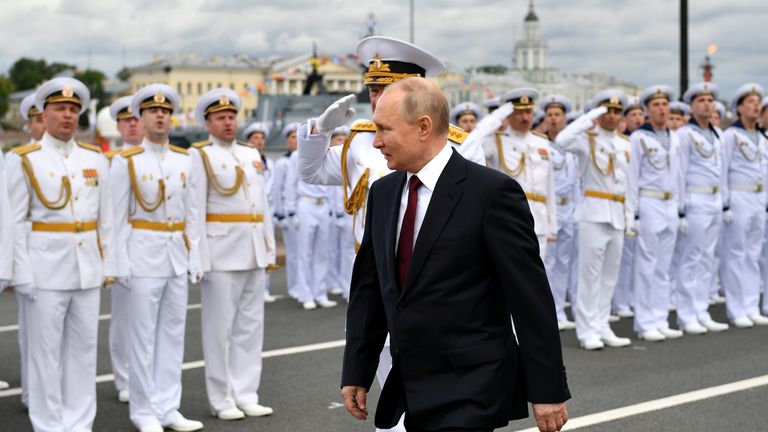 Mr Putin's comments come as US Deputy Secretary of State Wendy Sherman prepares to travel to Geneva for nuclear arms control talks with Russia.
She will be joined by Under Secretary of State for Arms Control and International Security Bonnie Jenkins, whose nomination for that role was confirmed by the US Senate this week.
"This meeting follows up on a commitment made between President Biden and Russian President Putin to have a deliberate and robust dialogue between our two nations that will seek to lay the groundwork for future arms control and risk reduction measures," the State Department said in a statement.
New Zealand to repatriate alleged Islamic State militant and her two children | World News
A woman alleged to be a Islamic State (IS) member can be repatriated from Turkey, New Zealand has said.
New Zealand has agreed to welcome the woman and her two young children, who have been detained in Turkey since February.
The decision follows a bitter dispute with Australia over which country needed to shoulder responsibility for the woman, who had been a dual citizen of both countries until Australia stripped her of her citizenship under its anti-terrorism laws.
The woman and her children were arrested when they tried to illegally cross from Syria into Turkey, according to the defence ministry in Ankara.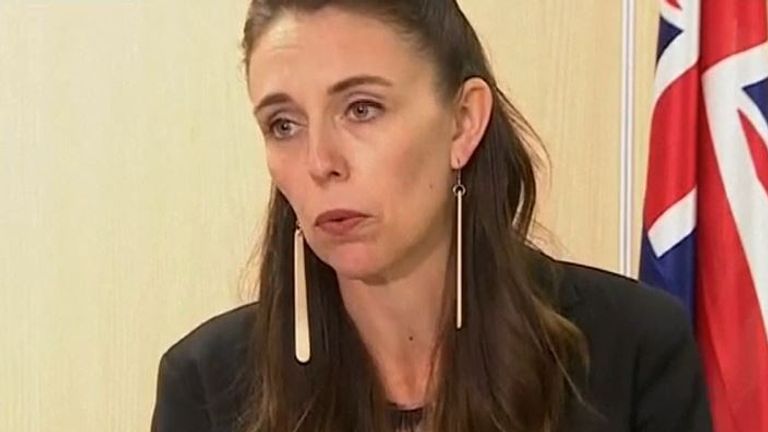 Turkey identified her only by her initials SA, while New Zealand media say she is Suhayra Aden, who was 26 at the time of her arrest.
New Zealand's Prime Minister Jacinda Ardern said her country's international responsibilities had been taken into account and said it could not remove citizenship from anyone if it left them stateless.
She said: "I made very strong representations to Australia that she should be permitted to return there.
"Her family moved to Australia when she was six and she grew up there before departing for Syria in 2014 on an Australian passport.
"Unfortunately, Australia would not reverse the cancellation of citizenship."
Australian home affairs minister Karen Andrews said the woman lost her citizenship as a result of her own actions, and that ending citizenship for dual nationals engaged in terrorist conduct was an integral part of Australia's response to terrorist threats.
"The government's first priority is always to protect the Australian community," Ms Andrews said.
Ms Ardern said the safety and wellbeing of New Zealanders was the government's paramount concern. She said there had been extensive planning with the police and other agencies.
"I can assure people great care is being taken as to how the woman and her young children are returned to New Zealand and how they will be managed in a way that minimises any risk for New Zealanders," Ms Ardern said.
Authorities declined to say when the family would be repatriated, citing legal and security concerns.
Ms Ardern said anyone suspected of being associated with a terrorist group should expect to be investigated under New Zealand laws, although the case remains a matter for the police.
New Zealand police confirmed an investigation is under way but declined further comment on whether the woman would face any criminal charges.
It follows Shamima Begum, the former British schoolgirl who joined IS in February 2015, being stripped of her citizenship in 2019.
Ms Begum was 15 when she left east London with two other schoolgirls to join Islamic State in Syria.
In 2019 she was found nine months pregnant in a Syrian refugee camp, and shortly after her British citizenship was revoked by then home secretary Sajid Javid over national security concerns.
Tunisia: President Kais Saied accused of 'coup' after dismissing PM and suspending parliament following violent protests | World News
Tunisia's president has been accused of staging a coup by his opponents after he dismissed the prime minister and froze parliament following violent demonstrations over the country's handling of the COVID-19 pandemic.
In a statement on Tunisia's state television, President Kais Saied said he would assume executive authority with the support of a new prime minister after sacking Prime Minister Hicham Mechichi.
It is the biggest challenge yet to the democratic constitution Tunisia introduced in a 2011 revolution that split powers between the president, prime minister and parliament.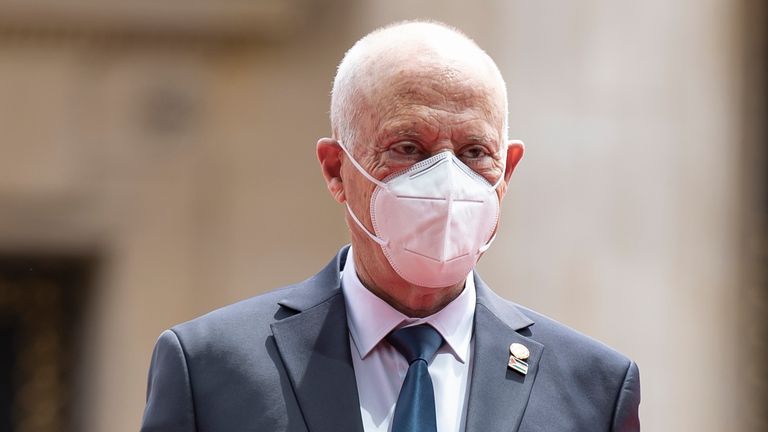 "We have taken these decisions… until social peace returns to Tunisia and until we save the state," said Mr Saied.
After the announcement, crowds of people flooded the capital and other cities to support the president, cheering and honking car horns in scenes that recalled the revolution, which triggered the Arab Spring protests across the Middle East.
There were unconfirmed reports that military vehicles had surrounded the parliament building and members of the army had deployed to the state television building.
However, the extent of support for Mr Saied's move against Tunisia's fragile government and divided parliament was not clear.
The leader of the moderate Islamist Ennahda party, the biggest in parliament, called on Tunisians to take to the streets to stop what he called "a coup against the revolution and constitution".
In a phone call to Reuters news agency, Rached Ghannouchi said: "We consider the institutions still standing, and the supporters of the Ennahda and the Tunisian people will defend the revolution."
Former president Moncef Marzouki also joined Ennahda in labelling Mr Saied's move a coup.
"I ask the Tunisian people to pay attention to the fact that they imagine this to be the beginning of the solution. It is the beginning of slipping into an even worse situation," he said.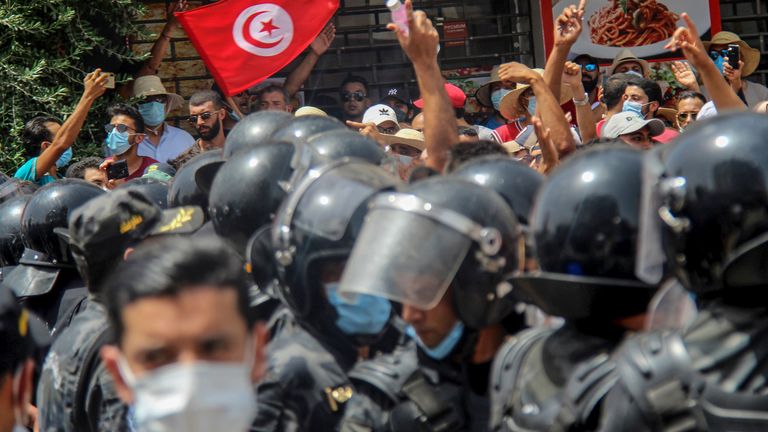 Earlier, tens of thousands of people reportedly took to the streets in the capital, Tunis, and other cities, with police blocking access to parliament and using tear gas to disperse some of the crowds.
Years of paralysis, corruption and growing unemployment had already soured the views of Tunisians on their political system before the coronavirus pandemic hammered the economy last year and infection rates shot up this summer.
Since the start of the pandemic, Tunisia has reported 563,000 cases and 18,369 deaths – but in the last month, it has seen its biggest spike with 5,625 cases on 24 July.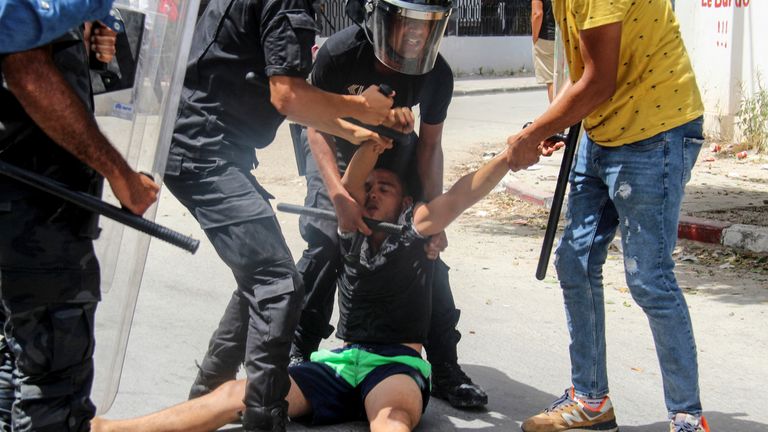 Mr Saied and the parliament were both elected in separate popular votes in 2019, while Mr Mechichi took office last summer.
Mr Saied, an independent without a party behind him, swore to overhaul a complex political system plagued by corruption.
Meanwhile the parliamentary election delivered a fragmented chamber in which no party held more than a quarter of seats.
Disputes over Tunisia's constitution were intended to be settled by a constitutional court, but seven years after the constitution was approved, the court has yet to be installed after disputes over the appointment of judges.
Mr Saied has been enmeshed in political disputes with Mr Mechichi for over a year.