Geoffrey Rush 'inappropriately touched co-star on stage', court told
Oscar-winning Australian actor Geoffrey Rush has been accused in court of repeatedly touching an actress inappropriately while on stage.
Rush is suing Sydney's The Daily Telegraph for defamation over articles it published detailing the allegations.
In court on Monday, the newspaper's lawyer Tom Blackburn claimed the 66-year-old touched the actress on five consecutive nights in the final week of the Sydney Theatre Company's production of King Lear in 2015.
The newspaper's legal team has previously told the court that the articles, published in 2017, did not allege Rush engaged in inappropriate behaviour of a sexual nature.
During the latest hearing, Mr Blackburn told the court that Rush had touched the unnamed actress in a way he had not done before that made her feel uncomfortable.
He said: "She said stop – he didn't. He went on doing it. Our case is that that in itself is inappropriate."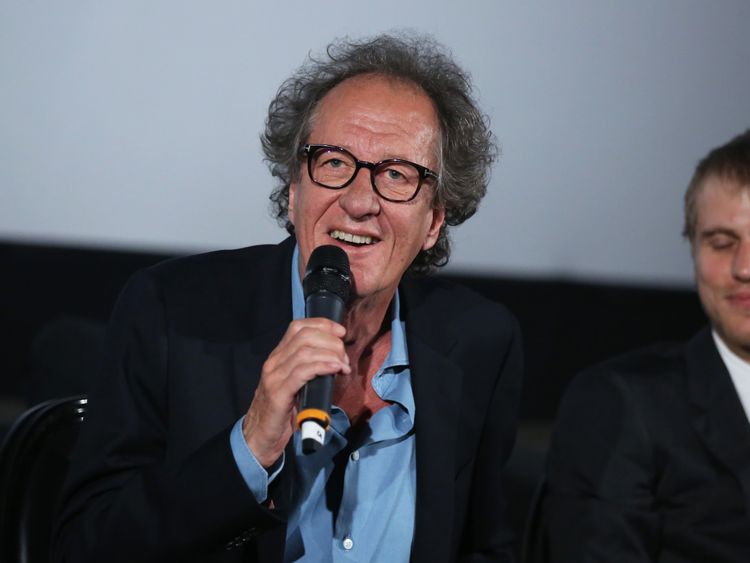 Rush's lawyer, Richard McHugh, told the court that the accusations were vague – adding that his client and the actress had been required to touch on stage at the time.
Mr Blackburn is fighting the actor's request to have the newspaper's truth defence struck out. The judge has delayed his decision on that request to a later date.
Rush who was not in court on Monday, has denied behaving inappropriately.
The Sydney Theatre Company said the allegations were made after the production of King Lear closed, and the actress had not wanted Rush to be informed of her complaint.
Rush has performed in the Sydney Theatre Company for 35 years. He won an Academy Award for best actor in 1997 for Shine, and has been nominated for three other Oscars over his career.
He is perhaps best known as Captain Barbossa in the Pirates Of The Caribbean films.
Boris Johnson says UK's relationship with France 'indestructible' despite row over AUKUS military pact | Politics News
Boris Johnson has said the UK's relationship with France is "indestructible" despite the fallout from the new military pact with the US and Australia.
The prime minister said the "AUKUS" initiative is "not exclusionary" after France's defence minister cancelled talks with her UK counterpart over Australia pulling out of a major contract with France for submarines in favour of the pact to build nuclear-powered vessels with the UK and US.
Brokered last week, the agreement ended a £27bn deal with France signed by Australia in 2016 to build 12 diesel-powered submarines.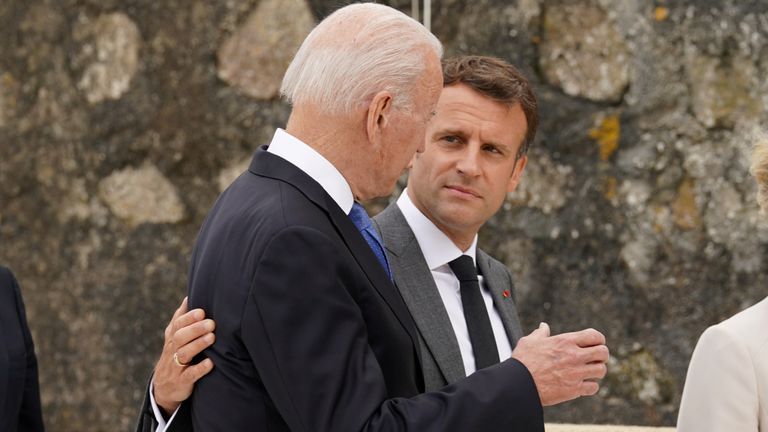 French foreign minister Jean-Yves Le Drian described it as a "stab in the back" that constitutes "unacceptable behaviour between allies and partners".
But Mr Johnson told reporters in New York: "The UK and France have a very, very important and indestructible relationship and of course we'll talk to all our friends about how to make the AUKUS pact work, that it's not exclusionary, it's not divisive and it really doesn't have to be that way.
"This is just the way of the US, the UK and Australia of sharing certain technologies because that is the sensible thing to do in the world in which we find ourselves.
"That does not in any way mean that we wish to be adversarial towards anyone else or exclusive or crowding anyone else out."
He added that the UK's relationship with France is "incredibly important, it's historic" and pointed out the two countries work together "shoulder to shoulder" fighting terrorism in the Sahel region in Africa and as part of the NATO mission in the Baltic states deterring Russian aggression.
"There is one other country in the world with whom we share a programme to do simulated nuclear testing – which country is that? It's France," he said.
'AUKUS alliance will bring us closer than ever'

Defence Secretary Ben Wallace also attempted to play down suggestions of a rift after his French counterpart Florence Parly postponed a bilateral meeting with him.
Mr Wallace told the House of Commons Australia had exercised its "right to choose" but said the US and France are "our closest allies" and said he has an "extremely close relationship" with Ms Parly and "we speak regularly".
French President Emmanuel Macron is notably absent from the UN General Assembly meeting in New York, but is due to speak to US President Joe Biden over the phone in the coming days, an official said.
France recalled its ambassadors from the US and Australia in a sign of the seriousness of the crisis, with the French foreign minister meeting with the two ambassadors on Sunday to discuss "the strategic consequences of the current crisis", the ministry said.
Australian Prime Minister Scott Morrison said France "would have had every reason to know that we have deep and grave concerns" about the capability of France's Attack class subs, which he said cannot meet Australia's strategic interests.
Mafia raids: More than 100 suspects arrested in Spain and Italy for alleged money laundering | World News

More than a hundred people have been arrested by Spanish and Italian authorities for allegedly laundering money for mafia groups.
The majority of the 106 arrests took place in the Spanish Canary Island of Tenerife and most of the suspects were Italian nationals, Europol said.
The suspects allegedly made millions through online scams and laundered money for mafia groups.
According to Italian officials, the suspects tricked victims into sending large amounts of money to Spanish bank accounts controlled by the group.
The cash was then laundered through cryptocurrency purchases or reinvested into other criminal activities such as prostitution, drugs or weapons trafficking.
The group made almost €10m (£8.6m) in profit last year, Europol said.
Spanish officials said members of the group, who often used violence to intimidate victims and extort money from businesses and individuals, infiltrated law firms and banks.
During the operation, authorities froze 118 bank accounts and seized 224 credit cards and a marijuana plantation.
Gabby Petito disappearance: FBI search Florida home of missing fiance Brian Laundrie | US News
The FBI have searched the home of Brian Laundrie – the fiance of Gabby Petito, whose body was apparently found over the weekend in a Wyoming national park.
Video showed a dozen law enforcement officers, including one wearing an FBI jacket, pulling up to the house in North Port, Florida, on Monday.
According to local media reports, Mr Laundrie's parents were seen getting into a police van while the house, which belongs to them, was searched. The FBI's Tampa office said in a tweet that it was serving a search warrant.
Ms Petito, 22, disappeared after she and Mr Laundrie, 23, left on a cross-country trek in a converted van to visit national parks in July.
They got into a fight along the way, and Mr Laundrie was alone when he returned in the van to his parents' home in North Port on 1 September – making him a "person of interest", police said.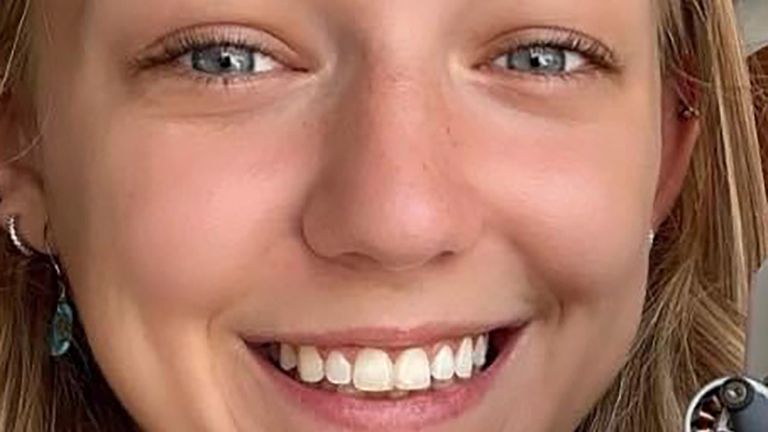 Mr Laundrie and Ms Petito had been living with his parents before making the trek.
It comes after a police search for Mr Laundrie was launched at the weekend. His family reported him missing, with relatives telling officers they had not seen him for three days.
On Sunday, the FBI announced the discovery of a body on the edge of Grand Teton National Park in Wyoming, which the couple had visited.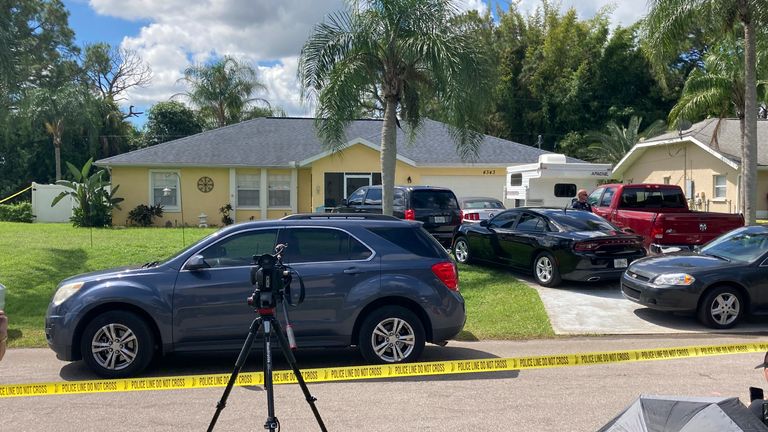 "Full forensic identification has not been completed to confirm 100% that we found Gabby, but her family has been notified," FBI agent Charles Jones said.
"This is an incredibly difficult time for [Petito's] family and friends."
Ms Petito's father Joseph posted on social media an image of a broken heart above a picture of his daughter, with the message: "She touched the world."
A post-mortem examination is set for Tuesday and a lawyer acting as a spokesman for the family asked in a statement that they be given room to grieve.
Mr Jones said investigators were still seeking information from anyone who may have seen Ms Petito or Mr Laundrie.
A weekend search of the Florida nature preserve failed to find Mr Laundrie, North Port police said.
They said in a statement that they "exhausted all avenues in searching the grounds" of the 24,000-acre Carlton Reserve in Sarasota County.
Investigators focused on the area Mr Laundrie's parents told police he may have visited.
Ms Petito's family on New York's Long Island have been pleading for the Laundrie family to tell them where their son last saw her.
She and Mr Laundrie were childhood sweethearts who met while growing up on Long Island.
Police bodycam of Gabby Petito

Video released by police in Moab, Utah, showed that an officer pulled the couple's van over on 12 August after it was seen speeding and hitting a curb near the entrance to Arches National Park. The body-camera video showed an upset Ms Petito.
Mr Laundrie said on the video that the couple had got into a scuffle after he climbed into the van with dirty feet.
He said he did not want to pursue a domestic violence charge against Ms Petito, who officers decided was the aggressor.
Moab police separated the couple for the night, with Mr Laundrie checking into a motel and Ms Petito remaining with the van.