Fergie reportedly didn't think anything was wrong with her national anthem performance
With fans and celebrities still lambasting Fergie for her rendition of the national anthem during the NBA All Star game on Sunday, the star herself doesn't understand the complaints.
A source close to the 42-year-old singer told Us Weekly that the star thought everything was alright during her performance.
"Neither Fergie nor her team thought anything was wrong with her national anthem rendition," a source told the outlet. "That's the way she sings a lot of her songs. She loves adding a little sexiness and being different with her riffs. It was meant to be jazz-inspired. She wanted to stand out."
As previously reported, not everyone was on board with Fergie's alternate rendition of the "Star-Spangled Banner," which opened the big game. Not only did commentators react to the strange performance during halftime, but the players appeared to be giggling at her while she was still in the middle of her more than two and a half minute performance.
While a plethora of detractors took to social media to comment on the performance, even some stars couldn't resist the urge to bash Fergie's now-infamous performance. Most notably, Roseanne Barr, who gave her own infamous performance of the national anthem in 1990, called out Fergie's performance.
"Who saw Fergie's national anthem performance at the NBA All Star Game? I think mine was better lowkey," she wrote on Twitter.
Into The Grey Zone: China's new technologies could 'over-match' the West's military strength, armed forces chief says | UK News

The UK needs to understand and deal with the risk of China developing new technologies that could "over-match" the West's military strength, the head of the armed forces has said.
General Sir Nick Carter also talked about how the Army, Royal Navy and Royal Air Force are adapting to operate in the "grey zone" between war and peace.
He was speaking on Sky News' Into The Grey Zone podcast.
Asked whether there is a risk a country such as China could develop a technological advantage over the West's military dominance, General Carter said: "China is an extraordinary country for innovation and technological innovation, for that matter.
"And of course, there is always, in the character of warfare, a constant competition between opposing technologies to try and get match or over-match.
"So the answer is: Yes, that is definitely something that needs to be understood and dealt with."
The chief of the defence staff offered a sense of how the military works in the grey zone.
Instead of there being a distinction between being deployed on an operation and being based in the UK, he indicated that now anything a soldier, sailor, airman or Royal Marine does from training to deployments is designed to send a message.
"So what we might in the past have called an exercise is actually telegraphing a statement of intent or it is being used for other purposes," General Carter said.
"And therefore, what you have to do is to recognise that that is actually a small tactical battle in this longer term campaign, which is about trying to have an impact upon your opponent."
He acknowledged though, that the military can only play a supporting role to help the government deal with the full range of threats against the UK in the grey zone, which touches everything from academia and politics to the media and corporations.
"Ultimately it's going to take other government departments and other instruments of statecraft," General Carter said.
He said there is also a role for wider society to play in protecting the country's values and freedoms from coming under attack, particularly from disinformation by hostile states.
"There needs to be a genuine desire by people to be really considered in what they believe and to think pretty hard about where that news is coming from and what it actually means," he said.
"And then, you know, if it's the wrong news, if it's fake news, if it's disinformation to call it out. And we should be up to calling it out because ultimately it undermines everything that we all stand for."
The interview with General Carter was recorded for the podcast at the end of September 2020.
A small clip featured in the first episode of Into The Grey Zone, but episode eight, which is released today, contains the main portion of the interview.
World could face more chemical attacks similar to Salisbury poisonings, defence secretary warns | UK News
The world could face more chemical attacks in the wake of the Salisbury poisonings as people can now learn to make such weapons online, the defence secretary has warned.
Ben Wallace said access to such knowledge "can turn what might be ambitions into realities" for a whole range of attacks by non-state actors.
Mr Wallace continued: "Now you can find out how to make chemical weapons on the internet.
"That proliferation means that many people in the world have access to knowledge that can turn what might be ambitions into realities, around everything from conventional attacks to CBRN (chemical, biological, radiological, nuclear) capabilities."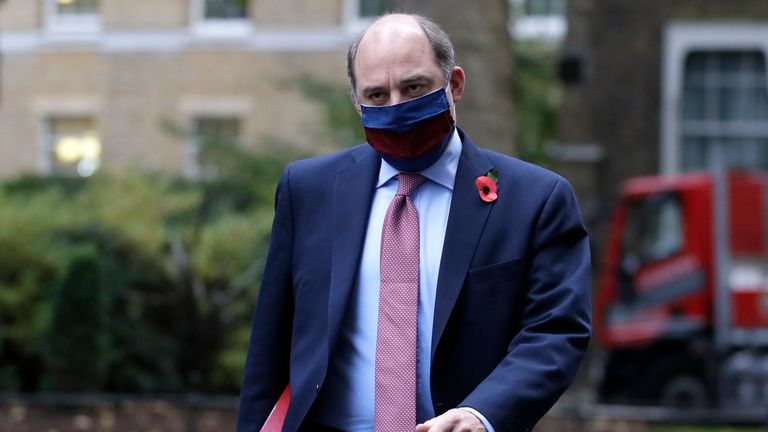 Mr Wallace also said it was clear that Russia remained an "adversary" of the UK three years on from the attempted killing of former spy Sergei Skripal using a novichok nerve agent.
The defence secretary said Moscow's willingness to use a banned chemical weapon on British streets represented a challenge to international law and the world order.
He continued: "We can't take anything for granted in the way we maybe did in the Cold War when there was a nice, static and fairly sterile relationship with a fence down the middle of Europe.
"What I worry about is when people have disregard for the international rule of law and domestic rule of law and those people are no longer purely terrorists/organised criminals but other states.
"It challenges many of the values we stand for and it challenges the world order. That is something that should worry us all."
Mr Skripal, a former Russian intelligence officer turned double agent for MI6, and his daughter, Yulia, were left fighting for their lives after they were poisoned with novichok in 2018.
A policeman who attended Mr Skripal's house was also admitted to hospital after being exposed to the nerve agent.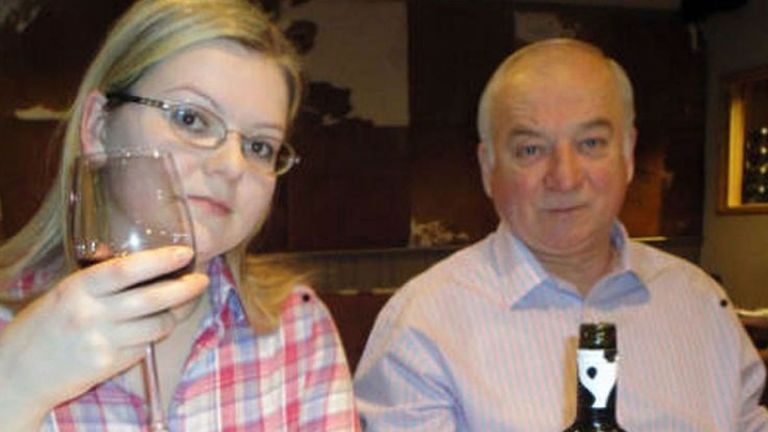 Four months later, 44-year-old Dawn Sturgess died after apparently picking up the discarded bottle that had contained novichok.
The government subsequently identified two officers in Russia's GRU military intelligence who, it said, were suspected to have carried out the attack.
The two men known as Alexander Petrov and Ruslan Boshirov are still wanted by UK police after the Crown Prosecution Service authorised charges against them.
Mr Wallace said: "(The novichok poisonings) reminded the West that countries purporting to be world leading countries have a disregard sometimes for international law and sovereignty and seek to deploy some of the worst weapons on our streets."
He acknowledged there was little immediate prospect of the suspected perpetrators being brought to trial, but said the government would not give up hope that they would one day face justice.
He said that Moscow had deployed a "spectrum" of capabilities in its campaign against the UK and the West, from cyber attacks to the use of "proxies" like mercenaries from the Wagner Group – a Russian paramilitary organisation.
Mr Wallace's comments come as a chemical and biological weapons expert warned rogue states and terror groups could even try to use coronavirus or similar viruses for attacks in future.
Hamish de Bretton-Gordon said the pandemic has shown how a "not very virulent pathogen can bring the world to its knees" and this will not go "unnoticed by bad actors".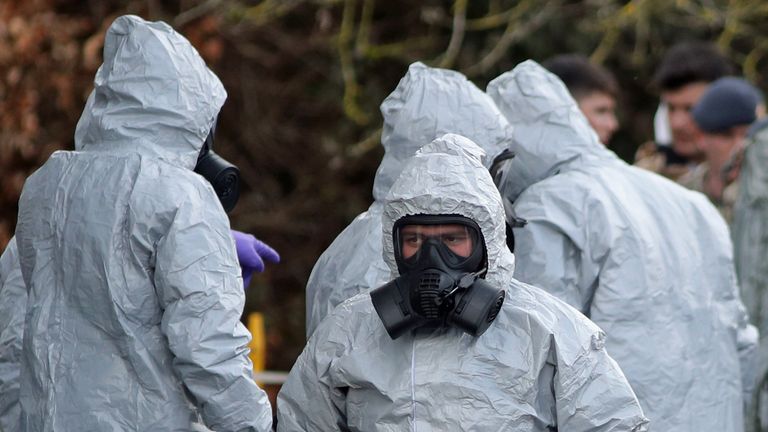 Analysis: The growing ability of countries and other actors to use chemical weapons could be devastating
By Deborah Haynes, foreign affairs editor
The defence secretary is right to sound the alarm about the potential for more chemical weapons attacks almost three years on from the Salisbury spy poisoning.
Ben Wallace's words come as General Sir Nick Carter, the head of the armed forces, warns that the gravest threat to the UK is if any one of a number of conflicts across the world were to escalate out of control, either deliberately or by accident, drawing in more countries.
"That's where the risk will come from," he said, speaking on the latest episode of Sky News's Into The Grey Zone podcast.
The growing ability – and in some cases willingness – of countries and other actors to use internationally-banned chemical and biological weapons as well as nuclear warheads means the consequences of such an escalation could be particularly devastating.
General Carter told me: "Of course, weapons have proliferated significantly. You know, one of the features of what our authoritarian rivals have done is to develop new technologies, which they haven't just kept to themselves, they've diversified it and proliferated it to their proxies and to their customers.
"And that means that you've got a world with far more weaponry in it, including nuclear weaponry, and, of course, including biological and chemical weapons, in it than perhaps we've had for many years.
"And that means that a miscalculation could be really rather horrific if it occurs."
Myanmar coup: Court files fresh charge against Aung San Suu Kyi after 18 killed in protests | World News
A Myanmar court has filed another charge against ousted leader Aung San Suu Kyi, her lawyer has said, as protesters marched in defiance of a crackdown by security forces.
Suu Kyi appeared via video link for a court hearing on Monday.
An additional charge of prohibiting the publication of information that may "cause fear or alarm" or disrupt "public tranquillity" was added to those filed against her after a coup a month ago, her lawyer Min Min Soe told Reuters.
As the court hearing took place, police in the city of Yangon used stun grenades and tear gas to disperse protesters, witnesses said, a day after the worst violence since the coup.
There were no immediate reports of any casualties on Monday but the previous day, police opened fire on crowds in various parts of the country killing 18 people – the highest single-day death toll to date.
The UN Human Rights office said they "strongly condemn the escalating violence" and have called on the military to "immediately halt the use of force against peaceful protestors."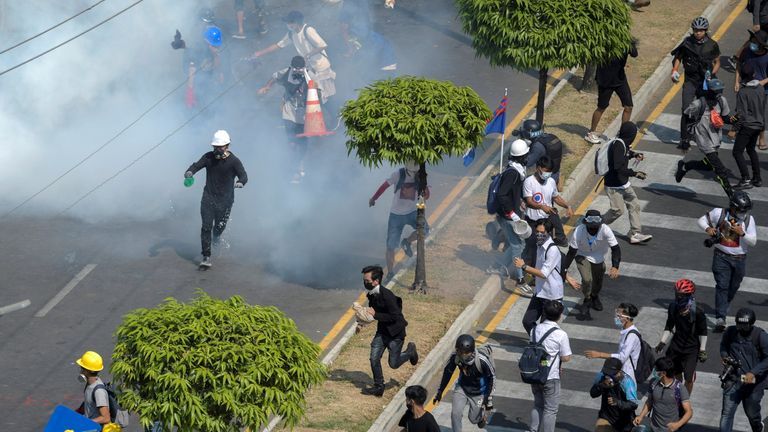 About 1,000 people are believed to have been detained. The military has not commented on Sunday's violence.
The UK has described the "deadly and escalating" violence against demonstrators as "abhorrent".
White House national security adviser Jake Sullivan issued a statement saying the US is "alarmed" by the violence and stands in solidarity with Myanmar people "who continue to bravely voice their aspirations for democracy, rule of law, and respect for human rights".
Washington has imposed sanctions on Myanmar because of the coup, and Mr Sullivan said it would "impose further costs on those responsible", promising details "in the coming days".
The leader of the National League for Democracy (NLD) has not been seen in public since her government was ousted in a military coup on 1 February. She was detained along with other party leaders.
Suu Kyi, 75, was initially charged with illegally importing six walkie-talkie radios but later, a charge of violating a natural disaster law by breaching coronavirus protocols was added.
The next hearing will be on 15 March.
If she is convicted, the charges against her could provide a legal way of barring her from running in the election the junta has promised in a year's time.