Donald Trump backtracks over background checks for gun owners
Donald Trump has signalled his support for efforts to make it harder for criminals to buy firearms.
In an apparent U-turn following last week's mass shooting at a school in Florida, the President has said he would back proposals to improve background checks before gun purchases.
Mr Trump had faced criticism for his opposition to gun control measures in the wake of the massacre that left 17 students and teachers dead.
But White House press secretary Sarah Huckabee Sanders revealed the President has spoken to a Democrat and a Republican about a bipartisan bill that would force states and federal agencies to report more frequently on offences that prohibit a person from buying a weapon.
"While discussions are ongoing and revisions are being considered, the President is supportive of efforts to improve the federal background check system," she said.
:: Pictured: 17 victims gunned down in school massacre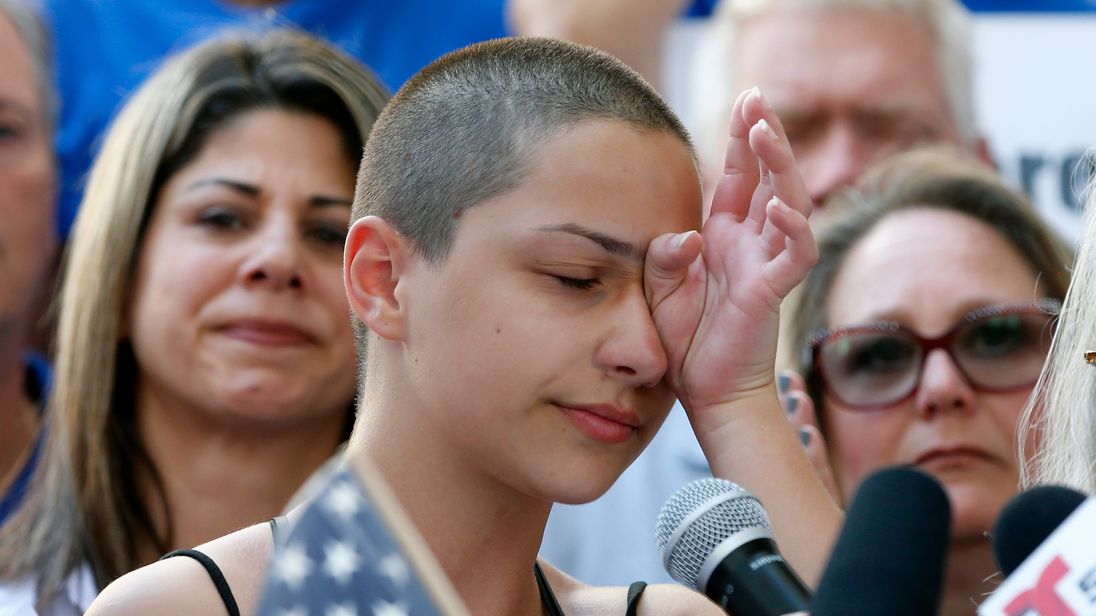 The proposed bill would punish states and federal agencies that fail to follow the law on reporting criminal history records to the national background check system – rewarding those that comply with the rules.
Mr Trump, who has been a strong supporter of gun rights and the National Rifle Association, was heavily criticised for his initial response to the tragedy at Marjory Stoneman Douglas High School.
In a tweet, he had written: "My prayers and condolences to the families of the victims of the terrible Florida shooting. No child, teacher or anyone else should ever feel unsafe in an American school."
Sarah, believed to be a teenage student at the school who used Twitter to report the attack, posted another message, since deleted, calling him a "piece of s***" and urging him to "do something instead of sending prayers".
The President later tweeted that suspected gunman Nikolas Cruz was "mentally disturbed" – and, after the FBI admitted it failed to act on tip-offs about the 19-year-old, he suggested the agency was spending "too much time trying to prove Russian collusion with the Trump campaign".
:: Why are white men more likely to carry out mass shootings?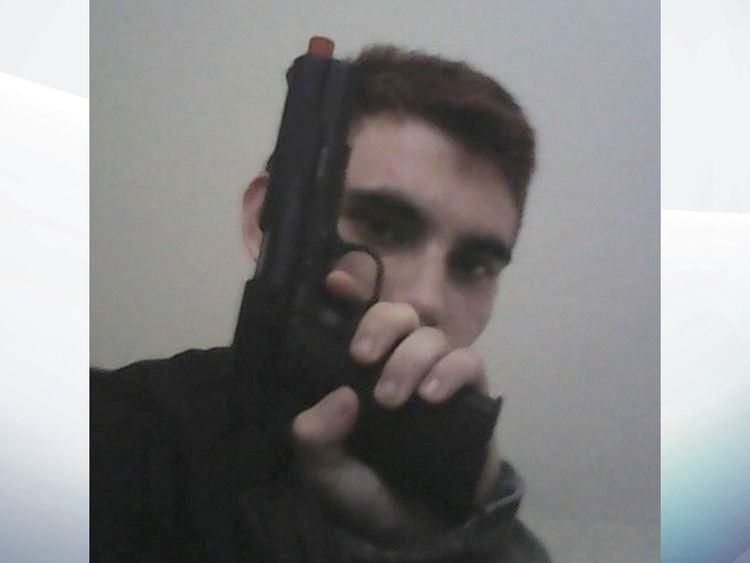 The legislation that Mr Trump is supporting does nothing to address the divisive issue of America's permissive gun laws under a constitutional amendment that protects the right to bear arms.
Known as the Fix NICS Act, it was prompted by a massacre at a Texas church in November, when gunman Devin Kelley killed 26 people.
Kelley was able to buy guns while serving in the air force despite a domestic violence conviction that should, by law, have prevented him from purchasing or possessing firearms.
The conviction was never reported, exposing a major weakness in the background check system.
Lady Gaga's French bulldogs found after being stolen at gunpoint | Ents & Arts News

Lady Gaga's French bulldogs have been found safe and unharmed – two days after being stolen at gunpoint in Los Angeles.
The pop star had been offering $500,000 for the safe return of Koji and Gustav – and had written in a previous Instagram post that her "heart is sick" and she was praying for their return.
Her friend Ryan Fischer, who was shot while walking the pets, is expected to make a full recovery.
"I can confirm that the dogs have been located and are safe," Captain Jonathan Tippet said.
According to police, Mr Fischer had attempted to fight off the armed robbers – and one of the men was wielding a semi-automatic handgun.
Gaga said: "I continue to love you Ryan Fischer, you risked your life to fight for our family. You're forever a hero."
COVID-19: Man who threatened to blow up NHS hospital unless he was paid £10m convicted of extortion | World News

A Berlin-born man who threatened to blow up an NHS hospital unless he was paid £10m in cryptocurrency has been convicted of extortion by a German court.
Emil A, an Italian national, sent the first threatening email to the NHS in April 2020 – at the height of the first peak of the coronavirus pandemic – purporting to be a member of the far-right group Combat 18.
Over a six-week period he sent 18 emails, also making threats to blow up BLM protests and murder members of parliament.
The UK's National Crime Agency (NCA) said their experts worked 24 hours a day analysing leads and electronic communication, eventually tracking Emil A down to a flat in the German capital.
On 15 June, specialist firearms officers from Berlin Police used explosives to force entry to his flat and arrest him.
The 33-year-old – who has been in custody since his arrest – was sentenced to three years in prison, but released on bail by the court before his judgment is ratified.
Tim Court, the NCA's head of investigations, said Emil A's actions were "the most significant threat we've seen to UK infrastructure" – and that he sought to hijack significant social events like the BLM protests for monetary gain and disrupt the treatment of people suffering with coronavirus.
Mr Court said: "At the height of this we were losing nearly 1,000 people a day and we had to manage someone threatening to plant a bomb. He didn't have access to it, but if [his threat] had become public, the impact on the confidence of people to go to hospital would have been significant."
Authorities say Emil A didn't have any links to the UK or its health service, but that his aim was to exploit the vulnerability of NHS, which was dealing with an influx of COVID-19 patients in the first wave of the pandemic.
Nigel Leary, deputy director of the NCA's National Cyber Crime Unit, said a phone call threatening to detonate a bomb in hospital could have resulted in a loss of life because it would have been difficult to evacuate patients on ventilators.
Detectives were initially unsure whether Emil A operated alone or as part of a group, but concluded that he didn't have any links to far-right organisations and posed as a member of a neo-Nazi group in order to stoke fear.
An NHS spokesperson said: "The threat made during the extortion demand significantly added to the pressures on the NHS during the COVID pandemic and meant senior leaders and emergency response staff were called on to direct the NHS aspects of the response to this threat.
"The threat and demand was made at a time that hospitals were at their most vulnerable, and could have resulted in significant loss of life."
Nigeria: Hundreds of schoolgirls abducted as gunmen attack nearby military site | World News
More than 300 girls have been abducted from a boarding school in northern Nigeria in the latest in a series of student kidnappings in the country.
Gunmen abducted 317 students from the Girls Science Secondary School in Jangebe town, Zamfara state, on Friday.
Local man Musa Mustapha said the gunmen also attacked a nearby military camp and checkpoint, preventing soldiers from intervening at the school.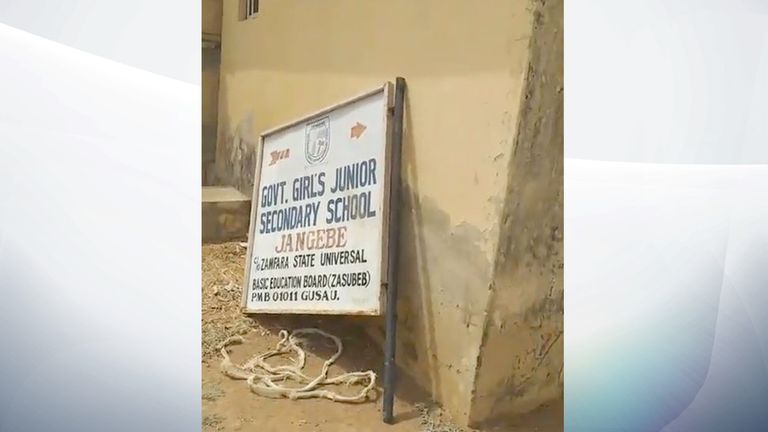 The attackers spent several hours at the camp, but there are no reports of any casualties.
Police and the military have since begun joint operations to rescue the girls, Zamfara state police spokesman Mohammed Shehu said.
Nasiru Abdullahi, who said his daughters, aged 10 and 13, were among the missing, told reporters: "It is disappointing that even though the military have a strong presence near the school, they were unable to protect the girls.
"At this stage, we are only hoping on divine intervention."
Several large groups of armed men operate in Zamfara state, described by the government as bandits, and are known to kidnap for money and for the release of their members from jail.
Peter Hawkins, Nigeria's UNICEF representative, called for the immediate release of the schoolgirls, saying: "We are angered and saddened by yet another brutal attack on schoolchildren in Nigeria.
"This is a gross violation of children's rights and a horrific experience for children to go through."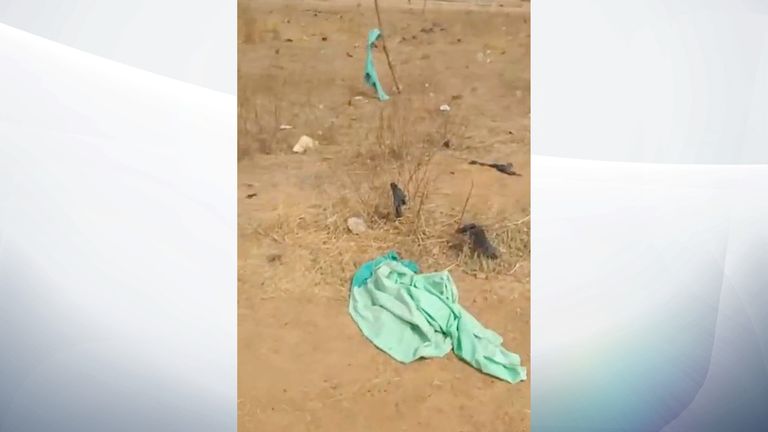 Nigeria has seen several such attacks and kidnappings over the years, notably the mass abduction in April 2014 by jihadist group Boko Haram of 276 girls from a secondary school in Chibok in Borno state.
More than a hundred of the girls are still missing.
Friday's attack came less than two weeks after gunmen abducted 42 people, including 27 students, from the Government Science College Kagara in Niger State.
The students, teachers and family members are still being held.
In December, 344 students were abducted from the Government Science Secondary School Kankara in Katsina State before eventually being released.
And in 2019, a British aid worker, Faye Mooney, was killed by kidnappers in the country.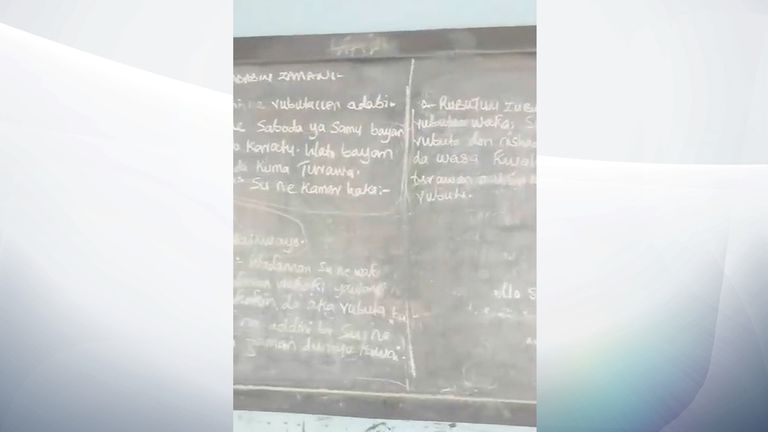 Anietie Ewang, Nigeria researcher at Human Rights Watch, said on Twitter: "Strong action is required from the authorities to turn the tide & keep schools safe."
Amnesty International also condemned the latest "appalling attack," warning in a statement that "the girls abducted are in serious risk of being harmed."
Teachers have been forced to flee to other states for protection, and many children have had to abandon their education amid frequent violent attacks in communities, Amnesty said.