Britain 'should commit more troops'
Britain should commit more troops to help stabilise Afghanistan and be prepared to remain in the country for many more years, a former Head of the British Armed Forces has said.
Speaking to Sky News, Lord Richards of Herstmonceux said the UK should support the recent American surge ordered by US President Donald Trump to deal with a resurgent Taliban.
"I think we should be much more involved in the support role," Lord Richards said.
"The sort of things that the Americans are asking of us, we should be prepared to step up to the mark on.
"I think it's time to just remember that the Afghan people have fought a war on our behalf, to prevent terrorism from striking us, with us, and we owe them something in return and not give up just because it's not going very well."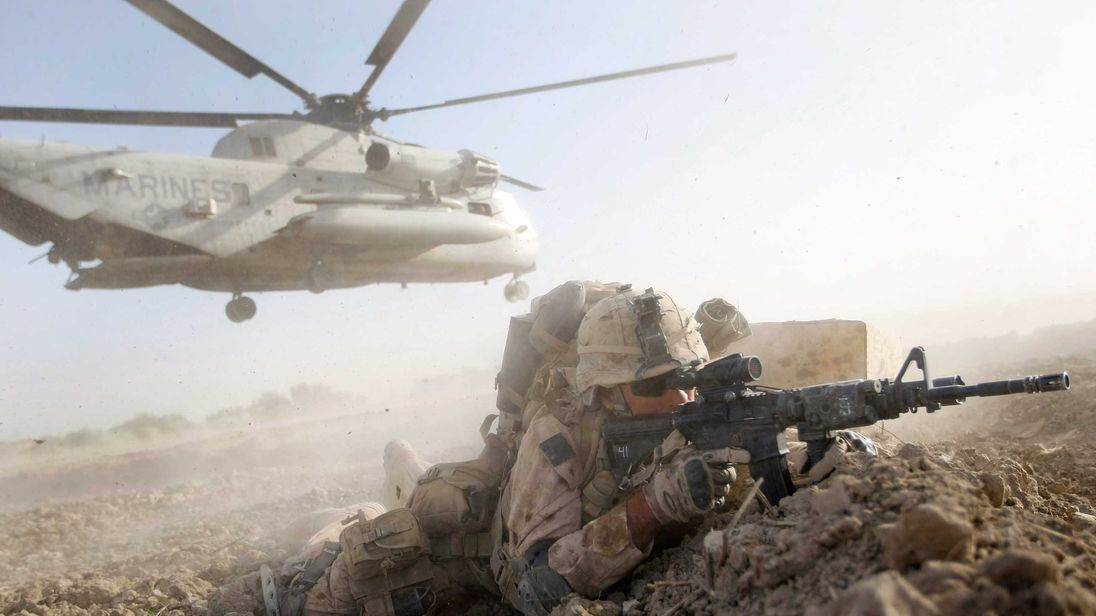 Lord Richards, who was also the senior NATO commander in Afghanistan between 2006 and 2008, said the UK could offer air and logistical support to its American partners.
The US and Britain first invaded Afghanistan in late 2001 in response to the 9/11 attacks.
The initial mission to get rid of the Taliban and to stop Afghanistan harbouring al Qaeda and its leader Osama bin Laden was swift and it was successful.
Seventeen years later around 600 British troops remain in the country, most in a training role.
"That initial campaign was stunning in its simplicity and its success," said General Richards.
"In under two months the Taliban were gone. If you're looking for models for future generations of soldiers to look at, I think that's got to be one of them."
His comments are supported by Anders Fogh Rasmussen, the NATO Secretary General between 2009 and 2014 who also believes the alliance must be ready to help Afghanistan for the foreseeable future.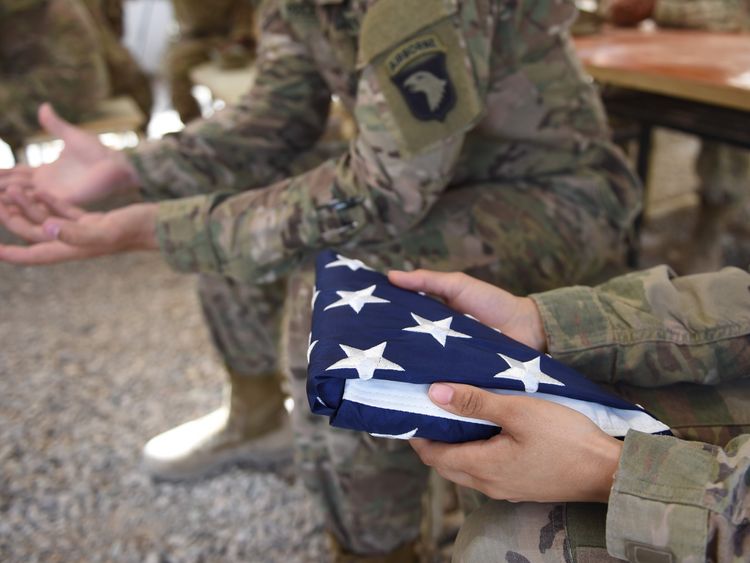 "I think it is a worrying situation. And I fully support the NATO efforts to strengthen the training mission with a view to increasing the capability of the Afghan security forces to take care of their own security.
"What we need now is to maintain a sizeable force, NATO force, to help the Afghans when it comes to security."
Britain's combat role officially came to an end in October 2014 when the Union flag was lowered over Camp Bastion.
British Special Forces are still very active in the country but the majority of Britain's public contribution is in the running of the officer training academy in Kabul.
The US military presence is nothing like as large as it was, but significantly, it is growing again.
Last year President Trump sent another 3,000 US troops to Afghanistan and a further 1,000 are expected to join them this year.
That will take the total US deployment to 15,000.
The Afghan conflict has spanned the terms of three US Presidents and four British Prime Ministers. It is now America's longest foreign war.
Saudi Arabia Hajj: Number allowed to take part in annual pilgrimage severely limited for second year running | World News
Saudi Arabia is limiting the number of Muslims who can take part in the annual pilgrimage to Mecca and Medina – called the Hajj – for a second year, because of COVID-19.
Only 60,000 of its own citizens and residents will be able to join the event, the state Saudi Press Agency (SPA) reported on Saturday.
That figure will be higher than last year, when barely 1,000 were allowed to go, but still many times less than the two million-plus who normally visit Islam's holiest sites for the Hajj, including many Britons.
Only people aged between 18 and 65 who have been vaccinated or immunised against the virus, and are free of chronic
diseases, will be able to join the pilgrimage in mid-July this year.
The kingdom's health minister. Tawfiq al Rabiah, said: "The decision (was made) to guarantee the safety of Hajj amid uncertainty over the coronavirus.
"Despite the availability of vaccine, there is uncertainty over the virus and some countries still record high numbers of
COVID cases.
"The other challenge is the different variants of the virus, hence came the decision to restrict Hajj."
The minister said only those who had received Pfizer, Astrazeneca, Moderna and Johnson & Johnson vaccines will be able to take part in the Hajj.
Saudi Arabia's decision is likely to be met with disappointment by many Muslims, who consider it a once in a lifetime duty for every able-bodied believer who can afford it.
The week-long Hajj and the lesser, year-round umrah pilgrimages together earned the kingdom about $12bn a year before the pandemic, according to official data.
In 2020, two-thirds of those who took part were foreign residents of Saudi Arabia from among the 160 different nationalities that would have normally been represented at the event. One-third were security personnel and medical staff who were Saudi citizens.
The COVID-19 pandemic is not the first time the event has been affected by illness, with a malaria outbreak in 632, cholera outbreaks in 1821 and 1865 and more recently Middle East respiratory syndrome, or MERS, prompting concerns and controls.
Saudi Arabia had closed its borders for months to limit the spread of the virus and, so far, it has largely escaped the worst of its effects.
About 462,000 cases of the virus have been reported, along with 7,500 deaths, and some 15.4 million vaccine doses have been administered in the country of over 30 million people.
Agnes Chow: Hong Kong pro-democracy activist released from prison | World News
Hong Kong pro-democracy activist Agnes Chow has been released from prison after serving more than six months behind bars.
The 24-year-old was jailed in December last year for taking part in unauthorised assemblies during huge anti-government protests in 2019.
The rallies sparked a crackdown on dissent across the region.
A crowd of journalists greeted Ms Chow as she left the Tai Lam Center for Women, in Tuen Mun, in the New Territories, Hong Kong on Saturday.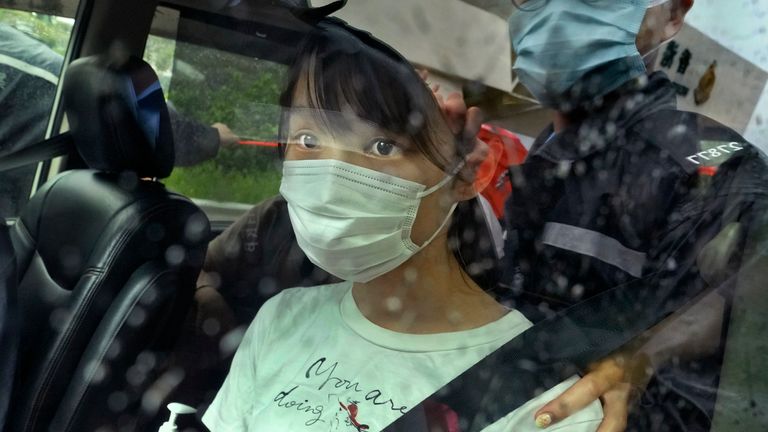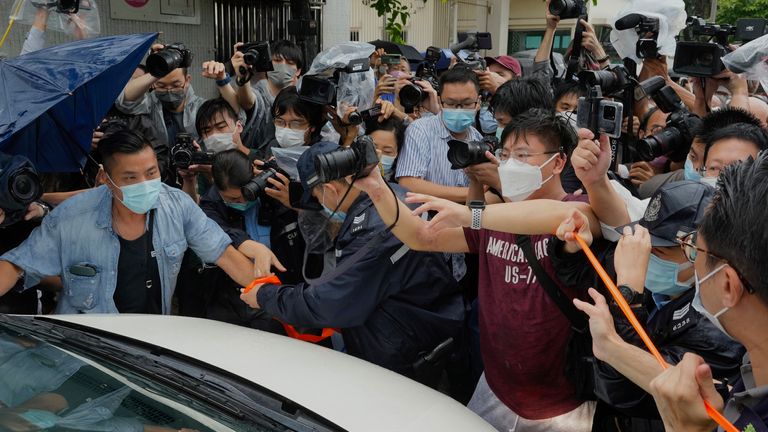 Only a small group of supporters stood outside for her as she left the maximum-security women's prison, which is thought to be a reflection on the government's threats to jail those it deems to be in violation of a sweeping national security law imposed on the territory by Beijing a year ago.
Ms Chow rose to prominence during the "Umbrella Movement" of 2014 when she, and activist Joshua Wong, led a student protest against proposed reforms to Hong Kong's electoral system which would have allowed Beijing to choose candidates.
Subscribe to the Daily podcast on Apple Podcasts, Google Podcasts, Spotify, Spreaker
Mr Wong is currently serving time in prison for taking part in the same unlawful anti-government rally and for taking part in a vigil to remember the Tiananmen Square protests of 1989.
They Are Us: Plans for film about Christchurch mosque attacks sparks anger among New Zealanders | Ents & Arts News
New Zealand's prime minister has distanced herself from plans for a film that would focus on her response to the Christchurch mosque attacks.
US-based FilmNation Entertainment is in the early stages of producing a film called They Are Us – the title is a line from one of Jacinda Ardern's speeches in the days after the attacks.
But the plans have been criticised by many New Zealanders, some unhappy about reports that the film will focus on the prime minister, leaving the victims in the background.
Others have said the 15 March 2019 tragedy is still too raw and that Hollywood should not be able to profit from the suffering of those who are still recovering or grieving.
Ms Ardern told news website Stuff: "While it's for the community to speak for themselves, it's my view 15 March remains very raw for New Zealand.
"There are plenty of stories from 15 March that could be told, but I don't consider mine to be one of them."
She also confirmed she "had nothing to do with the film in any form and wasn't consulted on it".
Fifty-one people were killed when Australian white supremacist Brenton Tarrant opened fire on worshippers in the two mosques.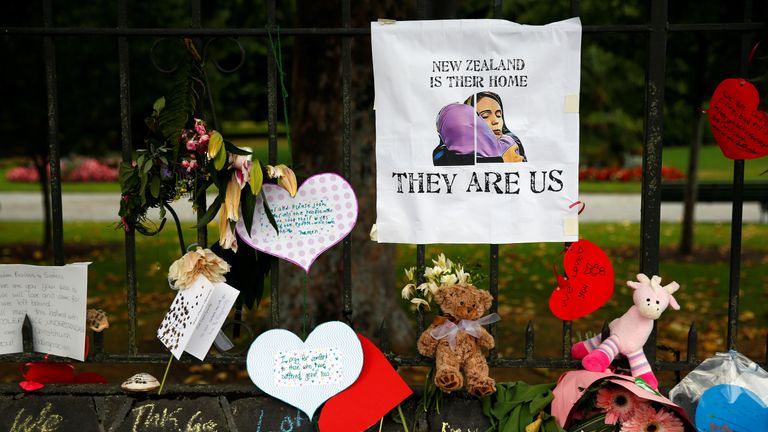 He was jailed for life without parole last August for the 51 murders, 40 attempted murders and a charge of terrorism.
But in the days after the attacks, New Zealanders were praised for uniting in compassion for the victims and their community, led by Ms Ardern.
She was also lauded for her successful efforts to ban the deadliest types of semi-automatic weapons in the country.
According to Hollywood news outlet Deadline, which broke news of the film, Ms Ardern will be played by Australian actress Rose Byrne.
The film will be made in New Zealand and directed by New Zealand filmmaker Andrew Niccol.
But more than 23,500 people have signed a petition calling for the movie to be abandoned and the hashtag #TheyAreUsShutdown was trending on Twitter in New Zealand on Friday.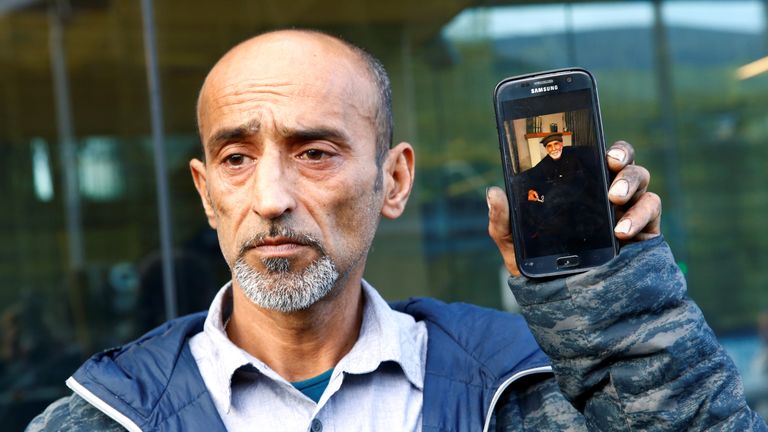 Those behind the petition said the film's focus on white voices "will continue to white-wash the horrific violence perpetrated against Muslim communities".
Niccol "has not experienced racism or Islamophobia" so he should not "lead and profit" from a "story that is not his to tell", they added.
Deadline reported that the film's script was developed in consultation with several members of the mosques who were affected by the tragedy but this has been disputed by members of New Zealand's Muslim community.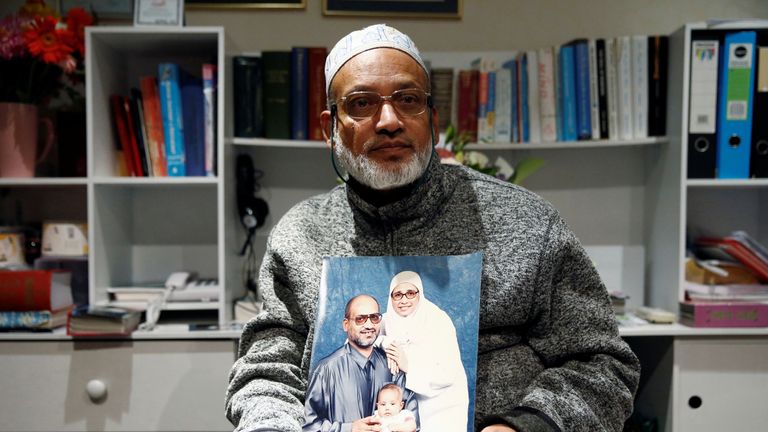 Sondos Qur'aan, co-chair of the National Islamic Youth Association, said the movie "is insensitive and would only serve to invalidate the experiences of survivors and victims of the attack and cannot be supported by our organisation".
Fellow co-chair Haris Murtaza added: "The shuhadaa' (martyrs), their families, and the wider victim community deserve to be thoroughly consulted and at the heart of any projects that relate to the 15 March terror attacks.
"Entities and individuals should not seek to commercialise or profit from a tragedy that befell our community, neither should such an atrocity be sensationalised."
Mohamed Hassan, who hosts podcast The Guest House, which explored how Muslims made sense of the attacks, told Radio NZ: "In its essence, (the film) is a story about an act of white supremacy that is centred around white voices, white feelings and white heroism. The irony is nauseating. The lack of self-awareness is profound."
Sky News sought comment from FilmNation early on Saturday but Niccol earlier told Deadline: "They Are Us is not so much about the attack but the response to the attack [and] how an unprecedented act of hate was overcome by an outpouring of love and support.
"The film addresses our common humanity, which is why I think it will speak to people around the world. It is an example of how we should respond when there's an attack on our fellow human beings."