Airstrikes and rocket fire 'kill 71' in Syrian rebel enclave
More than 70 people have reportedly been killed and hundreds wounded as airstrikes, rocket fire and shelling by Syrian government forces and their allies hit a rebel enclave in eastern Ghouta.
Pro-regime troops are expected to enter Afrin before the end of Monday, to take a stand against a month-old Turkish assault.
State news agency SANA said: "Popular forces will arrive in Afrin within a few hours to support its people's stand against the Turkish regime's attack on the area and its people.
"This comes in the framework of supporting residents and defending the territorial unity and sovereignty of Syria."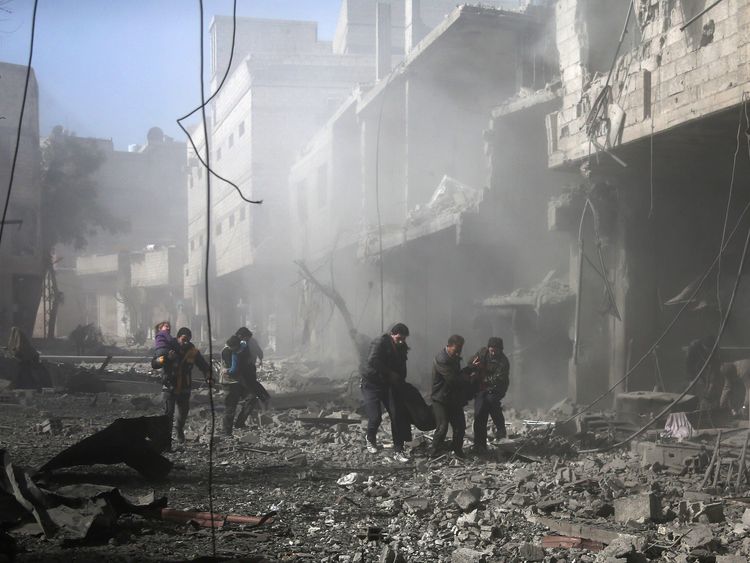 Turkey's deputy prime minister Bekir Bozdag responded to the announcement of the forces by warning their arrival would give the "green light" to a divided Syria.
The foreign minister Mevlut Cavusoglu said if he Syrian Army came to defend the YPG "nothing and nobody can stop Turkish soldiers".
The British-based Syrian Observatory for Human Rights claimed airstrikes, rocket fire and artillery across eastern Ghouta had killed 71 in the space of 24 hours, though other agencies said the figure was closer to 44.
The Observatory said 325 were wounded.
Among the dead, 20 were killed in airstrikes on Hammuriyeh and nine others in a bombardment on Saqba.
Four children were killed.
"The regime is bombing eastern Ghouta to pave the way for a ground offensive," said Observatory head Rami Abdel Rahman.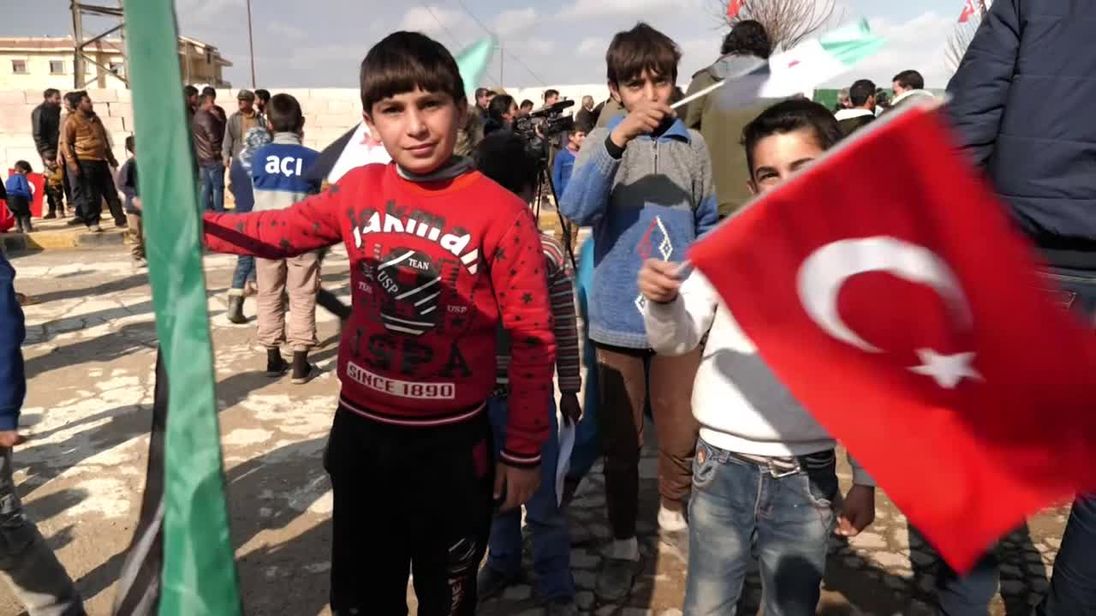 There was no immediate comment from the Syrian military. The Damascus government has said it only targets militants.
The sound of the aircraft prompted Hammuriyah's residents to rush inside in a panic.
Alaa al-Din, a 23-year-old Syrian in Hammuriyeh, said civilians were afraid of a potential government offensive.
"Ghouta's fate is unknown. We've got nothing but God's mercy and hiding out in our basements," he told AFP on Monday.
"There's no alternative."
Afrin, on the border of Turkey, is held by the Kurdish People's Protection Units (YPG). Turkey sees their presence as a direct threat and launched Operation Olive Branch to pound the region.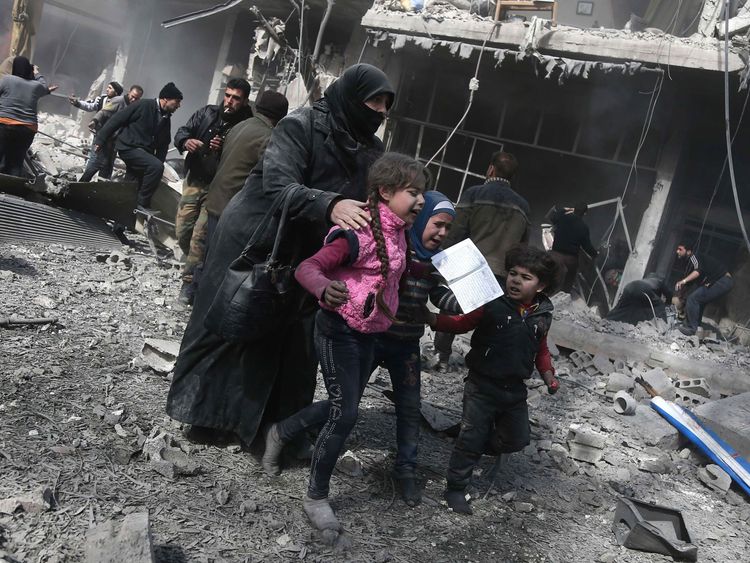 The offensive has not been well-received by everyone, and officials have detained 786 people who have protested or criticised the military offensive.
Authorities renamed the street where the US embassy is based, calling it Olive Branch Street, instead of Nexvat Tandagon Street.
The US embassy said it was up to Turkish authorities to decide street names.
Turkish President Recep Tayyip Erdogan spoke to Russian counterpart Vladimir Putin on Monday afternoon, in a call where they confirmed their commitment to fighting "terrorism" in Syria.
Jurgen Conings: Body of armed Belgian anti-vaccine fugitive found | UK News
The body of a fugitive soldier who had gone missing with a stash of weapons after threatening a virologist has been found by Belgian police.
The Belgian federal prosecutors' office said in a statement that Jurgen Conings had probably "died by suicide by firearm" but the cause of death would "have to be established during a future forensic examination".
The body was found by people walking in the woods near the town of Dilsen-Stockem.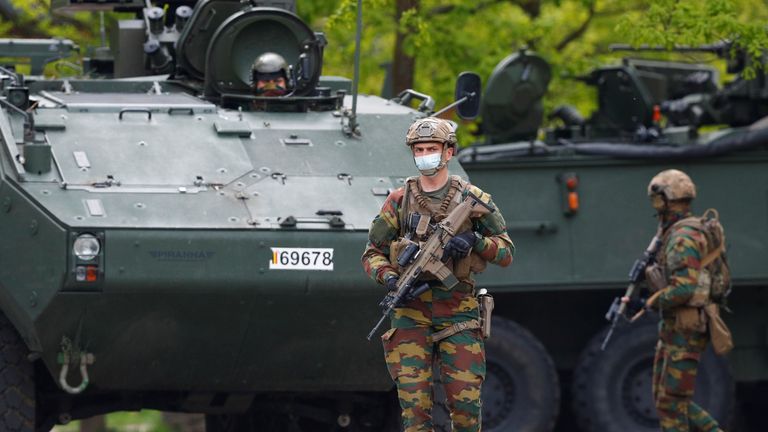 Conings, a soldier, had been the subject of a manhunt that was launched after he left his home near the Dutch border on 17 May with weapons including anti-tank rockets.
The fugitive had threatened virologist Marc Van Ranst for supporting COVID-19 vaccines as well as Belgian institutions and celebrities.
Police suspected Conings was heavily armed as weapons including anti-tank rocket launchers and ammunition, taken from a military base, had been found in his abandoned car near Dilsen in west Belgium.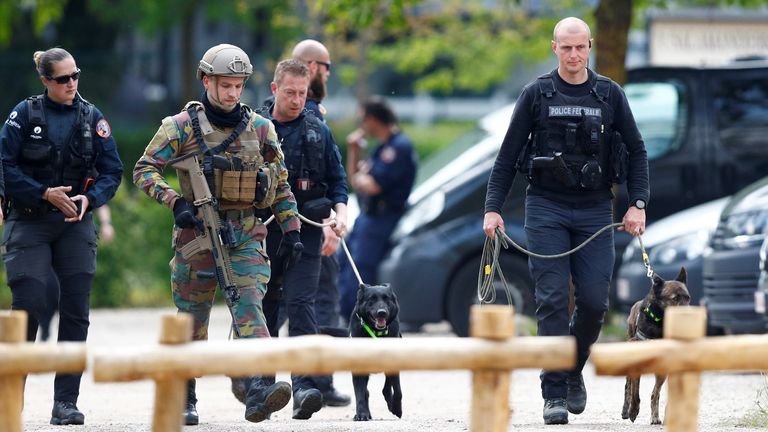 The army deployed de-mining equipment and armoured vehicles to help police searching Hoge Kempen, a 12,000-hectare (30,000 acre) park of woodland, lakes and dunes.
Belgian authorities said Conings's far-right tendencies had landed him on a list of potential terrorists compiled by OCAM, an organisation that assesses the threat of terrorism in Belgium.
French voters head to polls in regional elections – with Marine Le Pen poised to make gains | World News
French voters have been heading to the polls today in regional elections that will test the appeal of far-right leader Marine Le Pen, less than a year before the presidential election.
The regional elections could see Ms Le Pen's National Rally (RN) make gains and move a step closer to the political mainstream, after more than a year of lockdowns, curfews and COVID-19 restrictions.
They will see new assemblies elected for mainland France's 13 regions and 96 departments – and President Emmanuel Macron's La République En Marche! party is projected to win none of the 13 regions, while RN is tipped to win at least one region for the first time.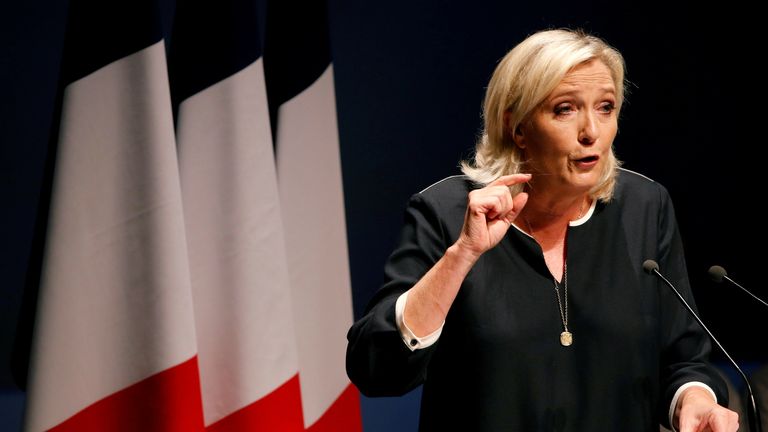 Ms Le Pen is not standing as a candidate but has been campaigning hard ahead of next year's election and surveys show it could end up being a close race between her and centrist Mr Macron.
Despite limited regional police powers in France, Ms Le Pen is hoping to capitalise on a rebrand that has seen her ditch promises of "Frexit" and inflammatory rhetoric.
Her party has strong support in the region around Marseille and Nice, where a former conservative minister is projected to win in one opinion poll.
Far-right candidates are also likely to do well in the north, around Calais and in Burgundy, with RN's chances bolstered by low voter turnout where attention is shifting away from the pandemic and to the summer holidays.
Gaining one region would give Ms Le Pen a major boost ahead of the presidential elections and would deal a major blow to Mr Macron – who has painted himself as a barricade against the far-right.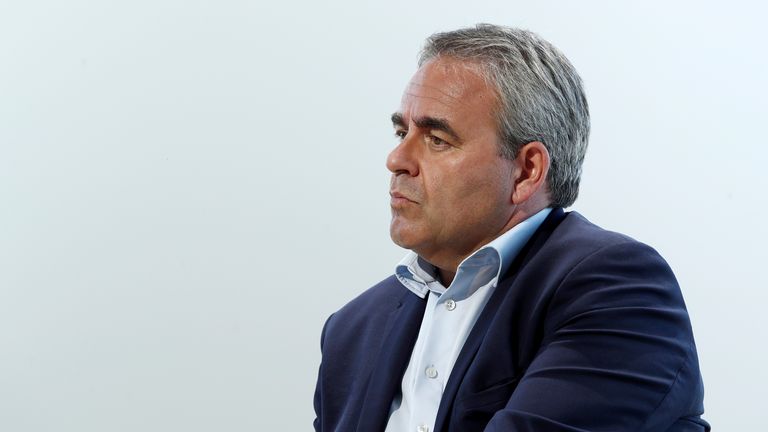 Of Ms Le Pen's softened image, Bruce Teinturier, an analyst at pollster IPSOS, said: "She appears less extreme in the eyes of the French, less dangerous for democracy than she did a decade ago."
In the north, the incumbent and frontrunner for the conservatives' presidential candidate, Xavier Bertrand, is running against RN's spokesman, Sebastien Chenu, and Mr Macron's justice minister, Eric Dupond-Moretti.
Mr Dupond-Moretti will have to gain at least 10% of votes for the RN to force Mr Bertrand into an alliance, which would undermine the conservative candidate's pitch as a challenger to Mr Macron next year.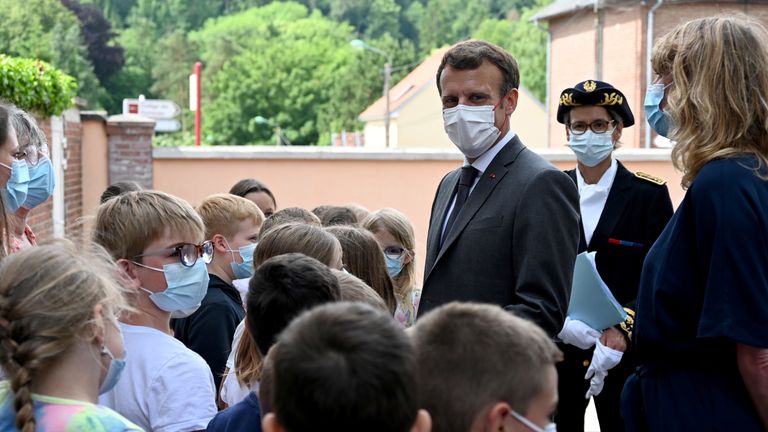 But a win for Mr Bertrand would boost his chances of becoming the conservatives' presidential candidate.
Mr Macron's aides see the former health minister as a rival who would erode the president's centre-right voting base.
Results on Sunday's first-round will likely lead to frenzied backroom dealings between parties to strike alliances ahead of 27 June's final round of voting.
US heatwave sees Phoenix hit record 46C for five straight days – as doctors warn of third-degree burn risk | US News
The southwest of the United States is sweltering in record heat as the city of Phoenix saw temperatures hit 115F (46C) for five days in a row.
Forecasters have issued excessive heat warnings in Arizona and Nevada for the rest of the weekend – and doctors have warned of the risk of third-degree burns from hot surfaces.
Las Vegas hit 111F (44C) on Saturday, just three degrees short of its record temperature for June.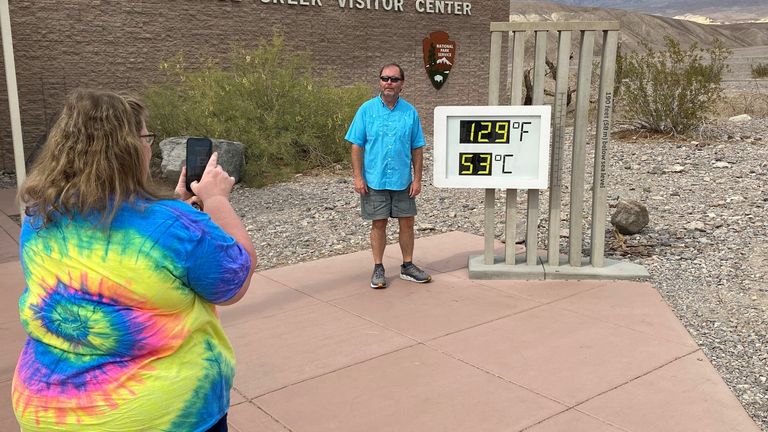 In Arizona, fire officials blamed extreme heat for the spread of a wildfire that started on Wednesday and grew by Saturday to nearly 27 square miles near two mountain towns.
Evacuations were ordered on Friday while an aircraft and almost 100 firefighters fought the flames.
Phoenix set a record for the city on Saturday as it 115F (46C) for five consecutive days – and Sunday could extend the record to six days, meteorologist Isaac Smith said.
The problem of burns from hot surfaces is growing in southwest states, as temperatures rise due to climate change and increasing urbanisation.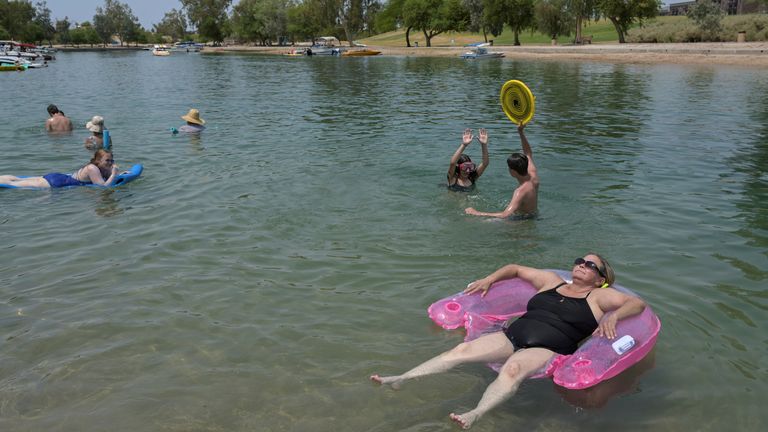 Arizona Burn Centre in Phoenix said 104 people were admitted in June, July and August 2020 with serious burn injuries due to contact with scorching surfaces – including seven people who died.
Its director Dr Kevin Foster said: "It doesn't take much time to get a full thickness or third degree burn when exposed to hot pavement.
"Because if you look at hot pavement or asphalt at two o'clock in the afternoon in direct sunlight, the temperature is usually somewhere around 170 to 180F."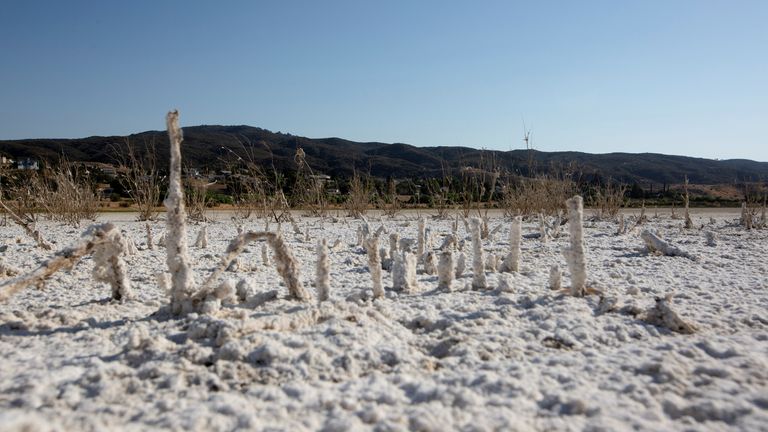 Temperatures are expected to ease next week but could again top 110F (43.3C) in parts of southwest America next weekend.
Excessive heat warnings are also in effect in nearby California and Utah desert areas, as water levels in some areas dropped.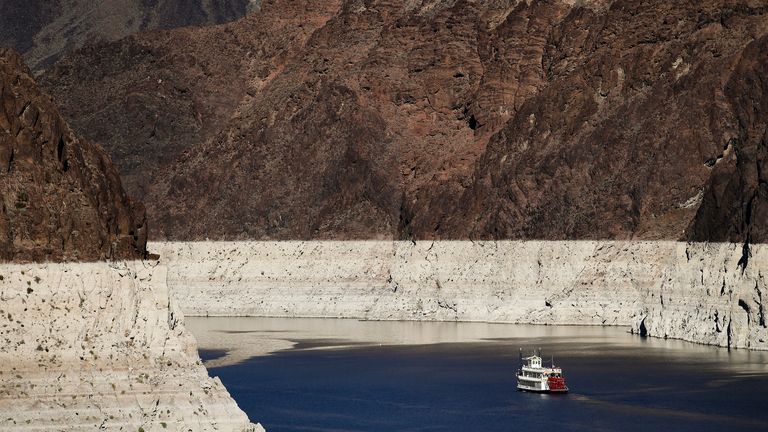 Lake Mead in Nevada supplies 25 million people with water and saw its water levels drop to their lowest point since the reservoir was filled in the 1930s.
In California, farmers have ditched some of the thirstiest crops to save others, while people are debating whether to ration tap water.
Listen and follow ClimateCast on Spotify, Apple Podcasts, or Spreaker
Sky News has launched the first daily prime time news show dedicated to climate change.
The Daily Climate Show is broadcast at 6.30pm and 9.30pm Monday to Friday on Sky News, the Sky News website and app, on YouTube and Twitter.
Hosted by Anna Jones, it follows Sky News correspondents as they investigate how global warming is changing our landscape and how we all live our lives.
The show also highlights solutions to the crisis and how small changes can make a big difference.