Romney, seeking US Senate seat, calls for action against mass shootings
Just hours after announcing plans to run for a U.S. Senate seat in Utah, former Republican presidential nominee Mitt Romney took the stage Friday night in Provo to draw attention to a matter clear across the country: this week's massacre in Florida.
"I think we can't just sit and wait and hope for things to get better," Romney said, according to the Salt Lake Tribune. "It is wrong and unacceptable for children in our schools to fear for their lives."
Romney called for preventive measures, such as strengthening the FBI database for firearm background checks and enhancing school security with police patrols and intervention teams, as steps states should consider to prevent such tragedies.
Romney is considered the heavy favorite to replace the retiring Orrin Hatch.
After losing the 2012 presidential race, the former Massachusetts governor moved to Utah, where he has deep roots from his time at Brigham Young University and his role in repairing the image of the scandal-plagued 2002 Winter Olympics in Salt Lake City.
Romney briefly outlined his platform for his campaign in a video message posted to Twitter, where he touched on immigration, fiscal responsibility and took what seemed to be a jab at President Donald Trump.
"Utah has a lot to teach the politicians in Washington," Romney says in the video. "Utah has balanced its budgets. Washington is buried in debt. Utah exports more abroad than it imports. Washington has that backwards. Utah welcomes legal immigrants from around the world. Washington sends immigrants a message of exclusion."
Romney's announcement didn't come as much of a surprise, but it was delayed after Wednesday's shooting in Parkland, Fla.
The Associated Press contributed to this story. 
UEFA abolishes away goals rule after more than half a century | UK News
Europe's football governing body UEFA has abolished the away goals rule for all of its club competitions from next season.
All ties that are level on aggregate at the end of the second leg will now go to extra time.
Paris Saint-Germain's victory over Bayern Munich in last season's Champions League quarter-finals will go down in history as the last away goals result in the tournament before the rule change.
The rule, introduced in 1965, has led to some dramatic moments in recent years, including Tottenham's stoppage-time success over Ajax in the 2019 Champions League semi-final.
UEFA said away goals would also no longer be a separating criteria when looking at matches between two or more sides level on points in the group stage of a competition.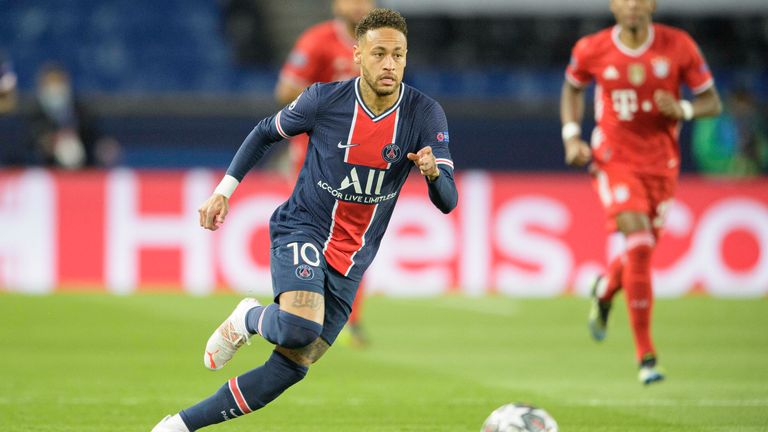 However, the number of away goals scored in all group matches could be used as an additional separating criteria if required.
UEFA president Aleksander Ceferin said as the end of the rule was announced: "The away goals rule has been an intrinsic part of UEFA competitions since it was introduced in 1965.
"However, the question of its abolition has been debated at various UEFA meetings over the last few years. Although there was no unanimity of views, many coaches, fans and other football stakeholders have questioned its fairness and have expressed a preference for the rule to be abolished."
Mr Ceferin added that the away goals rule had begun to go against its original purpose and was dissuading home teams from attacking.
⚽ The away goals rule will be removed from all UEFA club competitions from the 2021/22 season.

Ties in which the two teams score the same number of goals over the two legs will now have two 15-minute periods of extra time, and, if required, penalty kicks.#UCL #UWCL #UEL #UYL

— UEFA (@UEFA) June 24, 2021
This because the sides would fear conceding a goal at their own stadium would give their opponent a crucial advantage.
He continued: "There is also criticism of the unfairness, especially in extra-time, of obliging the home team to score twice when the away team has scored.
"It is fair to say that home advantage is nowadays no longer as significant as it once was."
UEFA has cited statistics since the mid-1970s which showed how the gap between home and away wins had reduced.
It talked about better pitch quality, standardised pitch sizes, and even video assistance referees (VAR) as factors in the decline of home advantage.
EE brings back EU roaming charges for mobile phone customers from next year | Business News
Mobile network EE is to charge customers for using their phone in Europe from next year.
The company, owned by BT, had previously said it had no plans to reintroduce the charges after Brexit.
It will affect new customers and those upgrading from 7 July.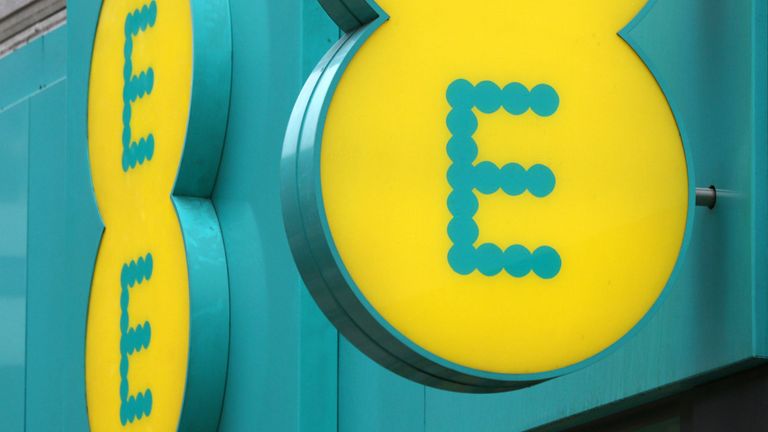 They will face a £2 daily fee from January next year to be able to use their data, call minutes and text allowances in 47 European destinations.
The change will not apply to customers travelling to the Republic of Ireland.
British travellers have not had to pay roaming charges on their mobile phone bills since June 2017, when they were abolished after changes to European regulation.
Before then they added an estimated £350m a year to users' bills.
Britain's departure from the European Union meant that from January UK customers no longer had the right to use their phone in Europe without roaming charges.
However, Britain's major mobile operators had said they had no plans to introduce them.
December 2020: What's in the Brexit trade deal?

EE said its decision was designed to "support investment into our UK-based customer service and leading UK network".
It said customers travelling abroad for longer will be able to use a 30-day Roam Abroad Pass.
Ernest Doku, a mobiles expert at Uswitch.com, said: "It's hugely disappointing for consumers to see that situation change so quickly.
"If you're an existing EE customer, these charges won't affect you yet, but make sure you check the small print if you're due an upgrade in the coming months."
Sky News contacted other networks to ask if they had any similar plans.
O2 and Three said they had not made any changes to roaming.
However, both are altering their policies on "fair usage" daily data limits while in the EU – though in each case said the limits were more than enough for the vast majority of holidaymakers' needs.
Vodafone also said it had no plans to bring back roaming charges.
HMS Defender: Boris Johnson insists warship was sailing legally as Moscow warns 'no options can be ruled out' | UK News
Boris Johnson has insisted Royal Navy warship HMS Defender was sailing legally in Ukrainian waters and that Russia did not any fire warning shots.
Russia has accused the UK of "barefaced lies" over Wednesday's incident and said it would respond robustly to any future incursions into what it says are Russian waters.
It summoned the British ambassador in Moscow for a dressing down, while a Kremlin spokesman called it a "deliberate and premeditated provocation".
Russia claims this is HMS Defender 'chased out'

"In the event of a repeat of unacceptable provocative action – if those actions go too far, no options can be ruled out in terms of legally defending Russia's borders," added Dmitry Peskov.
The UK rejects Russia's claim that a border patrol boat fired warning shots and that warplanes dropped bombs into path of the ship off the Crimean coast.
Speaking on Thursday, Boris Johnson said it was "not my information" when asked if the Russians had fired warning shots.
"My understanding is that the Carrier Strike Group proceeded in a way you would expect through international waters and in accordance with the law," said the prime minister.
He added: "We don't recognise the Russian annexation of Crimea – it was illegal. These are Ukrainian waters and it was entirely right to use them to get from A to B."
Foreign Secretary Dominic Raab has also said shots were not fired and called the Russian account "predictably inaccurate".
The Ministry of Defence said it had been made aware in advance that the Russians were conducting "gunnery exercises" in the area.
"No shots were directed at HMS Defender and we do not recognise the claim that bombs were dropped in her path," it said.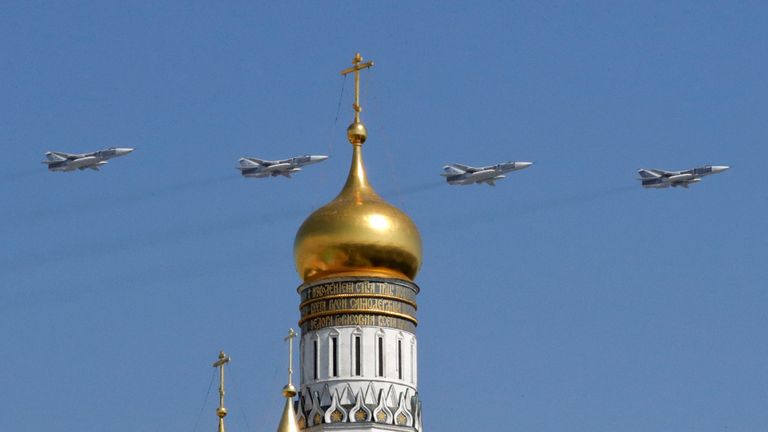 However, a BBC journalist on board the 152 metre-long ship said Russian planes had flown nearby and he also heard radio warnings that shots would be fired if HMS Defender didn't change course .
He said firing was later heard but "well out of range".
Foreign ministry spokeswoman Maria Zakharova accused Britain of "barefaced lies" over the incident.
Russia claims the British ship had gone as far as three kilometres (2 miles) into Russian waters near Cape Fiolent, near the port of Sevastopol in Crimea.
Crimea was seized from Ukraine in 2014 by the Russians, who claim ownership of waters around its coast.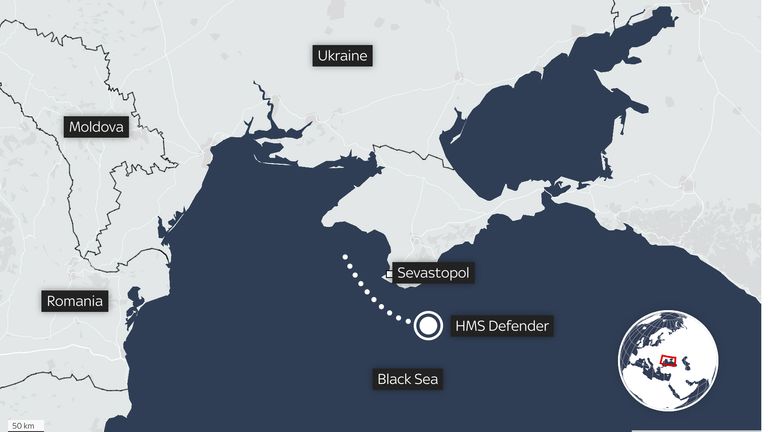 Western countries regard Crimea to have been taken illegally.
Mr Johnson also rejected the assertion that the relationship with Russia was now at a new low, following other recent incidents such as the poisoning of former spy Sergei Skripal in the UK in 2018.
"I can remember times in my own lifetime when things have been far worse," the prime minister said.
Sky's Moscow correspondent Diana Magnay said the incident was to a large extent about "testing each other's mettle" and seeing "how far Russia is prepared to go to defend what it claims are its territorial waters – and how far the UK and NATO are prepared to go to defend Ukrainian sovereignty".