Florida school shooting timeline | Fox News
The gunman who killed 17 at a Florida high school Wednesday afternoon attempted to fire at fleeing students from the building's third-floor windows, but the high-impact windows didn't shatter, a state senator said.
Florida State Sen. Bill Galvano said authorities told him it would have been easy for the shooter, identified as 19-year-old Nikolas Cruz, to open the windows.
"Thank God he didn't," Galvano said. He said he was given a tour of the school and was shown bullet holes on the glass.
Cruz set off fire alarms during the incident, luring hundreds of students out of their classrooms so he could open fire with a semi-automatic AR-15 assault rifle.
After firing several rounds, Cruz dropped his weapon and hid among the crowd as authorities evacuated students and faculty members from Marjory Stoneman Douglas High School in Parkland, Florida.
Police captured Cruz over an hour later in Coral Springs, located about a mile away. He was taken to a local hospital and then released into police custody.
Cruz was charged Thursday with 17 counts of premeditated murder. Fourteen others were wounded in the shooting, including several with life-threatening injuries.
Below is a timeline of events that detail how the shooting unfolded.
Wednesday, Feb. 14
2:19 p.m.
An Uber car dropped off Cruz at the school at approximately 2:19 P.M., Broward County Sheriff Scott Israel revealed at a news conference Thursday afternoon.
"The suspect entered the east stairwell, that's building 12, with a rifle inside a black soft case," he said. "The suspect exited the stairwell [and] pulled the rifle out of the case." 
2:21 p.m.
Cruz, according to Israel, then "readied his rifle and began shooting into rooms 1215, 1216, 1214. He went back to 1216, back to 1215 and then to 1213." 
Cruz, he revealed, "took the west stairwell to the second floor," where he shot one person in room 1234. The gunfire lasted a three-minute span, according to the sheriff.
Israel said Cruz "took the east stairwell to the third floor. He dropped his rifle and backpack [and] ran down the stairs."
Cruz eventually left the building with others who were trying to escape. He ran towards the tennis courts and then took a southbound turn, the sheriff said.
After the shooting, Cruz went to a Walmart and purchased a drink at a Subway before leaving the Walmart, according to Israel, though he couldn't give an exact time this occurred. Cruz then headed to a McDonald's and "sat down for a short period of time." 
2:35 p.m.
Students were allegedly texting about a shooter at the school.  
2:53 p.m.
Deputies responded to reports of a shooting at Stoneman Douglas High School, the Broward County Sheriff's Office confirmed in a tweet.
2:55 p.m.
WSVN, a local news station, reported that there were at least five people injured at the school.
2:56 p.m.
The sheriff's office warned the public to "avoid the area of Stoneman Douglas HS" as authorities investigated reports of an active shooter.
3:01 p.m. 
Cruz left McDonald's at exactly 3:01 p.m., according to Israel.
3:10 p.m.
A student shared a photo to Twitter to show where he and other students were hiding.
3:11 p.m.
The sheriff's office tweeted the shooter was still at large.
3:36 p.m.
Broward Schools said the school was on lockdown after students and faculty heard what sounded like gunfire.
3:40 p.m.
Broward Schools began dismissing students from the school.
"We are receiving reports of possible multiple injuries," the school district tweeted. "Law enforcement and the District's Special Investigative Unit are currently on site."
3:41 p.m. 
A Coconut Creek police officer detained Cruz in Coral Springs, located about a mile away from the school, and he was "taken into custody without incident," Israel said.
3:50 p.m.
President Trump tweets about the shooting, offering his "prayers and condolences."
4:11 p.m.
The shooter was taken into custody, the sheriff's office confirmed in a tweet, warning that the scene was still active.
4:22 p.m.
The sheriff's office tweeted there were at least 14 "victims," who "have been and continue to be transported to Broward Health Medical Center and Broward Health North hospital."
4:27 p.m.
The suspected shooter was taken to a local hospital.
4:50 p.m. 
Florida Sen. Bill Nelson said there were "a number of fatalities."
4:59 p.m.
Israel confirmed the shooter was not a current student at Stoneman Douglas High School.
In a separate tweet, the sheriff's office said that SWAT teams were still clearing the school.
5:39 p.m.
Students began to reunite with their parents.
6:27 p.m.
Sheriff Israel said 17 people were killed in the shooting.
6:29 p.m.
The sheriff's office identified the shooting suspect as 19-year-old Nikolas Cruz.
8:24 p.m.
A local news reporter for WSVN tweeted a photo of the suspect being detained by police.
Thursday, Feb. 15
7:12 a.m. 
Trump urges the public to always report suspicious behavior to authorities.
"So many signs that the Florida shooter was mentally disturbed, even expelled from school for bad and erratic behavior. Neighbors and classmates knew he was a big problem," Trump tweeted. "Must always report such instances to authorities, again and again!"
10:49 a.m.
Cruz was charged with 17 counts of premeditated murder, Israel announced in a news conference.
11:22 a.m. 
Trump addressed the nation, describing the incident as a "scene of terrible violence, hatred, and evil." 
He vowed to work with state and local leaders to help "secure our schools and tackle the difficult issue of mental health." 
2:00 p.m. 
Cruz appeared in court on 17 counts of murder. The judge ordered him to be held without bond.
4:43 p.m.
Cruz confessed to arriving at the high school with an AR-15 rifle and a back pack of "additional loaded magazines" and told authorities he shot "students that he saw in the hallways and on school grounds," according to an arrest affidavit filed Thursday evening.
Fox News' Shira Bush and Kathleen Joyce contributed to this report. The Associated Press also contributed to this report.
Tsunami warnings ease after one of the strongest earthquakes in modern history hits New Zealand | World News
Thousands of New Zealanders have been told they can return to their homes after a powerful earthquake prompted tsunami warnings. 
Islanders on the east coast fled to higher ground following the series of quakes off North Island.
Small tsunami waves were triggered by the earthquakes – with footage posted on social media showing surges of water entering a marina in Northland and on the North Island's East Cape region.
The largest waves have now passed and the threat level has been downgraded, the National Emergency Management Agency (NEMA) said.
"All people who evacuated can now return," it added.
Workers, students and residents were told to leave their homes in areas like Northland and Bay of Plenty – amid warnings tsunami waves could reach as high as 3m (10ft) above tide levels.
The final quake had a magnitude of 8.1 and struck the Kermadec Islands, northeast of New Zealand's North Island.
It came shortly after a 7.4-magnitude earthquake in the same region. A large 7.2-magnitude earthquake had struck earlier, about 540 miles away on the east of the North Island.
There were no reports of damage or casualties from the quakes.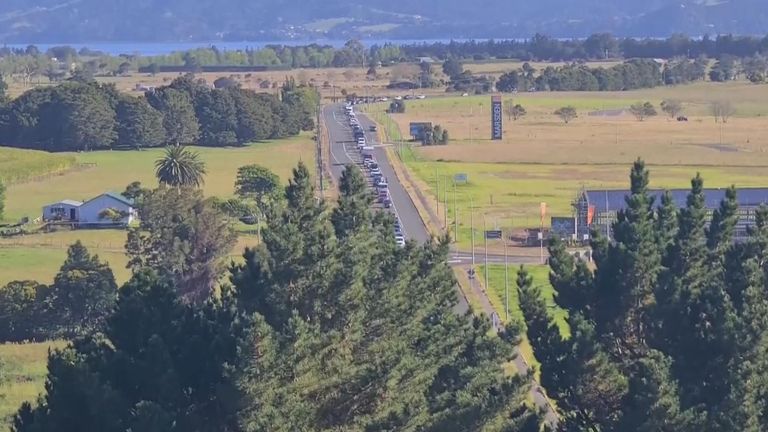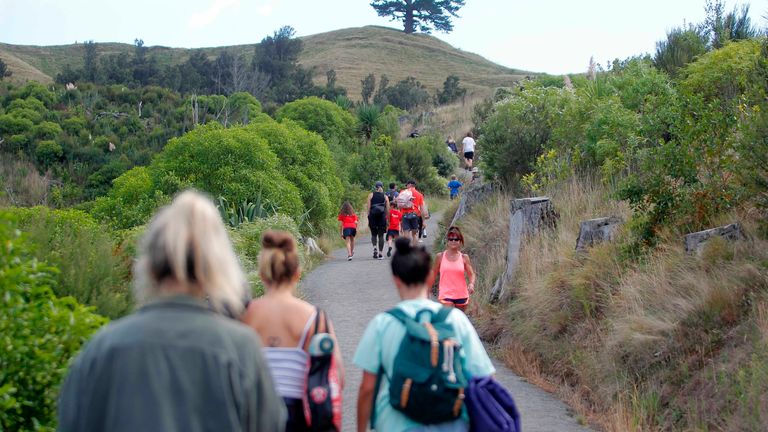 NEMA earlier warned areas under threat were from the Bay of Islands to Whangarei, from Matata to Tolaga Bay including Whakatane and Opotiki, and the Great Barrier Island.
"We want everyone to take this threat seriously. Move to high ground," Whangarei Mayor Sheryl Mai had told state broadcaster TVNZ.
Warnings were also issued for other Pacific islands like Tonga, American Samoa, Fiji, Vanuatu, Hawaii and others.
GNS Science has advised that the largest waves have now passed, and therefore the threat level is now downgraded to a Beach and Marine threat for all areas which were previously under Land and Marine threat.

All people who evacuated can now return.

— National Emergency Management Agency (@NZcivildefence) March 5, 2021
Australia issued a marine tsunami threat for Norfolk Island but said there was no threat to the mainland, while Chile said it could experience a minor tsunami.
"People near the coast in the following areas must move immediately to the nearest high ground, out of all tsunami evacuation zones, or as far inland as possible. DO NOT STAY AT HOME," NEMA said in a statement posted online.
"The earthquake may not have been felt in some of these areas, but evacuation should be immediate as a damaging tsunami is possible."
COVID-19: Australia hits back as Italy blocks vaccine shipment – and suggests EU is 'tearing up rule book' | World News
Australia has hit back at the EU's move to block a shipment of the Oxford/AstraZeneca vaccine – suggesting the bloc was trying to "tear up the rule book". 
Italy earlier said it would block the export of about 250,000 vaccine doses from its Anagni plant, a decision that was later approved by the EU, after the drug company failed to meet its contract commitments.
Speaking to Sky News Australia, finance minister Simon Birmingham said: "The world is in unchartered territory at present – it's unsurprising that some countries would tear up the rule book.
"This is a demonstration of really how well Australia continues to do compared to the desperation of other countries."
Despite expressing its frustration, the Australian government has signalled the move will not affect the country's current vaccine rollout.
Health minister Greg Hunt said 300,000 doses of the Oxford vaccine had already been received and would last until local production ramps up.
"This is one shipment from one country," he said. "This shipment was not factored into our distribution plan for coming weeks."
It's the latest incident in a feud between the EU and AstraZeneca, which had said it would only be able to deliver about 40% of the doses it agreed with the EU in the first quarter due to manufacturing issues.
In response, the EU introduced new laws allowing it to block exports from companies that have not fulfilled their contractual obligations. Italy is now the first country to make use of the mechanism.
Although it has taken a tough stance on the drugmaker, the EU has been slow to deliver its vaccination programme and has struggled to shift doses of the AstraZeneca vaccine in particular.
EU vaccine scepticism slows rollout

Last week, Germany's health ministry said it had only administered 15% of the Oxford shots it had available – while France said it had used less than a quarter of the 1.1 million doses it received.
Australia started its vaccination programme two weeks ago and has 53.8 million doses of the Oxford/AstraZeneca vaccine on order.
Local company CSL Ltd has secured the rights to manufacture 50 million of these doses in Australia, which will provide the backbone of the programme.
The country has been one of the most successful in the world at dealing with the pandemic, utilising strict lockdowns, fast tracking systems and border closures.
AstraZeneca's jab has had a bumpy rollout in the EU – but how did it play out? | World News
The EU's vaccination drive has been a bumpy ride – but its rollout of the Oxford/AstraZeneca jab has been especially so.
In November, the European Commission celebrated its plan for a common approach, heralding the creation of a "health union" along with its deal to purchase at least 300 million doses from the British-Swedish drugmaker.
This deal came with the option of purchasing another 100 million doses for its 450 million citizens.
Four months later, however, and the bloc's programme has been beset with shortages and delays, and has prompted a very public and very bitter row with the pharmaceutical company.
It then almost resulted in a nuclear option – triggering Article 16 of the Northern Ireland Protocol, before peaking again on Thursday when the commission blocked a shipment of vaccines bound for Australia.
So – how did we get here?
22 January, shortages announced
The European Medicines Agency (EMA) approved the AstraZeneca jab for use on 29 January – but the issues had already begun.
Exactly a week earlier, the company informed Brussels there would be a 60% shortfall due to a production glitch in its European supply chain.
It left the EU expecting deliveries of 31 million doses by the end of March instead of the agreed 80 million.
Coupled with a temporary shortfall of the Pfizer/BioNTech vaccine, the drive was off to a bad start.
25 January, efficacy questioned in German report
Handelsblatt, a German newspaper, published a report suggesting the efficacy of the AstraZeneca jab could be as low as 8% in over-65s.
The claim was rebutted by the German health ministry as well as AstraZeneca and Oxford University, which said there had been "no basis" for the assertion.
28 January, Germany advises against use in over-65s
On the eve of the EMA's approval of the jab, health authorities in Germany said the vaccine should not be administered to people over 65, saying there was a lack of data on this age group.
France, Greece, Denmark, the Netherlands, Sweden, Poland and Austria eventually followed suit with the same restriction.
Italy initially limited the jab to under 55s but at the end of February raised that to adults up to 65 years old.
Belgium and Spain have limited it to under 55s.
COVID vaccine rollout in the EU has slowed down due to skepticism over UK vaccine production

28 January, EU orders inspection at AstraZeneca site
Quarrels ensued in the days after the shortfall was announced as EU officials urged AstraZeneca to limit the expected cuts.
The commission also threatened to impose strict export controls to ensure the bloc received its fair share of the vaccine, and later pointed to a clause in its contract which said doses would be delivered from two UK-based factories.
However, Pascal Soriot, the French chief executive of AstraZeneca, said no timetable for deliveries had been agreed, adding that the contract included a best-effort clause.
He said the UK's contract had also been signed three months before Brussels, and it stipulated that vaccines made in the UK should be supplied to the UK first.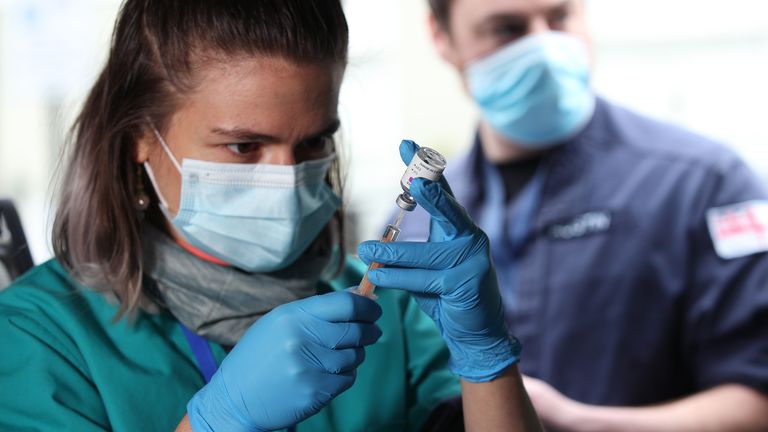 In response, the EU hinted that Mr Soriot's revealing of this information – said to be confidential – could amount to a breach of contract.
But to top this busy couple of days, the EU on 28 January ordered officials to inspect AstraZeneca's facility in Seneffe, Belgium, to confirm there was an issue with supply.
29 January, AstraZeneca jab approved; EU publishes its contract
The EMA approved AstraZeneca for use on 29 January for all adults over 18 years old – despite conflicting recommendations from Germany.
French President Emmanuel Macron then dampened confidence further, saying the jab was "quasi-ineffective".
It was also the day Brussels released a heavily-redacted version of its contract; although, this appeared to create more questions than it answered.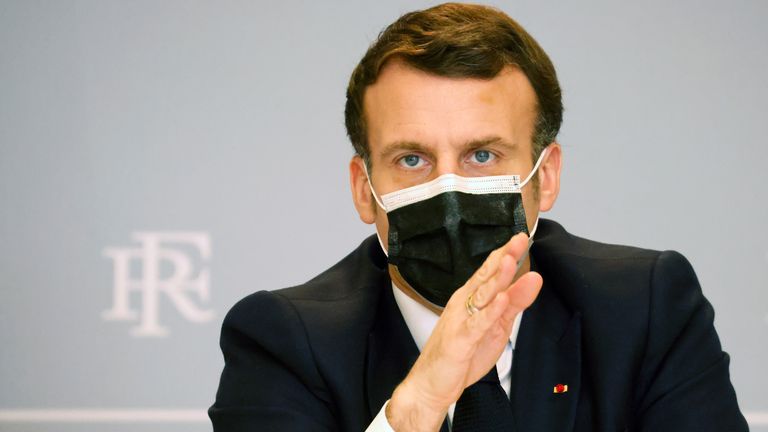 29 January, EU moves to trigger NI protocol
The procurement row soon reached its first peak as the commission made moves to trigger Article 16 of the Northern Ireland Protocol to prevent vaccines entering the UK.
This would have seen checks made at the border of the Republic and Northern Ireland.
London, Belfast and Dublin widely condemned the move – and it ultimately resulted in the commission making a swift U-turn.
February-March, low uptake reported
Bad publicity in earlier weeks appeared to have a knock-on effect for AstraZeneca in Germany as slow uptakes of the jab were reported.
Meanwhile, the head of Germany's Standing Committee on Vaccination (STIKO) Thomas Mertens said "the whole thing has somehow gone badly," and insisted the vaccine was "very good".
He told broadcaster ZDF: "We never criticised the vaccine, we only said that the data was not good or not sufficient for over 65s."
Northern Ireland Protocol became 'collateral damage'

4 March, U-turns on recommendations for over-65s
Germany later reversed its recommendation on restricting jabs to under-65s only, while France partially U-turned by allowed the AstraZeneca vaccine to people aged between 65 and 74 with pre-existing health conditions.
It comes after fresh data published by Public Health England (PHE) based on the UK's vaccine rollout showed protection against symptomatic COVID in those over 70, four weeks after the first jab, ranged between 60-73% and 57-61% for the Pfizer/BioNTech vaccine.
4 March, EU blocks shipment to Australia
As AstraZeneca failed to meet its contractual commitments, Italy and the European Commission blocked a request to export 250,000 doses from its Anagni plant near Rome.
The move came under a new export control system that passed into law on 30 January and was the first time it had been used by a member state.
In a statement, the Italian foreign ministry cited reasons such as Australia being considered "not vulnerable" due to a low number of COVID cases, along with the shortage of vaccines in Europe.
It is understood the doses will now be redistributed within the EU, where about 8% of the population has been vaccinated, compared with more than 30% in the UK.