Florida pastor, judge and 'Gossip Girl' actor arrested in prostitution sting
A "Gossip Girl" actor, a pastor and a judge were among the six arrested in a prostitution sting at a Florida hotel Friday.
Actor Patrick J. Boll, Fort Myers pastor Richard Cecil and Lee County Judge Jay B. Rosman were among the six men arrested at a hotel in Naples, Fla., after allegedly attempting to pay an undercover officer between $150 to $300 for sexual acts, USA Today reported.
Boll, 53, who guest starred in "Gossip Girl," "The Good Wife" and appeared in Broadway shows such as "Mamma Mia!," is accused of contacting an undercover officer via text. Boll allegedly offered the officer $150 for a sex act. Before his arrest, Boll was starring in a production of "The King & I" at Artis-Naples. He was charged with "soliciting for prostitution" and was held on $2,000 bond. He is slated to be arraigned March 7.
FLORIDA STORE CLERK SEES WOMAN MOUTH 'HELP,' CALLS POLICE
Cecil, 47, who runs a ministry with his wife, Christina, from their home in North Fort Myers, pleaded not guilty Monday and waived his arraignment. He requested a jury trial.
Cecil was accused of contacting an undercover officer and setting up a meeting at the hotel. He offered the officer $200 to perform a sex act before he was arrested.
Rosman, 64, retired from his position as judge Tuesday following his arrest. He posted the $4,000 bond and hired a lawyer. He pleaded not guilty and waived his arraignment, requesting a jury trial like Cecil.
"It has been an honor to serve the community since 1986," Rosman wrote in his statement. "In my retirement, I look forward to spending more time with my family and continuing to contribute to the community."
2 FLORIDA MEN ACCUSED OF HARASSING GATORS, PANTHERS
Rosman is married and has three children. The details of his arrest were not immediately available. His mugshot was also not available due to a Florida law which grants law enforcement officials and other public officials the right to withhold their mugshots.
The other men who were arrested were: Peter W. Bradshaw, 70, of Canada, Howard Cornibe, 70, of Canada, and William B. Darmoh III, 29, of Naples, Fla. All of the men were arrested for "solicitation of prostitution" FOX4 reported.
Afghanistan: Next few weeks pivotal as humanitarian crisis and fight for power looms | World News
The next few weeks will be pivotal for the future of Afghanistan with ominous implications for its people who face a looming humanitarian disaster, but also for the prestige, power and influence of the West.
The Taliban has advanced faster than many had expected, seizing swathes of territory, key border crossings and now threatening three provincial capitals.
Ben Barry, senior fellow for land warfare at the International Institute for Strategic Studies said all eyes are now on Herat in the west and Kandahar and Lashkar Gah in the south.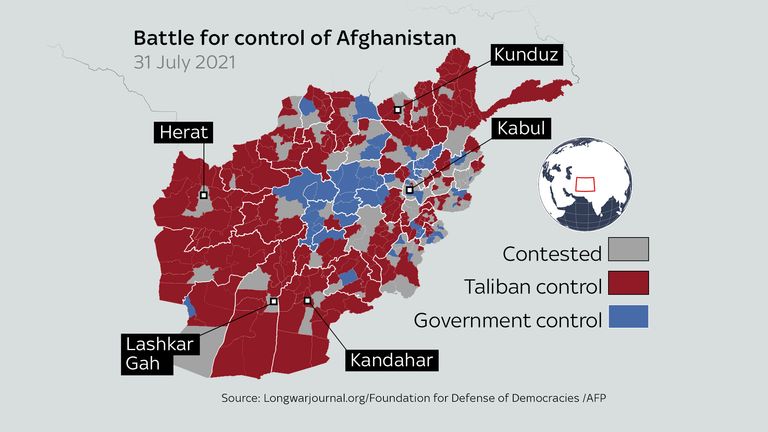 "If these provincial capitals fall then the Afghan government is in a very difficult position," he said.
"If most or all of these provincial capitals hold then the chances are the Afghan government itself can continue to hold and the longer the Afghan government holds, then the weaker is the negotiating position of the Taliban."
The immediate fear is of an impending humanitarian disaster. Terror of the Taliban and a looming civil war is forcing tens of thousands to flee their homes.
Former UN Special Representative to the Secretary General on Afghanistan Tadamichi Yamamoto has years of experience in the country. He told Sky News the situation is deeply alarming, with so many people on the move and far worse than anything he witnessed there until now.
"It's very serious, very very serious," he said.
"It is an extremely large number, much much larger than acceptable. And I think the international community has to step up its commitment to aid. The international community has to speak out with unequivocal voice together."
Two decades after the invasion of Afghanistan and the toppling of the Taliban, US president Joe Biden ordered the withdrawal of forces. Talks between the Taliban and Afghan government are continuing in Qatar. Those talks are stalled while the fighting intensifies.
Tadimichi Yamamoto urged international powers to put their weight behind reinvigorating the diplomatic process: "We are seeing a real tragic situation where civilians and others are going to be sacrificed and that is totally unnecessary because the talks would bring the political forces to compromise and create a new future for Afghanistan."
This week former US commander in the country, General David Petraeus, criticised the decision to withdraw saying America had abandoned Afghanistan to a "bloody and brutal civil war".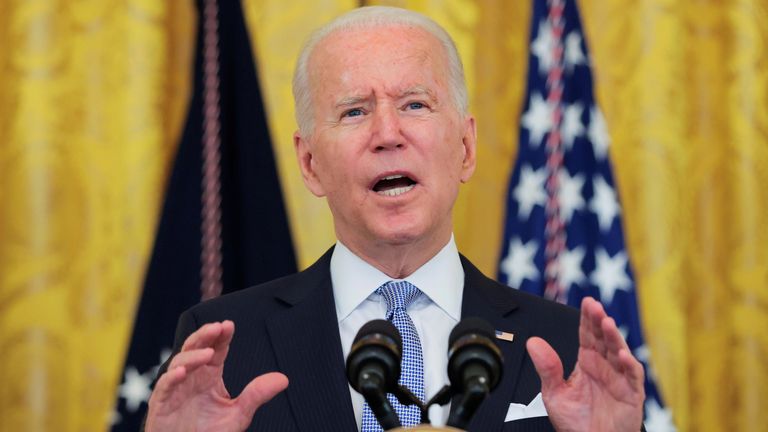 He condemned the decision to announce withdrawal before talks were complete.
Britain lost more than 450 lives in two decades of fighting in Afghanistan, America more than two thousand, tens of thousands of Afghan civilians have died. More than two-and-a-quarter trillion dollars was spent there.
If the Taliban prevails and is able to wind the clock back to 2001, those sacrifices will have been in vain.
The next few weeks will test the Taliban's ability to mount a sustained military campaign. In the past it has suffered severe losses in attempts to take provincial capitals. But the Afghan forces holding them now have less access to US airpower and US advisers are no longer able to deploy on the ground.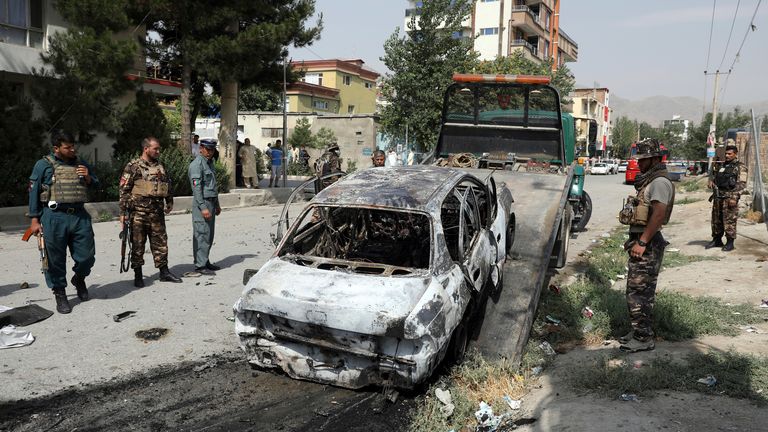 Either way, the failure of America and its allies to win the war in Afghanistan has long-lasting implications for the West.
The history of the country and the military failures of Britain and Russia there may have made the recent debacle seem inevitable but there was a chance, say observers, to succeed there – an opportunity squandered by the temptation to invade Iraq.
Mr Barry told Sky News the decision to attack Iraq "was as disastrous as Napoleon's decision to attack Russia, or Hitler's decision to attack the Soviet Union. And that's the biggest single reason why the war in Afghanistan sailed into so much difficulty".
Resources, attention and diplomatic bandwidth were diverted from Afghanistan to Iraq. And the occupation and its abuses undermined the credibility and legitimacy of the US.
Afghanistan's Ghani blames US withdrawal for violence

The decision to launch, then lose, two wars at such cost will surely be seen by historians as monumental hubris.
In the nemesis that's followed, the West's rivals – Russia, China and Iran – have watched and learned, Mr Barry said: "They will be saying to themselves we've seen the weaknesses of the West and the western way of war and we're more confident in our own military capabilities than they are in theirs."
Russia and Iran have applied those lessons already to the war in Syria. China has adjusted its tactics and hardware as it has modernised its military over the past twenty years. And other countries looking on will have drawn their own conclusions about the West's ability to prevail and protect its interests and those of its allies.
Follow the Daily podcast on Apple Podcasts, Google Podcasts, Spotify, Spreaker.
"There will be countries who are allies of the US and UK who will wonder if they are threatened, will the US and UK come to their aid or will they be scared off by the prospect of casualties," said Mr Barry.
$2.26 trillion later, the West has seen the strategic confidence of allies undermined by its record in Afghanistan, and the confidence of rivals grow.
And the country where so much blood and treasure was spilled is heading back towards civil war, chaos and the possible supremacy of an ultraconservative Islamist theocracy.
Beirut explosion: Officials knew risks of storing explosive materials but failed to protect public, says rights group | World News
A year on from the massive explosion which hit Beirut, an international human rights group has said senior Lebanese officials failed to protect the public from the risks posed by highly explosive material stored at the capital's port.
In a report on the explosion, Human Rights Watch (HRW) claimed those same officials were trying to thwart an investigation into the incident.
It comes as the country prepares to mark the one year anniversary of the blast on Wednesday.
At least 214 people were killed and more than 6,000 others were injured in the explosion at Beirut's port.
Moment of explosion in Beirut

The blast was preceded by a huge fire at a warehouse after hundreds of tonnes of improperly stored ammonium nitrate, a compound used as fertiliser but which has been used to make bombs, detonated.
Protesters are expected to gather in front of the port on Wednesday to hold a moment of silence before heading to the city centre.
Lebanon's most senior Christian cleric, Maronite Patriarch Bechara Boutros al Rai, is also due to hold a mass with the families of victims at the port.
An investigation into the explosion is yet to reveal who ordered the shipment of chemicals and why officials ignored repeated internal warnings of the dangers they posed.
Inside the Beirut blast site

The chemicals arrived in the country on a ship called the Rhosus in 2013, after it made a stop while on its way from Georgia to Mozambique, in Beirut to try to earn extra money by taking on several pieces of heavy machinery.
However, the additional cargo proved too heavy for the ship and the crew refused to take it on.
It was then impounded by Lebanese authorities for failing to pay port fees, and never left the port again.
The HRW's 650-page report details documents and exchanges between Lebanese officials about the ammonium nitrates, which had been stored at the port since then.
It concluded that "the actions and omissions of Lebanese authorities created an unreasonable risk of life", adding that under international human rights law, a state's failure to act to prevent foreseeable risks to life is a violation of the right to life.
Beirut's deadly explosion explained

In addition, HRW said evidence strongly suggested some government officials foresaw the possible devastation from the nitrates' presence and tacitly accepted the risk.
"Under domestic law, this could amount to the crime of homicide with probable intent, and/or unintentional homicide," it added.
The report names senior leaders, including President Michel Aoun, prime minister at the time Hassan Diab, and several ministers among others who were informed of risks posed by the nitrates but failed to take any action.
Lebanese officials have acknowledged they knew about the chemicals and either claim they pursued the matter after learning about it, or it was not within their jurisdiction to do so.
HRW said a lack of judicial independence, constitution-imposed immunity for high-level officials, and a range of procedural and systemic flaws in the domestic investigation rendered it "incapable of credibly delivering justice".
Survivors of the blast and families of the victims have called for an international investigation to take place due to their lack faith in the Lebanese judicial system.
HRW says the case for an "international investigation has only strengthened".
Last month, Lebanon's lead investigating judge in the case, Tarek Bitar, announced he intends to pursue senior politicians and former and current security chiefs in the case, and requested permission for their prosecution.
However, those named in the probe have failed to appear at the prosecutor's office, citing either immunity as members of parliament or needing special permission from the prime minister or the interior minister to appear.
COVID-19: China orders testing of 12 million Wuhan residents as more Delta variant cases identified | World News
China is conducting mass testing in Wuhan after it identified its first domestic cases of the Delta variant in the city where coronavirus was first detected in late 2019.
Wuhan, which gave the world its first glimpses of lockdowns and mass testing, had reported no local COVID-19 cases since mid-May last year.
But on Monday, authorities confirmed three new cases of the more transmissible variant in the Chinese city.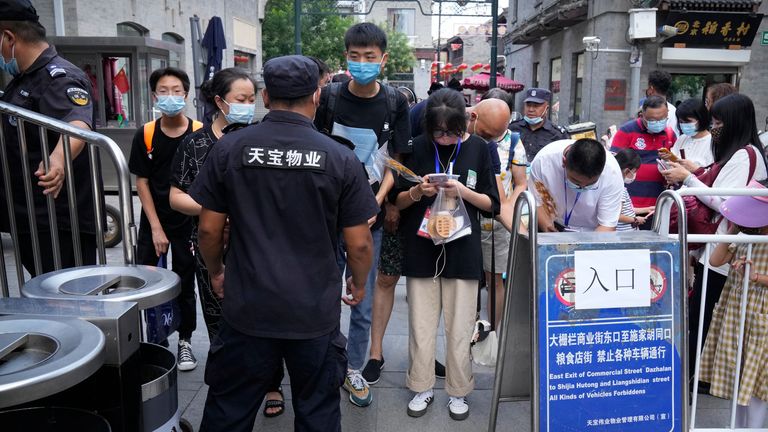 All of its 12 million residents will be tested for coronavirus.
"To ensure that everyone in the city is safe, city-wide nucleic acid testing will be quickly launched for all people to fully screen out positive results and asymptomatic infections," said Li Qiang, an official in the city, the capital of central Hubei province.
The new cases in Wuhan, along with infections in the nearby cities of Jingzhou and Huanggang since Saturday, were linked to cases found in Huaian city in Jiangsu province, said Li Yang, vice director of Hubei's provincial disease control centre.
The outbreak in Jiangsu is believed to have begun in the provincial capital of Nanjing, with the Delta variant mostly likely introduced on a flight from Russia, officials have said.
Since then numerous cities in southern China and a few in the north including Beijing have reported infections.
The number of locally transmitted cases in China since 20 July, when the first Nanjing infections were found, stood at 414 on Monday.
However, it is not clear if all of those cases were of the Delta variant, or if they were all linked to Nanjing, as some authorities have not disclosed conclusive results of their virus-tracing efforts.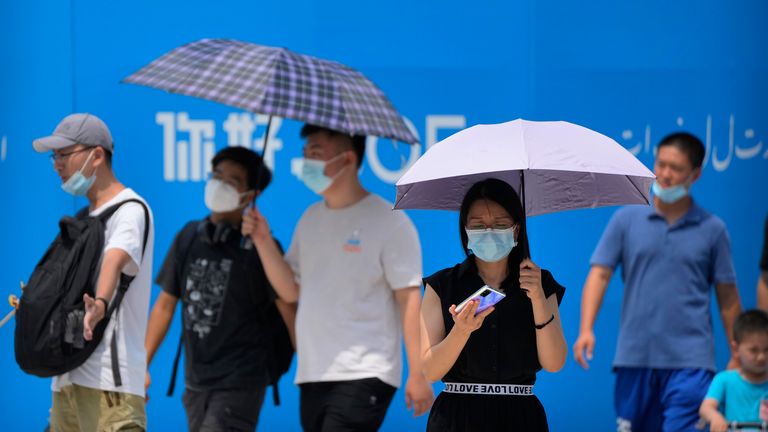 The Delta variant poses new risks to the world's second-largest economy as it spreads from the coast to inland cities.
On Tuesday, the National Health Commission said 90 new cases had been confirmed the previous day, 61 locally spread ones and 29 among people who had recently arrived from abroad.
Most of the local cases were in Jiangsu province, where an outbreak started at the airport in Nanjing, the provincial capital, and has spread to the city of Yangzhou, 65 miles away.
Authorities reported 45 new cases, five in Nanjing and 40 in the city of Yangzhou, which was conducting a second round of mass testing.
Five other provinces and the cities of Beijing and Shanghai reported new local cases in the single digits.
In Shanghai, the nation's largest city, a driver working at one of its two main airports tested positive. Beijing has reported a total of five cases in recent days.
Government-affiliated scientists have said Chinese vaccines are less effective against the new strains of the coronavirus but still offer some protection.
Only Chinese vaccines are currently being given in China, where authorities say more than 1.6 billion doses have been administered.