Drug supply surge prompts record levels of murders in Mexico
A huge increase in the production and supply of drugs to the United States from Mexico is the cause of an explosion of violence in the Central American country that has seen record levels of murders in the past year, according to both governments.
A new war between competing drug cartels, after a series of arrests of high profile leaders, has only exacerbated the problem.
Authorities in the United States are warning it is out of control.
The most highly valued drug is heroin, produced in vast amounts in poppy fields dug into mountainous jungles, almost inaccessible from the ground and protected by thousands of armed gang members.
Some 90% of America's heroin comes from Mexico.
:: Trump's opioid 'emergency' may be too little, way too late
After 12 months of negotiation with the cartel gangs we were told to meet our contacts in the mountains of Guerrero state.
We travelled on quad bikes over mountainous terrain, deep into the jungle.
We were escorted by two security guards carrying machine guns and dressed in camouflage with bandanas hiding their faces.
Nobody is allowed down these forest trails without permission and nobody can get here without being seen by lookouts for miles around.
The gunmen told us to dismount while two "farmers" sharpened machetes.
They then began to hack their way through the undergrowth.
There was a path but it had been grown over. It was not their normal route they told us, rather a short cut.
Eventually we emerged into one of the cartel's poppy fields.
It is about 10 hectares and literally cut into the jungle. The almost constant clouds and size of the field make it difficult to spot from the air. The men told us they have a lot of fields spotted across the mountain range.
They said we are the only outsiders they have ever let in.
Here the opium business flourishes. The men showed me how the poppy is sliced and bled of its oil.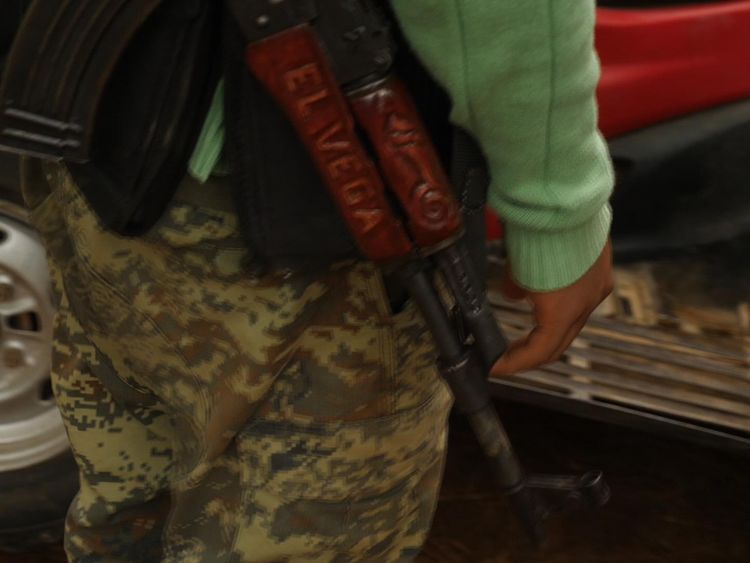 The raw material of what becomes opium and of course heroin.
For them this really is a matter of economics.
Ten hectares of Mango would earn a farmer $53,000 a year. Ten hectares of poppy nets them $350,000 a year.
The poppy growers see absolutely no correlation between what they produce and the drugs that ravage lives across the world and have directly led to the cartel wars and the deaths of tens of thousands of people in Mexico.
"It's what we have to do to feed our families," one of the gunmen told me.
Our guards, it transpired, were not there because of us. They are there to protect the poppy fields from raids by other gangs. Even in these wild remote mountains the drug wars are never far away.
"We come here and stay when the poppy is being harvested," the guard told me.
"There are gangs who want our produce and will kill for it. We are here to stop them," he said, starting up his quad bike as we headed to the home of the man who allowed our trip to take place.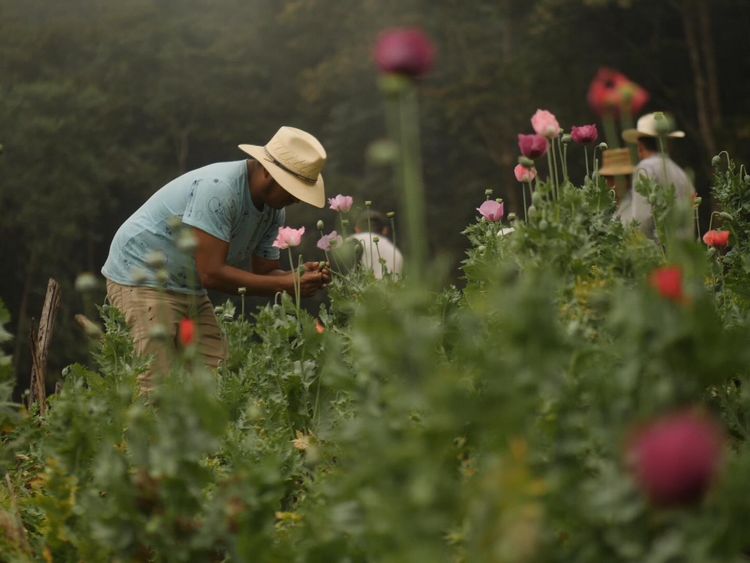 That man is Ruben Granados. We met him at his modest home, where he was helping to prepare lunch with his second wife. His first wife was killed along with their two sons as a warning to Ruben some years ago.
Ruben says he is the head of a farmers union that grows a variety of products on the mountain, including mango, avocado, marijuana and of course the poppies used to make heroin.
The Mexican government says he is the head of a drug cartel, and sent in troops in three Black Hawk helicopters to arrest him.
He beat the charges and says all the arrest showed was that the government and the cartels are in cahoots. Basically everyone wants a slice of the action produced on his mountain.
"We live in a very complicated and testing country because the crime gangs extort, kidnap and kill," he told me during his first ever interview.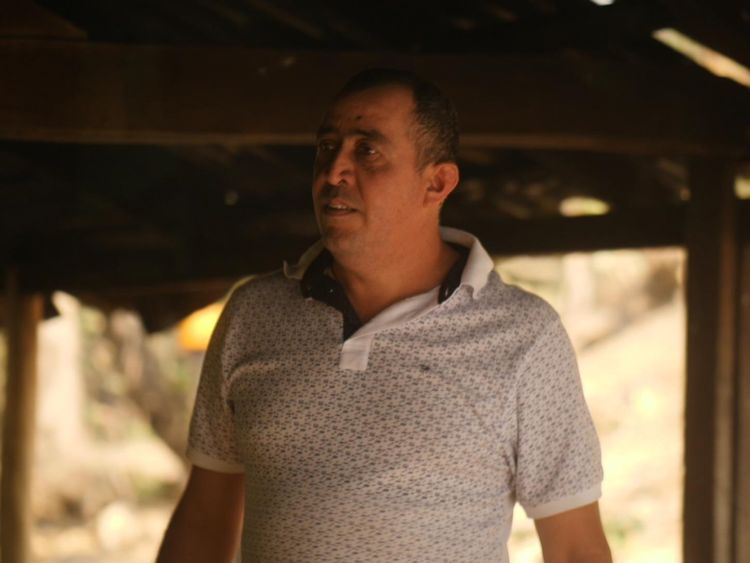 "The government is hand in hand with them because the gangs pay them.
"If you are a criminal the government likes you. If you are honest people, the government wants to destroy you," he said.
Every day Mexico wakes up to more news of violence, murder and chaos running in tandem with otherwise totally ordinary life.
Mexico is a wealthy country, but its drugs business eclipses its legitimate economy many times over. The drug business is at the root of the nation's murder epidemic.
Its wealth has left Mexico inured to the horror of violent crime, and nobody from the government to law enforcement to gang leaders and humble farmers, think they are responsible.
:: Watch Stuart Ramsay's report on Mexico's drug trade as part of Hot Spots, on Thursday night on Sky Atlantic, and in a special report on Sky News at 9.30am, 11.30am, 1.30pm, 4.30pm and 7.30pm on Wednesday.
Perseverance: NASA's rover takes 11 million earthling names to Mars | World News
Nearly 11 million people landed on Mars last week – even if it was just in names only.
When NASA's Perseverance rover touched down on the red planet, it did so bearing three silicon chips.
Upon these small pieces of silicon – each one no larger than a fingernail – millions of names were etched with an electron beam.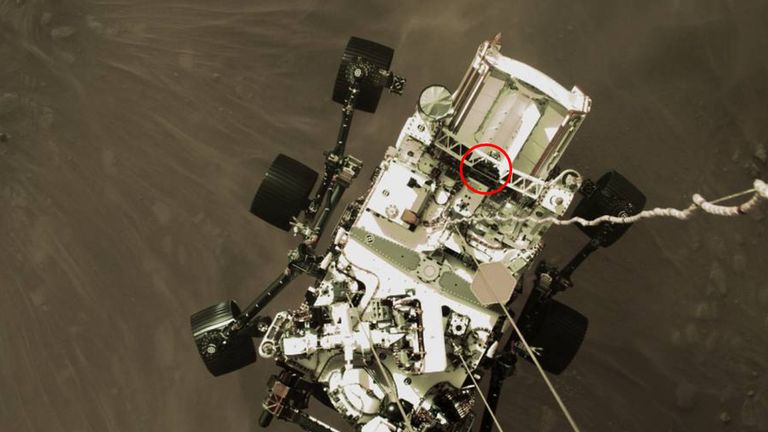 The beam allows for the writing to be less than one micron across – much less than the width of a human hair.
In total, 10,932,295 people from around 250 countries and territories had their names travel the 300 million miles through the solar system aboard the rover.
And 284,350 of those were people in the UK, with participating countries stretching from the United States to Niue as part of the "Send Your Name To Mars" project.
The silicon chips were attached to a plate on one of Perseverance's central beams, ensuring the camera on the rover could see them.
A virtual boarding pass was also sent to those who signed up for the scheme.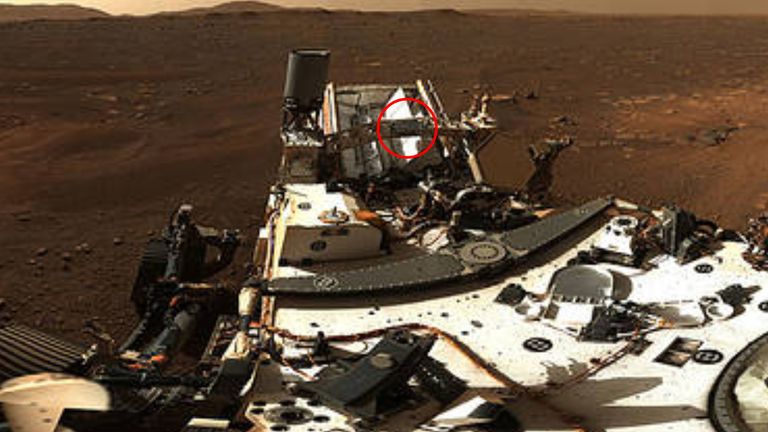 The previous NASA landing on Mars was InSight in November 2018 – this craft had 2,429,807 earthling names on it.
Meanwhile, 7,289,416 people have already signed up to have their names transported across the cosmos on the agency's next mission to the red planet.
Indonesia: Six killed and one missing after illegal gold mine collapses | UK News

Six people have been killed after an illegal gold mine in Indonesia's Sulawesi island collapsed on nearly two dozen people working inside.
One other worker is missing following the incident, officials said on Thursday.
An estimated 22 people became trapped in the rubble when the mine in Central Sulawesi province's Parigi Moutong district collapsed late on Wednesday due to unstable soil, according to Andrias Hendrik Johannes, who heads the local search and rescue agency.
The bodies of four women and two men were recovered during a gruelling search effort through the night.
Rescuers were also able to pull 15 survivors from the debris.
Police, emergency personnel, soldiers and volunteers have been trying to locate one worker who is still missing.
However, their efforts were hampered by the remote location of the mine and the unstable soil that risked further slides.
Video from the scene showed rescuers struggling to bring out a body bag from an inundated ravine.
Illegal or informal mining operations are commonplace in Indonesia, but put workers in conditions with a high risk of serious injury or death.
Landslides, flooding and collapses of tunnels are just some of the hazards putting labourers' lives at risk.
Meanwhile, much of the processing of gold ore involves use of highly toxic mercury and cyanide by workers using little or no protection.
Indonesia accounts for about 3% of the world's gold production – most of that coming from the Grasberg mine in Papua province, said to have $40bn (£28bn) in reserves and up to 20,000 workers.
German man charged with spying after 'passing parliament floor plans to Russia' | World News
A German man has been charged with espionage for allegedly passing information on properties used by the German parliament to Russian military intelligence, prosecutors have said.
Identified only as Jens F in line with German privacy rules, the suspect worked for a company that had been repeatedly contracted to check portable electrical appliances by the Bundestag – the lower house of parliament.
Federal prosecutors said he had access to PDF files with floor plans of the properties involved.
The Bundestag is based in the Reichstag building, a Berlin landmark, but also uses several other sites.
At some point before early September 2017, the suspect "decided of his own accord" to give information on the properties to Russian intelligence, the prosecutors said.
They allege he sent the PDF files to an employee of the Russian Embassy in Berlin, who was an officer with Russia's GRU military intelligence agency.
In October, the European Union imposed sanctions on two Russian officials and part of the GRU agency over a cyberattack against the German parliament in 2015.
Additionally, a Russian man accused of killing a Georgian man in downtown Berlin on Moscow's orders in 2019 is on trial in Berlin.
And last year's poisoning of Russian opposition leader Alexei Navalny, who was flown to Germany for treatment and then arrested immediately on his return to Russia, has added another layer to tensions.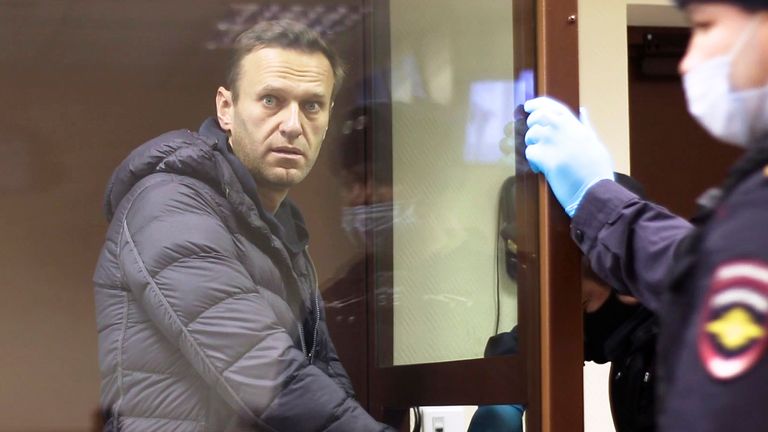 Mr Navalny became ill during a domestic flight in Russia on 20 August last year.
After tests by the Organisation for the Prohibition of Chemical Weapons confirmed the nerve agent novichok was used in the poisoning, Russian foreign minister Sergey Lavrov accused Germany of "not planning to provide any facts, despite all international and legal obligations".
Six members of the Russian government were handed EU and UK travel bans and asset freezes following the incident.