Drug supply surge prompts record levels of murders in Mexico
A huge increase in the production and supply of drugs to the United States from Mexico is the cause of an explosion of violence in the Central American country that has seen record levels of murders in the past year, according to both governments.
A new war between competing drug cartels, after a series of arrests of high profile leaders, has only exacerbated the problem.
Authorities in the United States are warning it is out of control.
The most highly valued drug is heroin, produced in vast amounts in poppy fields dug into mountainous jungles, almost inaccessible from the ground and protected by thousands of armed gang members.
Some 90% of America's heroin comes from Mexico.
:: Trump's opioid 'emergency' may be too little, way too late
After 12 months of negotiation with the cartel gangs we were told to meet our contacts in the mountains of Guerrero state.
We travelled on quad bikes over mountainous terrain, deep into the jungle.
We were escorted by two security guards carrying machine guns and dressed in camouflage with bandanas hiding their faces.
Nobody is allowed down these forest trails without permission and nobody can get here without being seen by lookouts for miles around.
The gunmen told us to dismount while two "farmers" sharpened machetes.
They then began to hack their way through the undergrowth.
There was a path but it had been grown over. It was not their normal route they told us, rather a short cut.
Eventually we emerged into one of the cartel's poppy fields.
It is about 10 hectares and literally cut into the jungle. The almost constant clouds and size of the field make it difficult to spot from the air. The men told us they have a lot of fields spotted across the mountain range.
They said we are the only outsiders they have ever let in.
Here the opium business flourishes. The men showed me how the poppy is sliced and bled of its oil.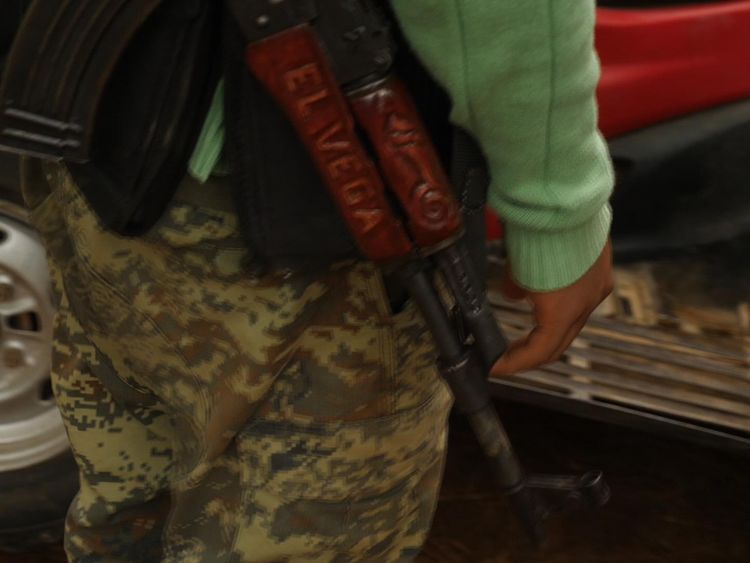 The raw material of what becomes opium and of course heroin.
For them this really is a matter of economics.
Ten hectares of Mango would earn a farmer $53,000 a year. Ten hectares of poppy nets them $350,000 a year.
The poppy growers see absolutely no correlation between what they produce and the drugs that ravage lives across the world and have directly led to the cartel wars and the deaths of tens of thousands of people in Mexico.
"It's what we have to do to feed our families," one of the gunmen told me.
Our guards, it transpired, were not there because of us. They are there to protect the poppy fields from raids by other gangs. Even in these wild remote mountains the drug wars are never far away.
"We come here and stay when the poppy is being harvested," the guard told me.
"There are gangs who want our produce and will kill for it. We are here to stop them," he said, starting up his quad bike as we headed to the home of the man who allowed our trip to take place.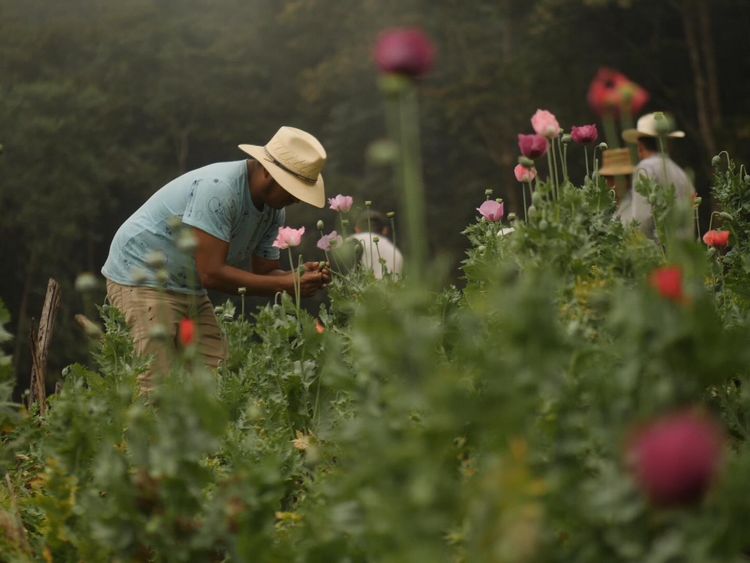 That man is Ruben Granados. We met him at his modest home, where he was helping to prepare lunch with his second wife. His first wife was killed along with their two sons as a warning to Ruben some years ago.
Ruben says he is the head of a farmers union that grows a variety of products on the mountain, including mango, avocado, marijuana and of course the poppies used to make heroin.
The Mexican government says he is the head of a drug cartel, and sent in troops in three Black Hawk helicopters to arrest him.
He beat the charges and says all the arrest showed was that the government and the cartels are in cahoots. Basically everyone wants a slice of the action produced on his mountain.
"We live in a very complicated and testing country because the crime gangs extort, kidnap and kill," he told me during his first ever interview.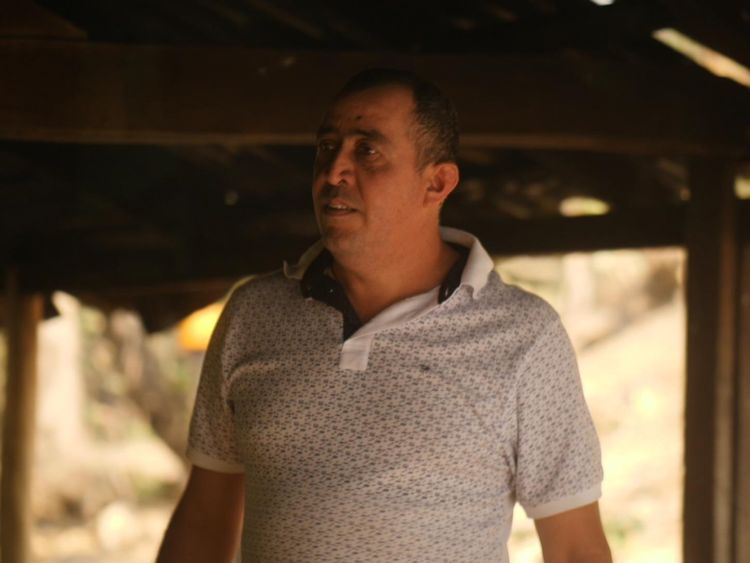 "The government is hand in hand with them because the gangs pay them.
"If you are a criminal the government likes you. If you are honest people, the government wants to destroy you," he said.
Every day Mexico wakes up to more news of violence, murder and chaos running in tandem with otherwise totally ordinary life.
Mexico is a wealthy country, but its drugs business eclipses its legitimate economy many times over. The drug business is at the root of the nation's murder epidemic.
Its wealth has left Mexico inured to the horror of violent crime, and nobody from the government to law enforcement to gang leaders and humble farmers, think they are responsible.
:: Watch Stuart Ramsay's report on Mexico's drug trade as part of Hot Spots, on Thursday night on Sky Atlantic, and in a special report on Sky News at 9.30am, 11.30am, 1.30pm, 4.30pm and 7.30pm on Wednesday.
New Zealand is best placed to survive a global collapse of society, study suggests | World News
New Zealand is the country most likely to survive a collapse of global civilisation, researchers have said.
A study has suggested a combination of ecological destruction, limited resources and population growth could trigger a worldwide breakdown "within few decades", with climate change making things worse.
A "very likely" collapse would be characterised by the disintegration of supply chains, international agreements and global financial structures, according to researchers at the Global Sustainability Institute at Anglia Ruskin University.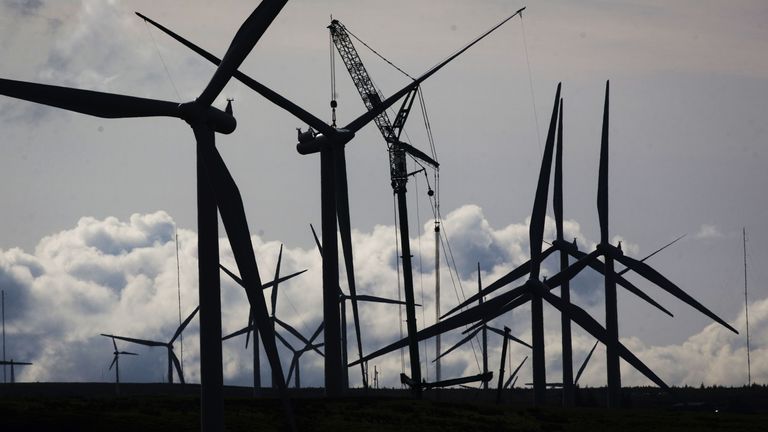 They said problems could spread quickly because of how connected and economically dependant countries are on one another.
Five countries were identified as best placed to maintain civilisation within their own borders: New Zealand, Iceland, the United Kingdom, Ireland and Australia.
All of them are islands or island continents which have fewer extremes in temperatures and varied amounts of rainfall due to their proximity to oceans.
Researchers said this makes them most likely to have relatively stable conditions in the future, despite the effects of climate change – which is expected to hit subtropics and tropics the hardest.
New Zealand's ability to produce geothermal and hydroelectric energy, its abundant agricultural land and its low population would allow it to survive relatively unscathed.
Although the UK has generally fertile soils and varied agricultural output, it does not have as much agricultural land available because of its population density, raising questions about future self-sufficiency.
Britain's reliance on fossil fuels and nuclear energy was considered to be a risk as power sources could be "rendered at least partly inoperable" if global supply chains collapse.
:: Subscribe to ClimateCast on Spotify, Apple Podcasts, or Spreaker.
Researchers said this could be mitigated by the nation's manufacturing capabilities.
Meeting the large population's energy demands through renewables alone would require very extensive infrastructure, they said, but the UK could increase its resilience by harnessing more energy from wind and water bodies like lagoons or barrages in the Severn Estuary.
Professor Aled Jones, Director of the Global Sustainability Institute at Anglia Ruskin University, said "significant changes are possible in the coming years and decades".
He said: "The impact of climate change, including increased frequency and intensity of drought and flooding, extreme temperatures, and greater population movement, could dictate the severity of these changes."
Researchers identified pandemics as another risk to societal stability, citing the United Nations' warning that future pandemics could be even more severe than COVID-19.
Twenty countries were analysed in the report.
Boris Johnson urges world leaders to dig deep to boost children's education across globe | Politics News
Boris Johnson is urging world leaders to dip into their pockets to boost children's education across the globe and help avoid a "legacy of wasted talent" as a result of the coronavirus crisis.
The prime minister will host a summit in London on Thursday with the aim of fundraising among governments, business and charities for the Global Partnership for Education (GPE).
The GPE aims to raise $5bn (£3.6bn) over the next five years in order to get 175 million more children into education around the world.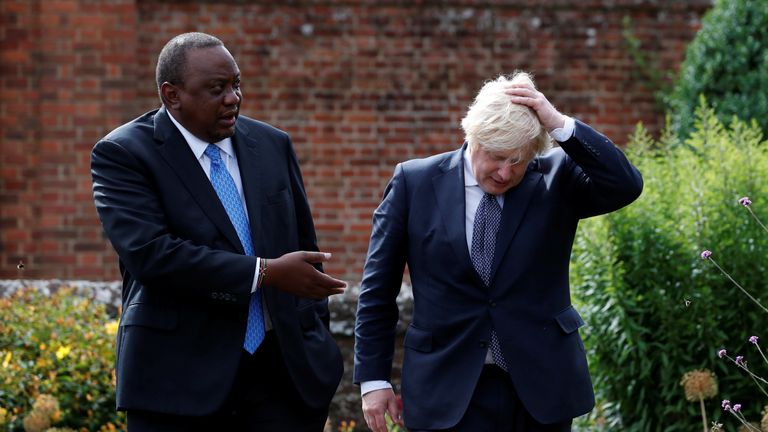 Ahead of the Summit, Mr Johnson said: "We have a fight on our hands to ensure COVID-19 does not scupper the life chances of millions of children, leaving a lasting legacy of wasted talent.
"Too many children around the world – girls in particular – were already out of school before the pandemic.
"Enabling them to learn and reach their full potential is the single greatest thing we can do to recover from this crisis and build better, greener and fairer societies.
"Today I am urging governments, businesses and philanthropists to invest in the future by fully funding the transformative work of the Global Partnership for Education."
Girls are feared to be particularly at risk of never returning to school once they have left, with 132 million girls around the world already estimated to be out of school even before the impact of the COVID pandemic.
Thursday's summit is being jointly hosted with Kenya and will be opened by Foreign Secretary Dominic Raab and his Kenyan counterpart, Raychelle Omamo.
The prime minister and Kenyan President Uhuru Kenyatta, who held bilateral talks at Chequers on Wednesday, will close the summit, along with Australia's former prime minister Julia Gillard, who is the GPE's chair.
World leaders, businesses, UN agencies, charities and youth leaders will join the summit both virtually and in person.
The UK last month pledged £430m to the GPE at the G7 Summit in Cornwall.
Pedro Castillo: Left-wing rural teacher becomes Peru's president, promising a new constitution | World News
A man who was until recently a teacher in a rural part of Peru has been sworn in as the country's new president.
Pedro Castillo, representing a left-wing party, stunned voters and political observers by emerging from a group of 18 candidates and advancing to the run-off, finishing in first place.
His slogan, "no more poor in a rich country", attracted support from the impoverished and those living in rural areas.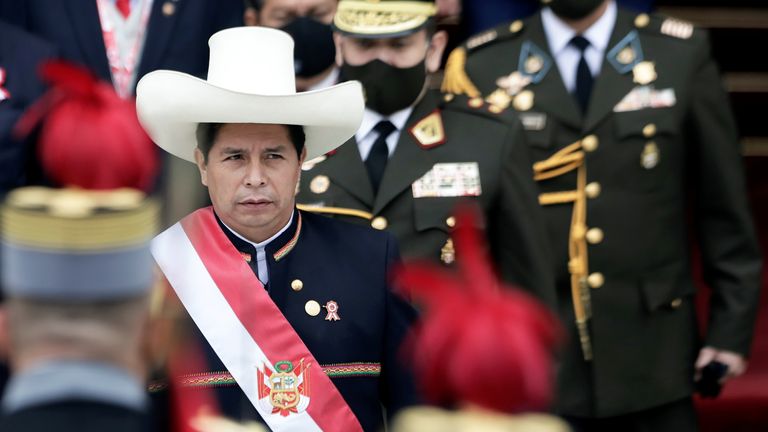 Mr Castillo, 51, has never held political office before, defeating right-wing career politician Keiko Fujimori by just 44,000 votes.
He is promising a new constitution, and to rule for "my peasant sisters and brothers".
The son of illiterate peasants, he led a teachers' strike in 2017. He is his country's first president of peasant origin.
Mr Castillo is married with two children. Video of his wife, filmed at the weekend, shows her sweeping the floor at their house in the Andes and tending to some animals. Their home is in the country's third-poorest district.
Peru is the second largest copper exporter in the world, but its economy has been crushed by the coronavirus pandemic. Economic gains made over the last decade have been eliminated.
Private companies are fearful that Mr Castillo will hike taxes on mining to fund health and education reforms.
Pedro Castillo's family leave behind rural life

But on the day of his inauguration, he said there was "not the remotest" plan to nationalise industry.
He will be seeking a "new pact" with private investors, however.
In a speech shortly after being sworn in, he said he wanted the state-owned bank to compete with private lenders but that he would maintain economic "order and predictability".
He faces a divided Congress, meaning his political abilities will be tested from the start.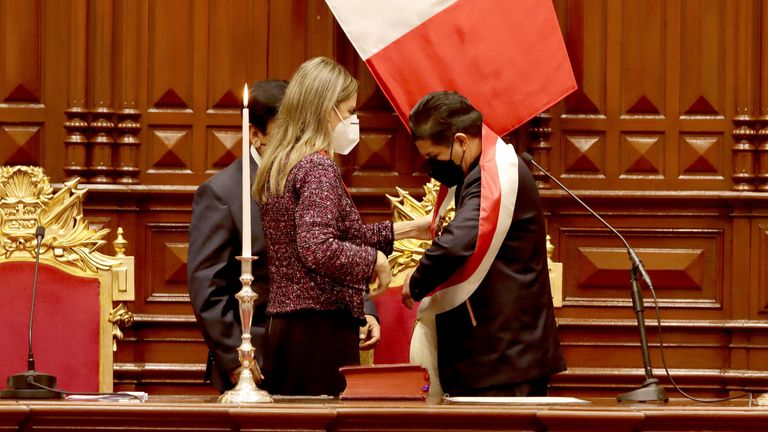 Claudia Navas, an analyst with the global firm Control Risks, said his government begins amid "considerable uncertainty".
She added: "We still do not have clear his main lines of policy. However, we foresee that possibly, due to the characteristics of the Peruvian political system and the current general political and economic situation of the country, that Castillo will maintain a more pragmatic position than he announced during the campaign.
"The key is to build those consensuses and add strength to the proposals on how he is going to achieve them."